---
January 21, 2010 4:36 PM

Profile: Alex Barrett
Last week's announcement by Microsoft and Hewlett-Packard that they had entered in to a $250 million partnership was light on specifics, but at least one IT manager has an opinion of how the two companies should focus their engineering efforts.
"My biggest thing is man, just get me off of two consoles," said Matt Lavallee, director of technology at MLS Property Information Network, Inc. in Shrewsbury, Mass.
As it stands, Lavallee, who runs Microsoft Hyper-V on HP servers, relies on both HP Systems Insight Manager (SIM) for information about the physical servers themselves, and Microsoft Systems Center Operations Manager (SCOM) for OS- and application-level monitoring.
In his opinion, that's one console too many. Take managing alerts. "We probably manage 600 alerts in Operations Manager, and another 50 or 60 in SIM. It'd be great to manage alerts in one place, especially since so many of them are related," he said.
Not having a single pane of glass is especially annoying in a virtual environment, where "physical doesn't really matter anymore, even though at some level it still does," Lavallee said. "Wouldn't it be great if you could look at both layers together?"
Of the two consoles, Lavallee prefers HP SIM because it is cross-platform and Web-based. At the same time, there are many more plug-ins from third-party application vendors for Operations Manager. Thus, Lavallee's idea is for engineers to take "the pipeline of data from Ops Manager and send it through to [the SIM] pane of glass."
Lavallee puts the SIM/SCOM integration "on the better side of probable," hopefully sooner rather than later. "If we don't start to see things in the next six months, people like me are going to start calling it vaporware."
January 15, 2010 8:58 PM
Xen.org posted the Xen 4.0 Release Candidate this week, and the new hypervisor code should be finalized by the end of next month.
Xen 4.0 will feature fault tolerance and the Open Virtual Switch, among other new features. Open source virtualization expert Sander van Vugt said the Open Virtual Switch "will take networking in Xen to the next level."
"I'm convinced that this release is going to be huge," he wrote in an email.
---
January 6, 2010 4:35 PM
Oracle is finalizing its deal for Sun Microsystems and already bought Virtual Iron. But an even bigger virtualization acquisition — Oracle-Citrix Systems — may be on the horizon.
Oracle is sizing up Citrix for a possible acquisition, according to Briefing.com (via The Register). The move would give Oracle its biggest stake yet in the virtualization market — not only in server virtualization, where Oracle VM hasn't exactly lit the world on fire, but in desktop virtualization, where Citrix is the leader.
---
December 22, 2009 8:46 PM
Having a hard time finding a holiday gift for that special admin in your life (or yourself)? We've asked two of our virtualization experts what was on their letters to Santa Claus; maybe their wish lists will inspire you. Remember, there are still two shopping days left!
Rob McShinsky, senior systems engineer at Dartmouth Hitchcock Medical Center, would love to find the Sanbolic Melio FS under his IT department's tree. The hospital is virtualized on a combination of Hyper-V and Hyper-V R2, and the Melio FS file system will provide improved, VMware-like disk management for the original Hyper-V platform, he said.
"It will allow us to get rid of the disk bloat that Hyper-V R1 had," he added.
McShinsky also ho-ho-hopes for BL460c G6 blade servers from Hewlett-Packard with Intel Nehalem processors. Dartmouth Hitchock runs G5 blades now, but the G6 blades offer "lots more power in a small package for virtualization," he said.
The final item on McShinsky's wish list is a backup and deduplication solution from Data Domain. The hospital has 17 TB of data backed up in its virtual environment alone.
"We're thinking we can boil that down to a third of that," McShinsky said.
Storage is also a hot technology for Rick Vanover, IT infrastructure manager at Alliance Data. He bought himself an early present for his personal test lab: a DroboPro iSCSI device from Data Robotics.
"I'm really excited about that," Vanover said. "It's iSCSI, it's expandable storage, and it has a pretty slick RAID algorithm."
The device will also be compatible with VMware vSphere 4 in the future, which fits with Vanover's upgrade plans.
"That's a great resource so that I don't have to rebuild stuff so frequently," he said. "I could buy a new server, but this is half the price of a new server."
And in the office, a great present would be vSphere training for the full IT staff, Vanover said. Although vSphere upgrades are relatively painless, the platform itself has some significant differences from its predecessor.
"It's the new computer, and we need to make sure we're doing it right," Vanover said.
---
November 4, 2009 4:33 PM
The new Red Hat Enterprise Virtualization for Servers platform made its debut yesterday, with Red Hat touting it as a "standalone, lightweight, high-performance hypervisor" that "provides a solid virtualization foundation for cloud deployments" and comes with software "for configuring, provisioning, managing and organizing virtualized Linux and Microsoft Windows servers."
Sounds good so far, right? Well, there are a few things Red Hat neglected to mention in that press release. First, there's this sentence buried in the Red Hat Enterprise Virtualization data sheet, about the system requirements for management servers:
"Windows Server 2008 not supported."
Isn't that kinda like coming out with a hot new car and saying, "unleaded gasoline not supported"?
---
November 2, 2009 2:29 PM
The trash talk in the Microsoft vs. VMware feud once reached Reggie Miller vs. Spike Lee heights. The two companies rarely passed up the opportunity to disparage, make fun of or even spread lies about each other.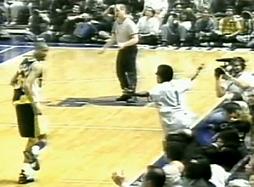 But things had quieted down lately, and a lot of the more recent trash talk just rehashed old criticisms and insults. That is, until VMware issued its "Competitive News Flash" about Hyper-V R2, which compares "Microsoft myths" to "VMware realities." (Hmm, where have we heard that before?)
The four-page document, marked "confidential," is to help VMware resellers "understand VMware's positioning in regards to Microsoft's virtualization offerings and to respond to customer questions about Hyper-V R2."
---
October 15, 2009 2:12 PM
Our recent blades vs. rack servers face-off between Chris House and Rick Vanover has spurred some hot debate. Virtualization blogger Aaron Delp, a senior engineer at ePlus Technology, submitted this response on the topic of blades vs. rack servers:
Here is how I see the rack vs. blades debate: No solution is right all the time! There are situations in which racks are better, and there are situations where blades are better.
---
October 12, 2009 8:05 PM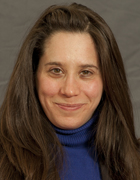 Profile: Lauren Horwitz
This year, SearchServerVirtualization.com is once again running its annual Products of the Year awards. Nominate your favorite product or your company's product in one of the following categories:
Virtualization platforms
Virtualization management
Virtualization security
Hardware for virtualization
Backup and storage for virtualization
Desktop virtualization
The call for entries is open now through Nov. 13, 2009. Products qualify if they were released between Nov. 1, 2008, and Nov. 1, 2009 (including beta). Click here for deadlines, details and criteria on Products of the Year. And click here for the direct link to our form.
---
September 3, 2009 6:14 PM
Following Tuesday's VMworld 2009 keynotes and sessions at the Moscone Center in San Francisco, TechTarget's Data Center and Virtualization Media Group hosted an after-party where attendees had a chance to wind down before another full day. If you missed this year's VMworld action (or if you just want to re-live the memory), check out our staff photos from the event.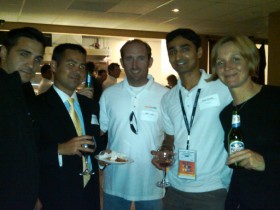 RingCube Technologies was out in full force at TechTarget's VMworld 2009 event (pictured here with TechTarget editor Jo Maitland).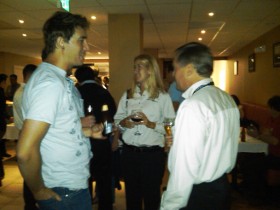 Brian Madden and others at TechTarget's VMworld 2009 party.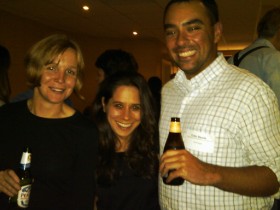 Jo Maitland and fellow TechTarget editors Lauren Horwitz and Colin Steele wind down on Tuesday night.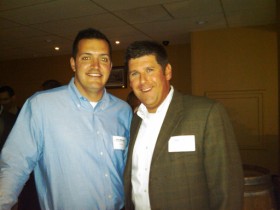 Sean Matthews and Peter Larkin of the Data Center and Virtualization group at the TechTarget VMworld party.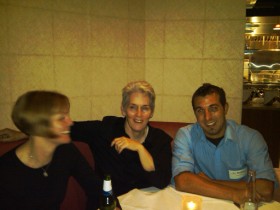 TechTarget editors Jo Maitland, Jan Stafford and Dan Mondello relax after Tuesday's sessions.
---
September 3, 2009 4:41 PM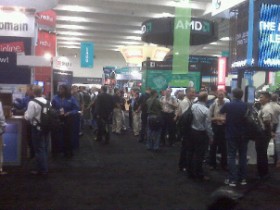 Inside the Moscone Center it was all business at VMworld 2009, but outside, Angus Young was rocking it out with SearchServerVirtualization.com (see below).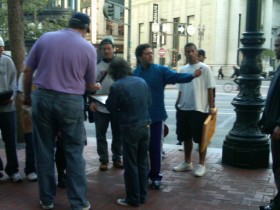 Editor Jo Maitland happened upon Angus Young of AC/DC on Second Street. He was signing autographs!
---