---
September 24, 2010 5:56 PM
Welcome to the latest edition of the Virtualization Vendor Profile. Every once in a while I'll talk with a smaller or lesser-known company, learn about their business, discuss some industry trends, and write up a recap.
We just closed our Virtualization Decisions 2010 Purchasing Intentions Survey, and over the next few weeks we'll be reporting on the results. One of the things I noticed as I looked through the data is that organizational challenges are on the rise.
Last year, the top reasons for not virtualizing were "too expensive" and "too complex." But this year, the top reasons were "budget approval won't come until next year" and "lack of in-house skills." Clearly, IT needs a better way to demonstrate virtualization's value to the decision-makers that approve purchasing and training budgets.
Coincidentally, this week I spoke with Jonathan Reeve, vice president of product strategy for Hyper9, a virtualization management vendor. One of Hyper9's product features is live reporting through SharePoint and other collaboration software, which lets IT managers share information with the business side of the house in a more familiar, easy-to-understand format.
September 20, 2010 1:15 PM
We recently asked readers to tell us what they learned at VMworld, and we enticed them with three prizes: TrainSignal DVDs, a Cisco Unified Computing System book and an official VMworld 2010 T-shirt. Today, we announce our winners and publish their responses:
Michael Caplan (prize: TrainSignal's "VMware vSphere Pro Series Vol. 2″ DVDs)
What I was most excited learning more about was the debut of VMware View 4.5. My organization is preparing for a Windows 7 migration in the next year, and we're evaluating all of the different options for how to best deploy a brand new OS to our end users.
Since we are looking at a fairly large desktop and laptop refresh (pretty much everyone in the 60-user company), we thought it best to begin testing View, now that we feel comfortable that PCoIP and RDP 7.0 have come along to standardize and address some of our concerns with how to deliver a rich desktop experience while at the office or working remotely.
Having to refresh 30 laptops and 20 desktops is a considerable capital expenditure, whereas with View we can leverage current equipment with the View Client and extend the equipment life cycle by years, saving the company in the long term from buying brand new equipment.  It also helped seeing the debut of the vSphere Managment and View Client tests on the iPad, and the release of Junos Pulse as well.
---
September 16, 2010 10:19 PM
A VMware/Novell acquisition is in the works, according to The Wall Street Journal.
The paper has just reported that Novell "is in advanced talks" to sell its SUSE Linux operating system business to VMware and the rest of its assets to Attachmate, a "private-equity backed software company." Contrary to what was said in yesterday's New York Post report (which did not name VMware, only a "strategic buyer"), the Journal says the sides have not finalized any agreements and that VMware and Novell "still differ on valuation." The Journal's report is attributed to "people familiar with the matter."
After yesterday's Post report, I wrote a blog sizing up all of Novell's potential suitors, and VMware was at the top of the list. Here's what I said about the potential VMware/Novell acquisition:
---
September 16, 2010 7:28 PM
Before VMworld, VMware's social media guru John Troyer came on our This Week in Virtualization podcast to preview the show. This week, John returned the favor and invited me on the VMware Communities Podcast.
The theme of the podcast was "VMworld 2010 community tales," which gave me a chance to plug our "What did you learn at VMworld?" contest. Other attendees talked about what they liked and didn't like about the show this year, and we also learned a little about VMworld Europe in Copenhagen, our Best of VMworld Europe 2010 User Awards, and VMworld 2011 in Las Vegas.
If you missed the live broadcast, you can listen to the recording below:
---
September 16, 2010 6:41 PM
Welcome to the latest edition of the Virtualization Vendor Profile. Every once in a while I'll talk with a smaller or lesser-known company, learn about their business, discuss some industry trends, and write up a recap.
There were lots of first-timers at VMworld 2010, and not just attendees. It was also the first VMworld appearance for French vendor UShareSoft, which just started doing business in the United States a few months ago.
"Being a European company, if you want to get into the U.S. [market], it's important to have visibility, and these shows are one way to do it," UShareSoft CTO James Weir told me. "Being at the VMworld event was very important for us."
---
September 15, 2010 6:38 PM
The New York Post got the scoop today that Novell is selling itself in two parts: its SUSE Linux business will go to a mysterious "strategic buyer," and the rest to a private equity firm.
Novell, the "strategic buyer" and the private equity firm have all agreed to the deal and will sign it in three or four weeks, according to the Post. In the meantime, let the speculation begin!
Who's buying Novell? Let's take a look at some possible candidates and the odds they're the "strategic buyer":
---
September 14, 2010 7:17 PM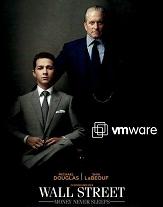 Our recent Spotlight on VMware series took an in-depth look at the challenges facing VMware in the server virtualization, desktop virtualization and cloud computing markets. But VMware's vulnerabilities aren't limited to those sectors.
The company is also at a crossroads on Wall Street, according to a Barron's article from this weekend, "Cloudy Future for VMware?" The story points out several potential areas of concern:
VMware's extremely high valuation — $85, or 61 times its expected annual earnings — "seems pricey, vulnerable to even the slightest mishap."
The company's revenue growth has become a victim of its own success, dropping from 70% to 20% as VMware has penetrated 97% of the Fortune 1,000.
Like many IT vendors, VMware's earnings don't reflect generally accepted accounting principals; if they did, they would have been 49 cents a share, not the $1 that was reported.
---
September 10, 2010 9:23 PM
By Alyssa Wood, Assistant Site Editor
It has come to this: the Justin Bieber Twitter page accounts for 3% of the entire Twitter server infrastructure. Considering the millions of Twitter pages out there (whether celebrity or average Joe), that figure is pretty astonishing.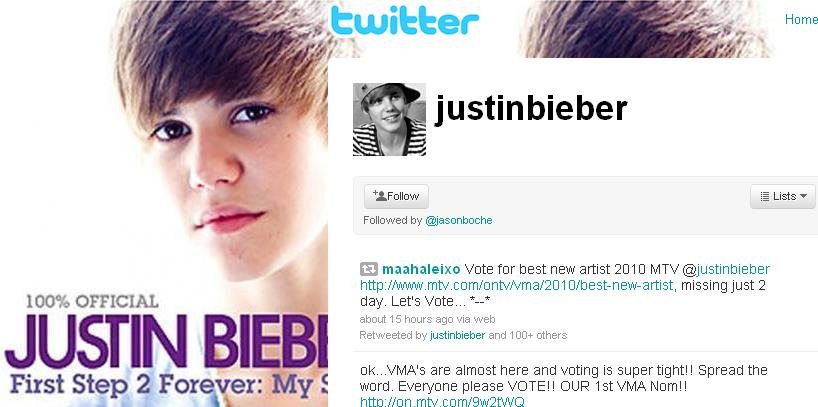 Web designer/blogger Dustin Curtis posted it online Sept. 6 — via Twitter, of course. Curtis said a Twitter employee gave him the information that "racks of servers" are dedicated to the young pop star. Company reps did not confirm the report but did say the Justin Bieber Twitter account is one of the most popular, according to CNN.
Curtis also said that Twitter's infrastructure was not originally designed to handle the influx of replies that a hugely popular account, such as Bieber's, receives every second. (The Justin Bieber Twitter account, @justinbieber, has more than 5.1 million followers.) That was clear during the FIFA World Cup this summer, when record usage of the site caused Twitter outages for more than five hours in one week.
No one could have foreseen the mania that Twitter — or Bieber, for that matter — would induce. But the capacity issues facing Twitter, albeit on a much larger scale, are common among organizations of all sizes.
---
September 8, 2010 9:17 PM
Remember back in July, when Dell and Hewlett-Packard made the surprising news that they would resell Oracle VM and other Oracle software? I even wrote a clever blog post comparing the whole thing to "Inception" and asking, "Are Dell and HP REALLY reselling Oracle VM, or is it all in my mind?"
Well, it looks like the whole HP part of that equation may be on hold. As you know by now, HP fired former CEO Mark Hurd, who was promptly hired by his good buddy Larry Ellison to be a president at Oracle, and now HP is suing Hurd for joining its rival/partner.
In response, Ellison has gone all "oh no they didn't!" and released a tersely worded statement calling the lawsuit "vindictive."
"The HP board is making it virtually impossible for Oracle and HP to continue to cooperate and work together in the IT marketplace," the statement says. So I guess that means you shouldn't look for Oracle VM on HP servers any time soon.
---
September 7, 2010 4:38 PM
The VMworld 2010 conference is over, but the experience at the show will help attendees throughout the year.
To that end, we're holding a contest. Just tell us what you learned at VMworld, and you could win one of three prizes:
TrainSignal's "VMware vSphere Pro Series Vol. 2" DVDs
Cisco Press' "A Complete Reference Guide to the Cisco Data Center Virtualization Server Architecture"
An official VMworld 2010 T-shirt
To enter, send a 150- to 200-word writeup on what you learned at VMworld to csteele@techtarget.com by Wednesday, Sept. 15 Friday, Sept. 17. We'll select three winners at random and publish as many responses as we can.
---