---
February 12, 2016 7:32 PM
VMware unveiled the latest version of its Virtual SAN software this week, and while the release includes welcome improvements, VMware's marketing message is missing the mark.
Virtual SAN 6.2 adds several upgrades that customers will appreciate, though the addition of in-line deduplication and compression will only be  for all-flash arrays.
The software also comes with a renewed marketing push to label VSAN as the key component of what VMware is now calling its "Hyper-Converged Software (VMware HCS) stack." That stack also apparently includes vSphere and vCenter Server.
VMware has been pushing the converged angle of its VSAN software for some time, but with this latest push, I think it's time to cut through some of the hype to reflect on what hyper-convergence actually means.
Even the most basic definition of hyper-converged infrastructure (HCI) describes a system which integrates (or converges) both software and hardware components. Today, that's come to mean appliances from vendors, such as Nutanix and SimpliVity, that combine compute, storage, networking as well as software that may include a hypervisor (which effectively abstracts compute), and a software-defined storage layer that  abstracts the local storage on each node. Many appliances also include backup or resiliency features, performance management tools as well as deduplication and compression.
One of the main draws to this hyper-converged approach is that customers love the simplicity of plugging in an integrated appliance and the ability to simply plug in more to scale. But that's not VSAN or VMware's HCS stack. Software bundling is not analogous to hyperconvergence. Yet, VMware still claims to be number one in the hyper-converged market. I don't have access to any firm numbers, but I'd go so far as to speculate that the vast majority of VSAN installs aren't delivering HCI  as we understand it today.
It's easy to forget with all this hype about VSAN that VMware actually has a hyper-converged infrastructure offering—or at least I think they do. And they're certainly not number one.
VMware released EVO:RAIL to much fanfare at VMworld 2014. It was later met with customer complaints about licensing and adoption lagged. Now, it seems VMware is unwilling to admit defeat in the hyper-converged space and is instead turning its attention to pumping up the converged angle of VSAN, even as rumors swirl that the company plans to phase out or even terminate EVO:RAIL. You may remember that VMware also promised a larger-scale converged offering first called EVO:RACK and then rebranded as EVO:SDDC. Still no word on if that product will see the light of day or whether VMware will leave non-Federation hardware partners out in the cold.
In fact, early next week we're expecting VCE to introduce VxRail—a hyperconverged appliance that sounds remarkably similar to everything the EMC Federation hoped EVO:RAIL would be.
Details of VxRail have yet to be publicly released, but expect to hear that VCE will take on the role of integrator for the Federation, effectively repackaging VMware's software stack into easily digestible appliances based on EMC (and who knows, maybe Dell) hardware.
However, unlike the much-hyped introduction of EVO:RAIL, don't expect to hear much talk from VMware executives about the company's independence and its ability to offer customers a choice when it comes to hardware platforms.  Instead,  you'll hear how preferred hardware integrations will save customers money and offer better performance—and all of this at a time when VMware should be recognizing that its ability to lock customers in to its hypervisor is beginning to wane.
If VMware is serious about its software-defined data center vision, then it should keep its focus on providing products that help deemphasize hardware rather than giving preferential treatment to some. On the other hand, if your goal is to generate short-term profit for EMC—which is currently slogging through an acquisition fraught with financial complexities—then VxRail makes perfect sense.
January 26, 2016 6:47 PM

Profile: Ed Scannell
EMC
,
Virtualization
,
VMware
By Ed Scannell and Nick Martin
The bloodletting at VMware has begun.
Reports published over the past several days about the company laying off as many as 900 of its 18,000 or so employees are proving correct, as dozens of affected workers are posting about their experiences on a message board.
The groups taking the biggest hit appear to be the vCloud Air, Fusion and Workstation groups, the latter focusing on end-user virtualization. The entire Fusion and Workstation groups are "gone" as of yesterday (Monday), according to one anonymous VMware employee. Reportedly, VMware is moving all Fusion and Workstation development to China.
Already confirmed today is the company will close its Burlington, Canada technical support center where 100 employees will lose their jobs.
The cuts made to vCloud Air may reflect the company's decision in late November to scrap the 50-50 joint venture with EMC to pull together a more cohesive hybrid cloud strategy. Besides vCloud Air, the joint venture was to be made up of Virtustream, which EMC acquired for $1.2 billion last May, plus VCE's Cloud Managed Services and EMC's Storage Managed and Object Storage services.
EMC, which owns about 80% of VMware, announced in a SEC filing late last month its intention to lay off an unspecified number of employees over the course of 2016. According to sources familiar with EMC's plans, the company could let go as many as 20,000 of its 100,000 or so employees by the end of this year.
Analysts and other industry observers have speculated since late last year that Dell, EMC and VMware — particularly the first two — would have to sell off parts of their respective businesses or consolidate groups across the companies, including through layoffs, to raise enough cash to finance the $67 billion deal. In November, the company was reported to be facing a whopping $9 billion tax bill, which further cast doubt on the deal being approved by shareholders and the companies' respective boards of directors.
---
June 11, 2014 1:51 PM
NFS
,
Storage
,
VMware
VMware has issued a patch to fix a problem where ESXi 5.5 Update 1 randomly disconnects from NFS storage.
The VMware NFS bug popped up in April, causing VMs to appear frozen and affecting connections to datastores from multiple storage vendors. With no official fix available, VMware pros warned each other against upgrading to ESXi 5.5 Update 1 — or to roll back to the previous version if they'd already migrated.
VMware released the patch yesterday, and it is available to download from the VMware Knowledge Base. The patch also addresses the CCS Injection vulnerability in OpenSSL.
---
April 21, 2014 2:08 PM
Security updates are now available for VMware products affected by the Heartbleed flaw.
The OpenSSL security vulnerability, which could allow someone to access the memory of systems secured with the susceptible version of the OpenSSL software, affected 27 VMware products. VMware made patches for all 27 products available yesterday, 12 days after the OpenSSL vulnerability came to light.
Among the list of affected products are the latest versions of VMware's most popular, including vCenter Server 5.5, ESXi 5.5 and vCloud Automation Center 6. Earlier versions that didn't rely on OpenSSL 1.0.1 were not affected.
VMware recommends customers patch affected products, then replace security certificates and reset passwords. More information and links to patch downloads can be found in this VMware Security Advisory.
---
April 18, 2014 1:37 PM
VMware vSphere 5.5 Update 1 users are having problems connecting to NFS storage.
The new VMware NFS bug causes random disconnects to storage, and it affects products from multiple vendors. The main symptoms of the problem are VMs that appear frozen and NFS datastores that are grayed out, according to blogger Michael Webster, an engineer at Nutanix.
The prevailing advice is to avoid migrating to vSphere 5.5 Update 1 — or roll back to the original vSphere 5.5 — until VMware issues a fix, which it has yet to do. The company has not yet warned customers about the problem, either.
"It is remarkable VMware customers have until now not been publicly informed by VMware about this issue," wrote Marcel van den Berg, a virtualization consultant in the Netherlands. "Even though there is not a fix available yet, the issue seems bad enough to warn customers intending to upgrade."
Nick Howell, an architect at NetApp (one of the affected storage vendors), first reported the VMware NFS bug yesterday.
"VMware has confirmed the issue in vSphere and is working closely with NetApp to determine [the] root cause," he wrote.
---
April 10, 2014 5:51 PM
The troubling Heartbleed SSL vulnerability that's causing a stir this week also affects many VMware products.
The weakness in the OpenSSL protocol revealed this week affects 66% of Web servers and allows anyone to read the memory of systems secured with the problematic OpenSSL software. The problem had gone undetected for two years and analysts are confirming it's as bad as advertised, potentially putting millions of passwords and other secure information at risk.
In a KnowledgeBase article, VMware listed its products that have shipped with the vulnerable OpenSSL 1.0.1. They include ESXi 5.5, vCenter Server 5.5 and vCloud Automation Center 5.1.x and 5.2.x. Earlier versions of ESXi and vCenter Server are not affected.
Microsoft supporters are having a field day with the news, quick to point out that Hyper-V and Azure aren't affected and poking fun at VMware's prior claims of being more secure. So just how big of a deal is this for shops running VMware?
"It's both a fantastically world-ending, huge deal that we should consider turning the Internet off for — and not a big deal at all," said Trevor Pott, IT consultant for eGeek Consulting.
The potential vulnerability is scary, but not necessarily because VMware's products are affected.
"The thing is, vSphere is rarely open to the outside world," Pott said. "So, theoretically I could crack your SSL if I was sitting on your network sniffing your traffic. But if I'm behind your firewall sniffing your network traffic, you've got bigger problems than this.
"VMware and everybody who was vulnerable to this had the code to fix it in hours. So that means, if there isn't a patch out for VMware's products yet, there will be in a matter of days."
Any Internet-facing device, including the dozens or hundreds found on a corporate network, are potentially at risk, but virtualized workloads may actually be easier to protect, Pott added.
"In a virtual environment, I can easily stand up a firewall in front of systems that I can't patch, and I can essentially create an SSL proxy where the proxy facing the Internet is, in fact, patched," he said. "The fact that I'm in a virtual environment means I could stand up a solution to this in minutes."
---
January 27, 2014 1:33 PM
Hot on the heels of its AirWatch acquisition and end-user computing group shakeup, VMware has made another big-name move.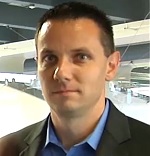 The company has hired Chris Wolf, one of the most well-known virtualization analysts in the industry, as its chief technology officer (CTO) for the Americas. Wolf joins VMware after four years at Gartner, where he was a research vice president focused on private cloud computing and virtualization. He previously worked as an analyst for the Burton Group, which Gartner acquired in 2010, and as an independent consultant.
In a blog post announcing his move, Wolf said he wants to continue to advocate for VMware users as he did at Gartner.
"In a world of growing technological complexities and rich automation, the last thing you need is a vendor selling you something," he wrote. "You need a partner that wants to be there with you and share in your successes."
Wolf's hiring is the latest in a series of major changes at VMware, as the server virtualization market leader now tries to move into the cloud and end-user computing (EUC) markets. Let's take a look at the moves made in just the past three weeks:
As someone who has never worked for a vendor, Wolf should provide a fresh perspective at VMware. He has not been afraid to criticize the company in the past, especially when it comes to branching out into new areas. Before VMworld 2013, he asked if VMware was more focused on its hardware partners than its customers in its push to build software-defined data centers.
"Ten years ago VMware didn't care who it offended," he wrote. "Along the way server hardware vendors had no choice but to partner with them. … In the process of becoming a 'big company,' VMware lost its inner voice."
And during the conference, Wolf told us that VMware didn't do a good enough job explaining what software-defined data centers are and how customers can build them.
"They started to paint a picture that we have to start defining data centers in software, but I don't think VMware went far enough," he said.
What do you think about VMware hiring Chris Wolf? Let us know in the comments.
---
June 26, 2013 1:10 PM
VMware will offer a commercial version of Project Serengeti, its open source initiative to run Hadoop workloads in virtual infrastructures.
The new Big Data Extensions plug into vSphere and allow administrators to deploy, monitor and manage Hadoop clusters on VMs directly from vCenter. The extensions are also designed to improve the performance of Hadoop, the popular open source big data analytics platform.
"We're making Hadoop a first-class citizen on vSphere," said Fausto Ibarra, a senior director of product management at VMware. "It'll be just like any other workload."
Hadoop and other big data platforms typically require dedicated hardware, which can be cost-prohibitive for smaller organizations and also raises concerns around reliability. VMware released Project Serengeti last year to address these problems, and the Big Data Extensions further that cause by adding full enterprise support.
In preparation for today's public beta release of the Big Data Extensions, VMware earlier contributed code to the Hadoop community that optimizes Hadoop's placement of data when running on virtual infrastructure, Ibarra said. The vendor also worked with the makers of the leading Hadoop distributions to share virtualization best practices.
The Big Data Extensions support the following Hadoop distributions:
Apache Hadoop 1.2
Cloudera 3 Update 6
Cloudera 4.2
Hortonworks Data Platform 1.3
Mapr 2.1.3
Pivotal HD 1.0
The Big Data Extensions will be generally available by the end of the year. VMware also announced that Pivotal HD, its parent company EMC's Hadoop distribution, has received VMware Ready certification.
---
January 29, 2013 12:02 AM
VMware will cut 900 jobs as it rationalizes its product portfolio in the course of the coming year, executives said on the company's earnings call Monday night.
VMware has added 6700 employees in the last three years, and the overall headcount by the end of fiscal 2013 is still expected to be up by 1000 despite the job cuts, officials said. The company ended 2012 with 13,800 employees.
VMware CEO Pat Gelsinger said at the beginning of the call that VMware would realign itself around three "growth priorities," the software-defined data center, the hybrid cloud, and end user computing. Product expansion is expected in management, networking, security, storage and high availability.
---
January 23, 2013 2:34 PM
VMware has made a $30 million investment in IT automation software maker Puppet Labs, the better to develop new integration between Puppet and its virtualization and cloud management software.
Puppet can already manage VMware's vSphere virtual machines, as well as its Application Director. The goal of the new investment is to create direct provisioning hooks between Puppet and VMware's management products this year,  which include vCloud Automation Center, vCenter Operations, and vCenter Configuration Manager, according to Puppet Labs CEO Luke Kanies.
"They're good at managing the VM as a unit, and we're good at looking at the VM and making sure it's going to do what it's supposed to do," Kanies said.
Puppet, available in open source and Enterprise editions, allows systems administrators to determine how they want their infrastructure to look and then carries out the necessary steps automatically, allowing for fast, repeatable systems provisioning, configuration and management.
This is VMware's second investment in Puppet Labs in the last 18 months; in November 2011 it joined Google and Cisco in an $8.5 million round of financing for the company.
Puppet does work with other kinds of hypervisors and cloud management systems, including Citrix's CloudStack, OpenStack, Red Hat Enterprise Virtualization, and Amazon Machine Images. Recently, the company talked with Microsoft as well, Kanies said, but 90% of Puppet's customers are VMware users.
That said, Kanies dismissed the idea of Puppet becoming a VMware company.
"The fact that we integrated with OpenStack doesn't mean we're becoming a cloud company," he said.
---