Sep 2 2009 4:29PM GMT

Profile: Colin Steele
SAN FRANCISCO — Much has been made about VMware's crackdown on competitors at VMworld 2009. Its goal is to keep the focus on VMware and its loyal partners, but really all it does is force the competition to get more creative.
Case in point: Citrix, which has taken its message to the streets. Literally. On taxi cabs.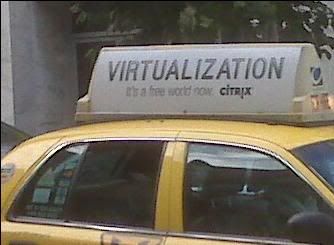 As you can see, Citrix has taken out taxi-top advertisements here in San Francisco. This one says, "Virtualization: It's a free world now," and I saw another this morning that said, "Virtualization: It's an open world now."
Sure, ads on cabs aren't as beneficial as showing off XenServer 5.5 on the VMworld floor would have been. But for Citrix, they're better than nothing.