---
August 28, 2008 7:44 AM
Xen.org announced the release of a new version of the project's open source hypervisor, Xen 3.3 today, with enhancements to security, performance and scalability.


RSS Feed

Email a friend
August 26, 2008 9:11 AM
The VCP (VMware Certified Professional) certification I have blogged about twice before has gone through the roof. I have never seen a jump like this in all my years in IT. See for yourself.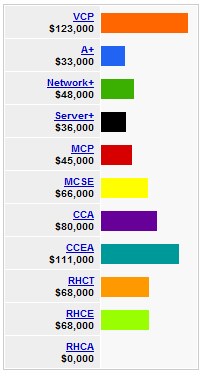 ---
August 25, 2008 10:09 AM
The mashup market is for more than just those out there making rich-media web apps. They've taken the concept of the mashup to the virtualization market. The resulting product is a mash-up of two virtualization platforms, OpenVZ and KVM, which Proxmox has combined into a delightful new offering...
---
August 25, 2008 9:58 AM
Selecting a VDI environment is a daunting process. As I begin to evaluate technologies for VDI design and implementation for an upcoming project, the first step is often to identify the requirements from the end-user perspective. Administrators frequently get wrapped up in the server side of a...
---
August 25, 2008 9:09 AM
AMD's quad-core Opteron processors powered the top three performing servers on VMware Inc.'s VMmark virtualization...
---
---
August 19, 2008 1:16 PM
A well-documented procedure for physical-to-virtual (P2V) conversions still lacks the valuable information learned by experience. In this video blog, Rick Vanover introduces the stage configuration phase of a P2V conversion. When this phase and other phases of a conversion are used in a procedural...
---
August 19, 2008 8:39 AM

Profile: Eric Siebert
Organizations that have virtualized their environments often virtualize only a portion of their servers, leaving some servers running on standalone physical hardware. Is a 100% virtualized environment possible? Certainly it is, because almost all workloads can be...
---
August 15, 2008 8:19 AM
This week, the biggest news item on SearchServerVirtualization.com

---
August 14, 2008 11:33 AM
Sun xVM VirtualBox offers a powerful command-line interface (CLI) component, VBoxManage, which can perform most functions within VirtualBox. Having a robust CLI is key to automation and scripting, even in a workstation virtualization product. In my continued coverage of VirtualBox, this blog will...
---