Nov 24 2010 2:56PM GMT

Profile: Alex Barrett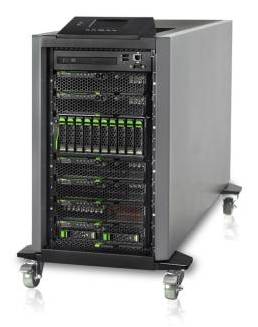 In a twist on blade server design, Fujitsu announced a new blade server enclosure today that can, in a pinch, be turned 90 degrees and rolled under a desk.
The new PRIMERGY BX400 is the little brother to the 10U BX900, and is designed for two scenarios. Like most blade enclosures, the BX400 can be deployed in a traditional data center. Alternately, for organizations with limited space and a low tolerance for noise, the BX400 can be equipped with a floor stand kit that tips it on its side, and then placed in an office or retail location.
"It's extremely easy to use in existing environments, with no power or cooling modifications," said Manual Martull, Fujitsu senior director of marketing.
Characteristics of the BX400 that make it suitable outside of the data center include low power consumption and low noise emmissions (45 decibels) relative to other blades. The floor standing variant also comes with a top-mount LCD module, and a lockable front door.
In other respects, the BX4000 is a relatively normal blade enclosure designed for shops that want to centralize and simplify their IT resources. The 6U enclosure can up equipped with a total of eight two-socket Intel Xeon 5500 and 5600 server blades and ten-drive SX960 or SX940 storage blades. In addition, customers can opt for a centralized shared storage option in PRIMERGY VSX, a version of NetApp's Data ONTAP-v storage software that runs as a virtual appliance on a dedicated blade.
It's that combination — centralized shared storage plus suitability for non-data center environments – that Martull said Fujitsu hopes will help it penetrate small to medium businesses. He said these so-called SMBs represent the biggest growth area for blades.  
But if a tree falls in a forest and no one is around to hear it, does it make a noise? Fujitsu's presence in North America at least is tiny, Martull admitted, with about 1% of market share.
"Our challenge in North America has been brand awareness, and competing against other strong American brands," he said. In the coming year, look to Fujitsu to grow its North American sales team, and expand its midmarket channel presence through distributors like Tech Data and CDW.