Mar 17 2009 5:36PM GMT
I tuned in to Cisco's web-based news conference yesterday to hear about their first server platform within the Unified Computing System, and my eyes are still rolling today.
Instead of showing off the new system – which they refer to as "the new movement" – with some demonstrations, we watched 90 minutes of Cisco's CEO John Chambers and partners Intel, BMC, Microsoft, EMC and VMware congratulating each other on being masters of the universe. Good thing I had that barf bag nearby.
After Cisco and its partners were done talking about how revolutionary this new system is and how much they love each other, one reporter basically asked, where's the beef? "We have been hearing about the California server for weeks now, but you haven't mentioned anything about a server. Is this announcement related to that?," he asked.
Before Chambers let his trusty engineer answer the question, he thanked all of his partners again. The Cisco engineer then reiterated  their strategy with this system while carefully avoiding the term "blade server" because the system is more than just that. And round, and round we went.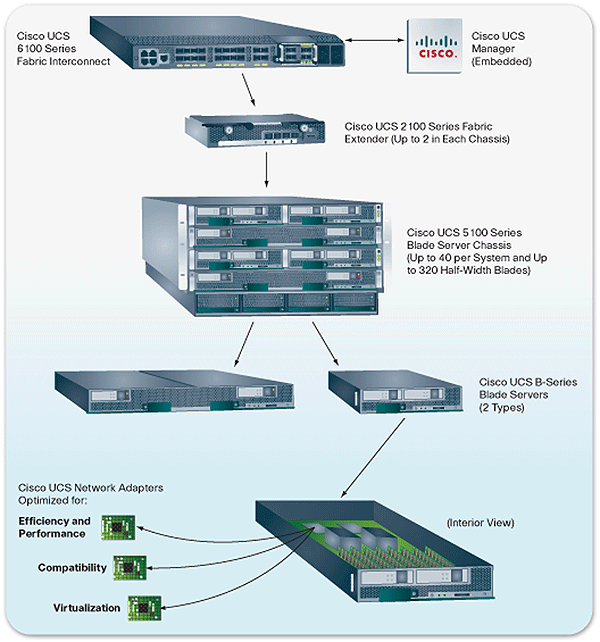 Bottom line, the system is a chassis full of Cisco UCS B-Series blades bundled with networking, storage and virtualization features. Take the pieces apart, and you have Cisco's first blade servers. Some people may also have found it interesting that the Intel Nehalem-based servers come in both full and half depth options, so you can pack a ton of the half-depth boxes into a chassis (assuming they don't throw off crazy amounts of heat).
So the fact that Cisco's talking-head-style news conference was absolute torture doesn't make the system itself any less interesting from a server market perspective. We already know their networking stuff works, so they really just have to prove themselves with some solid server engineering to compete with the existing x86 providers. (Cisco, I know you say you aren't competing with those guys, but you are).
And in many ways, Cisco has come full-circle by introducing a server, said Anne Skamarock, a research director with the analyst / consulting firm Focus.
"When I worked at Sun Microsystems back in the mid-1980's they debated becoming a Cisco putting intelligent switches (read: specialized servers) in the network. So in a very real sense, Cisco has been building servers for years – servers designed specifically for the work of switching," Skamarock said. "If you think about it, the first "blade servers" were produced in the networking space years ago adding a form factor for multiple switches from the horizontal to the vertical."
Cisco also talked about how much this system will save companies because it "radically reduces the number of devices and the required setup, management, power/cooling, and cabling," but they didn't talk about the acquisition cost. A Cisco spokesperson said they can not release any pricing details until April, but I am betting it is not a small number.
Even so, if Cisco has engineered a solid server and the system as a whole proves to be of good value, the Unified Computing System concept will catch on, but we aren't sure when these systems will actually hit the commercial market.
And I'm sure server vendors like HP, Dell and IBM will follow suit with their own "me-too" unified systems similar to Cisco's. Actually, those companies may even end up using their top networking partner for the plumbing. After all, in terms of virtualization, Cisco has come up with important technologies like VLANs and VSANs, which are now industry standards.
The way I see it, by creating this "new" market of Unified Computing Systems, Cisco is setting itself up for success in both the networking market and the server market.