Nov 8 2010 12:48AM GMT

Profile: Roger King
PLEASE NOTE: THE ITKE BLOG SYSTEM WILL NOT RELIABLY DISPLAY IMAGES.  IF YOU CANNOT SEE THE IMAGES IN MY BLOG, PLEASE COMMENT ON THIS BLOG ENTRY AND I WILL GET THEM TO YOU.
This blog is dedicated to advanced Web and media technology.
Choices, choices, choices.
In the previous posting, we considered the difference between surface and solid modeling, and the two main ways of building surface models – by using straight line geometry or by using curved line geometry.
We focused on what is arguably the gold standard for 3D modeling and animation: Autodesk Maya.
As it turns out, these high level modeling alternatives give just a hint of the almost astonishing breadth of 3D modeling choices that must be made by the Maya animator.
Why are things so complicated?
It's the typical dilemma that novices in particular must confront when learning a mega media application: whether it's a raster image app like Adobe Photoshop, a video editing app like Apple Final Cut, or a 3D modeling and animation app like Autodesk Maya, the way the vendors keep selling new releases is by continually adding more capabilities.
These updates tend to take the following form: rather than providing intrinsically new functions, they provide shortcuts, alternatives, and variations.
Maya: the Photoshop of the 3D world.
In fact, the Maya modeling toolbox is so big that it's hard to know what tool to reach for. This can intimidate a novice. It can be hard to move forward and get your modeling feet wet when it seems like you know so little.
In truth, Maya takes years to learn. So beginners have to balance two conflicting demands:1) the need to starting flexing their creative mental muscles, and 2) the importance of developing a mature, intuitive understanding of the highly varying ways of doing any given job.
Only with experience do novices develop their true artistic voice – but you can't wait years to start talking. Today, we'll look at a small example of this dilemma.
A simple example: glass.
Here's a quick example:
What do you do if you want to make glass? There are many ways to do it with Maya, and here are three of the simpler alternatives.
Click here to download glass example 1, or click below to view online.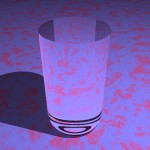 1. Choose a standard, shiny material like a Blinn and then starting tweaking the way the material and the renderer interact as they reflect and refract light:2. Use a canned glass material, such as one provided by the Mental Ray renderer that comes packaged with Maya. (By the way, tuning the appearance of prefab materials can take as much time as doing it from scratch):
Click here to download glass example 2, or click below to view online.
3. Make two identical objects, one slightly smaller than the other, and lay them on top of each other, to give the glass a sense of thickness. Then you work with the way light interacts with the two layers:
Click here to download glass example 3, or click below to view online.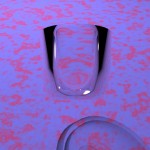 But these are only three of the very simple ways of attacking glass. There are a number of more complicated (and often more effective) ways of getting the job done.
More on 3D modeling and animation to come.