---
October 20, 2010 5:05 PM
This year's Security 7 Award winners discuss targeted attacks and how strategies for securing the network perimeter have changed.
The podcast participants include:
Phil Agcaoili, chief information security officer, Cox Communications
Brian Engle, director of information security, Temple-Inland
Christopher Ipsen, chief infortmation security officer, State of Nevada
Nick Mankovich, senior director of product security and privacy, Philips Healthcare
Julie Myers, chief information security officer, University of Rochester 

Standard Podcast
Play Now
|
Play in Popup
October 15, 2010 3:25 PM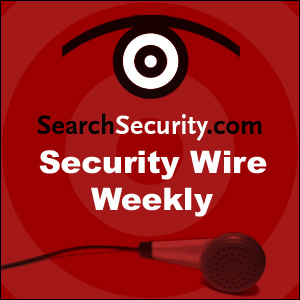 Bryan E. Simon, senior systems and security specialist at Prince George, BC-based Integris Credit Union, talks about the daily struggles security pros face, including the need to balance security demands with compliance requirements.

Security Wire Weekly
[ 11:32 ]
Play Now
|
Play in Popup
---
September 22, 2010 6:15 PM
Marc Maiffret of eEye Digital Security talks about his hacking career and the revival of his company's zero-day tracking service. Also, Jeremiah Grossman of WhiteHat Security on the latest Twitter vulnerability.

Security Wire Weekly
[ 23:42 ]
Play Now
|
Play in Popup
---
September 20, 2010 8:41 PM

SearchSecurity.com editors talk with Pete Lindstrom, a longtime security industry observer and research director at Spire Security about the latest security vendor acquisitions and what they mean for the market. Also, should security pros be silenced by their employers?

Security Squad
[ 29:31 ]
Play Now
|
Play in Popup
---
September 2, 2010 3:56 PM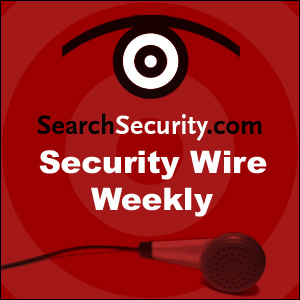 Botnet and malware expert Joe Stewart explains why it is difficult for security teams to take down botnets. Stewart, director of malware research at SecureWorks talks about the data that can be gleaned from command and control servers and what ISPs are doing to defend against zombie computers.

Standard Podcast
[ 17:28 ]
Play Now
|
Play in Popup
---
August 26, 2010 3:03 PM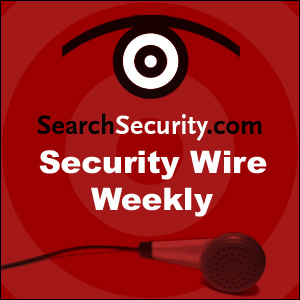 Ryan Berg a senior architect of security research for IBM talks about ways enterprises can improve their software development processes and why some firms are falling behind.

Secure Software development starts at the top
[ 25:45 ]
Play Now
|
Play in Popup
---
August 6, 2010 2:44 PM

Profile: JohnMWillis
In this edition of Patrolling the Channel, Check Point v.p. Amnon Bar-Lev sat down with SearchSecurityChannel.com and talked about the top challenges facing his partners today.

Patrolling the Channel (featuring Check Point's Amnon Bar-Lev
Play Now
|
Play in Popup
---
August 2, 2010 8:06 PM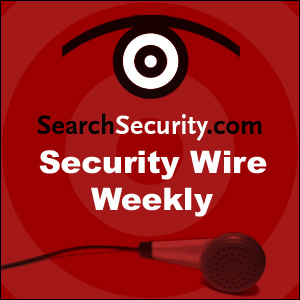 In this interview with Editorial Director Michael Mimoso, Jim Reavis, cofounder of the Cloud Security Alliance, discusses the group's first user certification, the Certificate of Cloud Security Knowledge (CCSK). The CCSK will demonstrate an individual's understanding of the key concepts of the Cloud Security Alliance's guidance and best practices, as well as those of the European Network and Information Security Agency (ENISA). Reavis also discusses the state of cloud security awareness among enterprises moving services and processes into the cloud, and how IT organizations should address security and compliance in the context of cloud computing.)

Black Hat 2010: Jim Reavis on first Cloud Security Alliance user certification
[ 18:13 ]
Play Now
|
Play in Popup
---
July 29, 2010 2:56 PM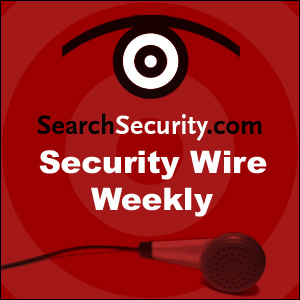 Core Security's Tom Kellermann goes in depth on his thoughts about advanced persistent threat, how to deal with foreign adversaries and where and why the U.S. government is coming up short in fending off targeted and persistent attacks from cybercriminals and foreign governments

Black Hat 2010: Tom Kellerman on advanced persistent threat (APT), and cybersecurity and the U.S. government
[ 13:26 ]
Play Now
|
Play in Popup
---
July 28, 2010 9:28 PM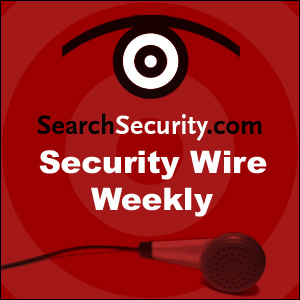 Greg Hoglund, founder of HB Gary Inc., presented his work on malware attribution and fingerprinting today at Black Hat in Las Vegas. In this interview, Hoglund talks about his research into looking at how to best trace malware to its author by looking at toolmarks left by the hacker within code. By studying similarities in coding techniques, different attacks can be linked and better traced to their source. Hoglund talks about how enterprises can take a similary approach and how a new open source tool released today can help.

Black Hat 2010: Greg Hoglund on malware attribution and fingerprinting
[ 6:23 ]
Play Now
|
Play in Popup
---