---
June 9, 2009 4:34 PM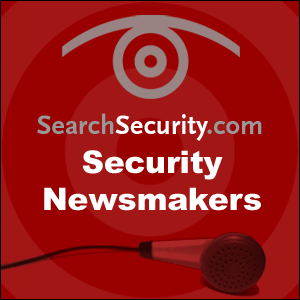 Steve Munford took over Sophos' leadership as the U.K.-based AV company mounted an aggressive effort to expand its market share, particularly in North America, against industry giants Symantec and McAfee. Munford was president of ActiveState when it was acquired by Sophos in 2003 and served as president for North America from 2003-2005.
In this interview, Information Security magazine's Neil Roiter talks with Munford about the company's acquisition and integration of encryption vendor Utimaco and Sophos strategy for leveraging the acquisition to boost sales in North America and Europe. Munford describes how Sophos engineering culture helps it integrate acquisitions and develop technology in-house.

Security Newsmakers
[ 16:35 ]
Play Now
|
Play in Popup
June 3, 2009 7:35 PM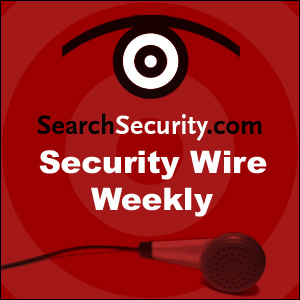 Information Security magazine's Michael Mimoso reports on the Obama cybersecurity announcement. He speaks with security luminary Howard Schmidt, Paul Kocher, chief scientist of Cryptography Research and Unisys CISO Patricia Titus.

Security Wire Weekly
[ 0:01 ]
Play Now
|
Play in Popup
---
May 27, 2009 5:55 PM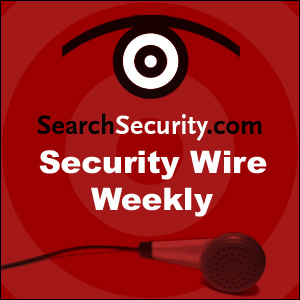 Security luminary Bruce Schneier and former cybersecurity czars Amit Yoran and Gregory Garcia share their views on a possible new White House cybersecurity czar. UK-based Paul Wood, senior analyst at Symantec's MessageLabs, gives the international perspective.

Security Wire Weekly
[ 30:58 ]
Play Now
|
Play in Popup
---
May 22, 2009 1:50 PM

It's no secret that cybercrime is an ever-growing issue for today's security professionals, but what roles and responsibilities need to change as a result of the glut in illicit cyber activity?
In this video, Bill Boni, VP of information security and technology at Motorola, discusses the changing landscape of cybercrime, and how to react to it.

Cybercrime and threat management
[ 0:01 ]
Play Now
|
Play in Popup
---
May 20, 2009 9:08 PM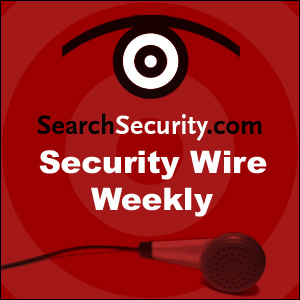 Sophos senior security consultant Graham Cluley talks about the antivirus industry, the threat landscape, the Conficker worm and why it has been difficult to defeat international cybercriminal gangs.

Security Wire Weekly
[ 15:00 ]
Play Now
|
Play in Popup
---
May 15, 2009 7:19 PM

SearchSecurity.com editors discuss whether the Berkeley data breach warranted so much news coverage and whether people are becoming desensitized to data breaches. Also, Heartland Payment Systems' push for better industry wide security and whether software vendors should push silent updates to users.

Security Squad
[ 25:47 ]
Play Now
|
Play in Popup
---
May 13, 2009 6:25 PM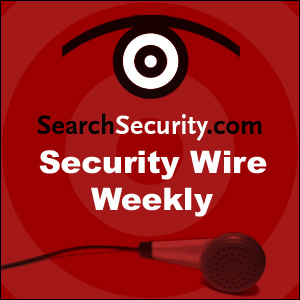 AT&T Labs' Brian Rexroad shares how the telecommunications giant detects and defends its network against botnets. Rexroad talks about the most prevalent botnets being monitored, including Conficker, how privacy concerns strain detection and eradication efforts and explains how future technologies could be used to battle the cybercriminals behind the threat. Rexroad is principal architect at AT&T Labs.

Security Wire Weekly
[ 20:19 ]
Play Now
|
Play in Popup
---
May 6, 2009 3:14 PM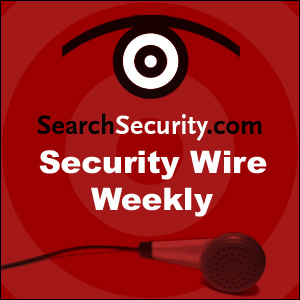 Eastman Kodak CISO Bruce Jones on compliance issues, cloud computing and virtualization use. Also, security analyst Eric Ogren on virtualization and other trends from the 2009 RSA Conference.

Security Wire Weekly
[ 23:33 ]
Play Now
|
Play in Popup
---
May 1, 2009 1:58 PM
SearchSecurity's Carolyn Gibney interviews David Foote of Foote Partners LLC about the firm's latest skills and certification pay research. Some security skills are holding their own in the tough economy.

Audio Interview
[ 18:51 ]
Play Now
|
Play in Popup
---
April 30, 2009 5:19 PM

In this edition, SearchSecurity editors talk about the electrical grid compromise, restructuring of the federal cybersecurity authorities, who to blame for the Conficker hype and recent criticisms of the Payment Card Industry Data Security Standard.

Security Squad
[ 25:16 ]
Play Now
|
Play in Popup
---