---
July 15, 2009 7:30 PM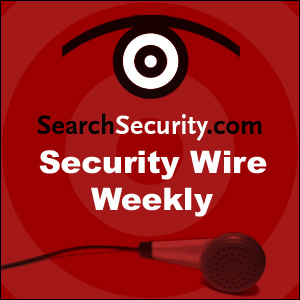 Sheldon Malm and Josh Abraham of Rapid7 explain some of the serious vulnerabilities addressed by Microsoft this month. Also, Eric Voskuil of BeyondTrust on ways to protect against ActiveX vulnerabilities. Microsoft has been dealing with a slew of ActiveX flaws of late.

Security Wire Weekly
[ 20:21 ]
Play Now
|
Play in Popup
July 8, 2009 6:53 PM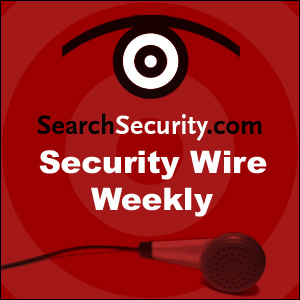 Jack Walsh, network IPS program manager for ICSA Labs discusses the latest Microsoft zero-day and his firm's research into the attack methods. Read the full story.

Security Wire Weekly
[ 8:32 ]
Play Now
|
Play in Popup
---
July 6, 2009 3:16 PM

Rogue DHCP server malware is a new twist on an old concept. The good news is that effective threat mitigation strategies exist; the bad news is that many organizations haven't bothered to deploy them.

How to defend against rogue DHCP server malware
[ 0:01 ]
Play Now
|
Play in Popup
---
July 1, 2009 6:58 PM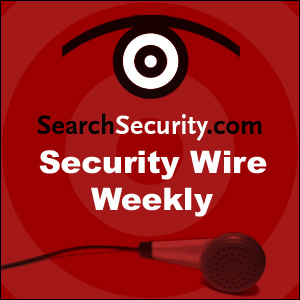 Like it or not Web-based social networking services are here to stay. Amit Klein, founder and chief technology officer of Trusteer talks about the latest Twitter threats, how browser makers are responding to phishing and other attacks and the adoption of DNSSEC.

Security Wire Weekly
[ 15:32 ]
Play Now
|
Play in Popup
---
June 24, 2009 8:23 PM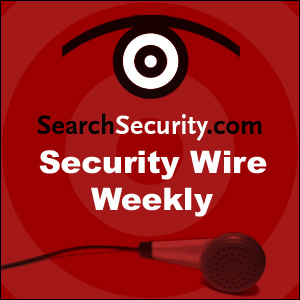 Security researcher Matt Wood of HP talks about a new browser-based darknet he co-developed called Veiled. Also, Pete Lindstrom of Spire Security on TJX's latest data breach news.

Security Wire Weekly
[ 19:10 ]
Play Now
|
Play in Popup
---
June 22, 2009 1:33 PM

Most security pros don't give the system BIOS a second thought, or even a first one, but today's BIOS types are highly susceptible to malicious hackers. Information security threats expert Sherri Davidoff explains how attackers can plant BIOS malware and how security pros can thwart such attacks.

When BIOS updates become malware attacks
[ 0:01 ]
Play Now
|
Play in Popup
---
June 19, 2009 1:55 PM
Is the recession holding back your career plans? In this free 30-minute podcast, experts Lee Kushner and Mike Murray offer infosec job advice that will help you survive and thrive in tough times.

Standard Podcast
Play Now
|
Play in Popup
---
June 17, 2009 9:25 PM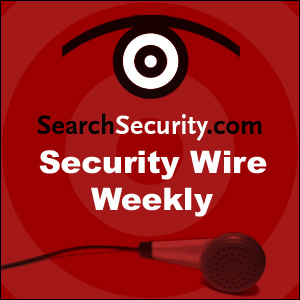 Click fraud is threatening online advertising, according to experts. This week, Anchor Intelligence lead scientist Daniel Walling and Richard Sim, vice president of product management talk about how fraudsters are getting more sophisticated. Also Jeremiah Grossman of WhiteHat Security explains why it's so easy for people to carry out click fraud.

Security Wire Weekly
[ 0:01 ]
Play Now
|
Play in Popup
---
June 13, 2009 2:30 AM

SearchSecurity.com editors discuss the Obama administration's cybersecurity plans, the FTC shutdown of Triple Fiber Network and what IT security pros can do to address the growing threat posed by the use of social networks and other Web-based services.

Security Squad
[ 33:40 ]
Play Now
|
Play in Popup
---
June 10, 2009 8:54 PM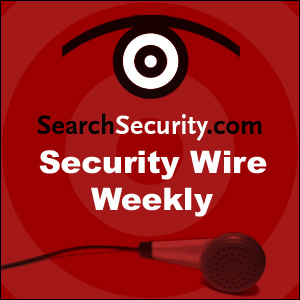 Security consultant Lenny Zeltser of Savvis Security Consulting Services explains the threats posed by employee use of social networking websites and what security pros can do to address them. Zeltser is a faculty member at the SANS Institute. Also, a brief overview of Microsoft Patch Tuesday.

Security Wire Weekly
[ 20:10 ]
Play Now
|
Play in Popup
---