---
September 3, 2009 3:05 PM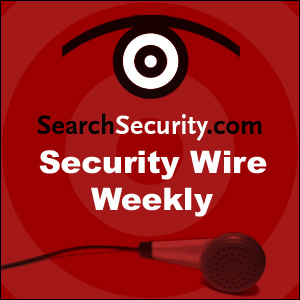 Eric Ogren of The Ogren Group talks about the focus on security fundamentals and some virtualization technologies that increase security including virtual desktops. Ogren is attending VMworld this week in San Francisco.

Security Wire Weekly
[ 0:01 ]
Play Now
|
Play in Popup
August 26, 2009 8:12 PM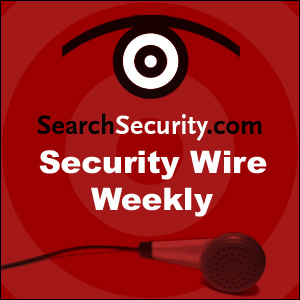 SearchSecurity.com's Carolyn Gibney interviews David Foote of Foote Partners on his latest skills and certification data. Foote says there's reason for those in the security industry to be optimistic.

Security Wire Weekly
[ 19:56 ]
Play Now
|
Play in Popup
---
August 24, 2009 6:25 PM

Editors discuss the missing federal cybersecurity coordinator, the recent debate over comments made by Heartland CEO Robert Carr blaming the PCI QSA for the breach and whether the U.S. Marines should ban social networks.

Security Squad
[ 23:24 ]
Play Now
|
Play in Popup
---
August 21, 2009 2:44 PM

Recently, there has been a great deal of press about massive botnets and killer denial-of-service attacks. So how concerned should you really be about cyberwarfare? The threat is real, says contributor Sherri Davidoff, but the underlying problems are weaknesses in our own infrastructure. Outages can be prevented with a level head and a solid plan.

Cyberwarfare and the enterprise: Is the threat real?
[ 0:01 ]
Play Now
|
Play in Popup
---
August 19, 2009 8:43 PM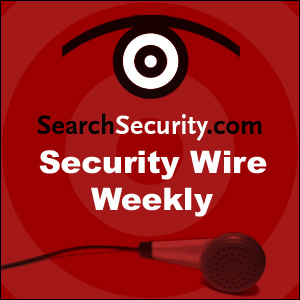 Jim Molini, a Microsoft security professional and longtime security expert explains his work as the key architect of a new secure software certification. Also, Forrester Research analyst Rob Whiteley talks about weighing risks versus attempting to secure all data.

Security Wire Weekly
[ 36:24 ]
Play Now
|
Play in Popup
---
August 12, 2009 6:17 PM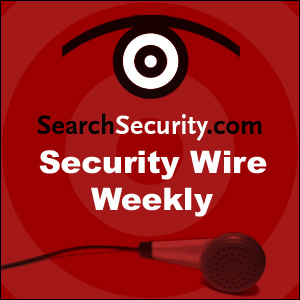 Security researcher David Dewey of IBM ISS explains his team's discovery of interoperability flaws affecting Microsoft and third-party vendors. Dewey estimates that as many as 10,000 components on the Internet may be affected.

Security Wire Weekly
[ 14:25 ]
Play Now
|
Play in Popup
---
July 29, 2009 2:07 PM
Michael Mimoso, editor of Information Security magazine and Robert Westervelt, news editor of SearchSecurity.com discuss what to expect at this year's Black Hat conference. Also, listen to an interview with Mikko H. Hyppönen of F-Secure. Hyppönen plans to give an update on Conficker during a presentation at Black Hat. Visit our Black Hat 2009 news coverage page at: searchsecurity.com/blackhat2009

Security Wire Weekly
[ 22:05 ]
Play Now
|
Play in Popup
---
July 23, 2009 4:56 PM
Purewire principal researcher Paul Royal explains the ins and outs of the Adobe Flash vulnerability. The flaw is being exploited via PDF files and drive-by attacks. Adobe said it plans to fix the flaw by July 30.

Security Wire Weekly
[ 8:18 ]
Play Now
|
Play in Popup
---
July 17, 2009 4:58 PM

The SearchSecurity.com editors discuss TJX's settlment with 41 states over its data breach, Juniper's decision to pull a Black Hat presentation and whether our Social Security numbers are at risk

Security Squad
[ 27:55 ]
Play Now
|
Play in Popup
---
July 16, 2009 2:40 PM

How secure is the software produced today? Is it possible to keep attackers out of your network if they're determined to get in? What strategies for employee security awareness training are most effective at stopping malware? Greg Hoglund explains how enterprises can face these challenging questions in order to strengthen their security programs and keep sensitive data in the right hands.

Standard Podcast
[ 0:01 ]
Play Now
|
Play in Popup
---