Oct 26 2009 7:56PM GMT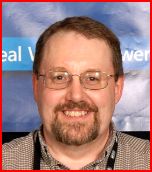 Profile: Tdudeguy
Let me Introduce myself.  I am a blogger with a lively interest in the IT and IT Security fields.  These blogs will bring together more than a decade of experience with so many IT events and happenings.
As you know, the FTC recently made it important that we bloggers own up to anything that might sway our judgment.  I am a Microsoft MVP because of my work teaching Visual Basic .Net at the local university.  This means I get a free copy of MSDN so as to keep track of new developments with Visual Studio.  I even get free access to another development environment called Eclipse, one that can run gcc, a !free! compiler.  Did I mention I got Apache and Linux approved for use at a big organization once, so I may be partial to those technologies? 
Last, I got a small, !FREE! box of Tide detergent in the mail.  I must confess that I use perfume-free All detergent.  My indoctrination didn't take I guess.   
Meanwhile, the number of bank failures is something like 106 during last year's crisis.  The banking industry got untold billions of dollars to prevent an out-and-out collapse, one caused by lousy ethics and even worst inspection of business practices.  Much of that money went for bonuses or was never properly accounted for.
Meanwhile, we Internet Bloggers must confess that the candy machine once dropped TWO bags of Peanut M&M's onto the platform, and this explains why we favor those candies more than others.  We're in the middle of an Info-mercial epidemic but it's the blogger community needing inspection?  Medical claims for herbs and plants are routinely provided by actors who only play doctors, but it's 'those Bloggers' we should beware of…
I applaud the government's willingness to clean up a growing problem, but the approach seems all wrong.  Does anyone really think you Internet-savvy readers are so easily duped or that we Internet-driven bloggers are so easily swayed that anything we get freely will drop our objectivity?
I think this reveals the gap between the Internet and the traditional societal structures.  If FREE were able to so conclusively sway we Internet Experts' views and opinions, we'd mention nothing other than Open Source technologies, I suppose.  So just what will this column cover? 
I have a deep fondness for efficient and cost-effective IT tools that work well.  You'll read about them here.  Just remember, though, that we're both easily swayed by such transparent tactics…  This intial blog hopes to set the record straight regarding what may be influencing our views on many information technologies.
jt