Jul 16 2012 10:59PM GMT

Profile: Ken Harthun
I hope that none of you, my readers, are using any passwords like these: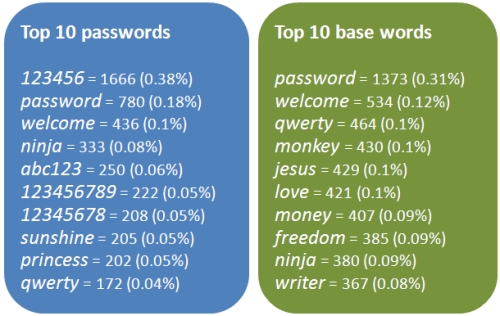 I have spent endless hours writing about best password practice and how to generate strong, unguessable passwords. I know many other writers in the security field are doing the same. Do people listen? Maybe some do, but as Graham Cluley, Senior Technology Consultant at Sophos says: "And yet, people continue to use passwords that are – quite frankly – dumb, and then compound the problem by using the same simple password in multiple places."
The recent hack of Yahoo Voices presented another opportunity for someone to analyze the passwords that people tend to use. This from the Naked Security blog:
Scandinavian security blogger Anders Nilsson spent a little time with the Pipal password analysing tool, running it against the 450,000 plaintext passwords snatched by hackers from Yahoo Voices.

And what he found doesn't inspire much confidence that users are getting the message about password security.
Sigh…