Aug 16 2010 12:05AM GMT

Profile: Ken Harthun
I'd love to have a dollar for every time I've had to clean off FakeAV junk from a PC and then (diplomatically) explain to the user that they've been tricked. "But Windows Security Center popped up and said my PC was infected," they cry. I feel for them; it's definitely a slimy trick by slimy Internet criminals. So, I figured I'd better explain what this threat is and how to spot it before it lightens the wallet.  First, a definition from Sophos' excellent publication (recommended reading) What is FakeAV? :
FakeAV or Fake AntiVirus, also known as Rogue AntiVirus, Rogues, or ScareWare, is a class of malware that displays false alert messages to the victim concerning threats that do not really exist. These alerts will prompt users to visit a website where they will be asked to pay for these non-existent threats to be cleaned up. The FakeAV will continue to send these annoying and intrusive alerts until a payment is made.
For those of us who are savvy, these things are easy to spot; we're usually aware of what AV software we use and know that what's warning us isn't our system. But, for the uniformed, such convincing names as those listed below usually work:
AntiSpyWarePro
Antivirus Plus
Antivirus Soft
Antivirus XP
Internet Security 2010
Malware Defense
Security Central
Security Tool
Winweb Security
XP Antivirus
Digital Protector
XP Defender
Pop-ups also catch people especially because they resemble what Windows would do. Here's what one unlucky user had to say in a forum: "I learned a $90 lesson yesterday. If a window pops up (even if it looks just like Windows) and tells you your computer is 'infected', DON'T acknowledge it. Don't click 'Yes/Scan', 'No' or anything. Just turn off your computer. " To that, I would add one more step:  Call your friendly local Geek for a good PC clean up and protect session. Here's a shot of a typical "System Scan" screen.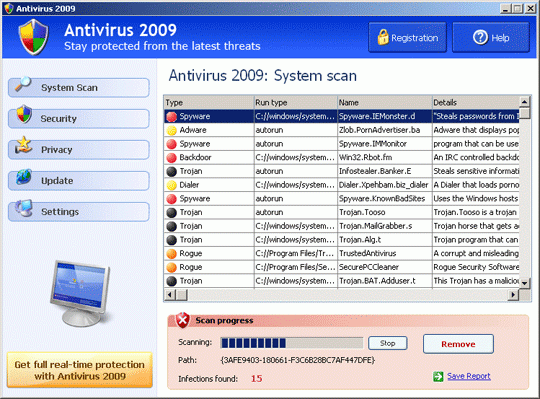 And one more thing: Please don't click on links or open files in emails if you don't know where they came from, even if they look legitimate.