Jan 28 2009 1:47AM GMT

Profile: Ken Harthun
In my September 13, 2008 post, "Software for Secure Computing: Microsoft Malicious Software Removal Tool," I said, "Many people don't even know that MSRT can be run from the Microsoft.com website or downloaded and run at will." I wonder how many people know that if you have automatic updates enabled, there's no need to download MSRT to run it–the latest version is already on your system.
The MSRT can be invoked from the Run dialog or the command line using a simple three-letter command. Several options are available.  Hit Windows Key + R to open the Run dialog and type mrt /? This will bring up an information box as shown below. (The same thing happens if you type the command at a command prompt.)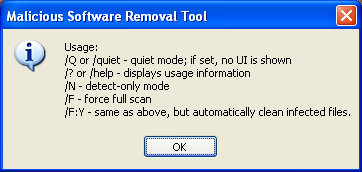 The options are self-explanatory. If you just type mrt by itself, it will bring up a UI that allows you to point and click to select the type of scan you want. At the first UI screen, you can view a list of malicious software that the tool detects and removes. The signatures are updated monthly on patch Tuesday when Microsoft releases the latest version of the tool.
Remember that the MSRT is not a replacement for an anti-virus product; it targets only a limited set of specific, prevalent malware as determined by Microsoft's security folks.  You should use a good anti-virus product.