Nov 30 2014 2:24AM GMT

Profile: Ken Harthun
Tags: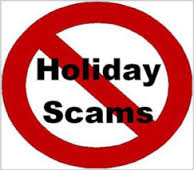 The holiday season has begun in earnest and along with that comes a greater-than-normal threat of identity theft and cyber-fraud. While there are always myriad scams going on at any given time, certain types tend to show up more during the holidays. As tax season approaches identity theft and the filing of fraudulent tax returns spikes up. First, here are some common holiday scams to watch out for.
Charity scams – Legitimate charities don't solicit donations via email, so chances are if you get a solicitation from what appears to be a legit charity, it's probably a phishing attempt designed to steal your credit card and other personal information. Do not open it — delete immediately.
Shipping notification emails–  I have seen these come from USPS, FedEx, UPS and DHL. They look totally legitimate and if you are ordering things online, you might think they are about your order. They probably are not. They will usually be sent with an attachment and you are directed to open the attachment for information. Don't do it! According to the FBI, the majority of the links and attachments in these emails are either phishing attempts or malware. Be very alert and read carefully.

Auction scams – Cyberthieves often use stolen credit card numbers to purchase gift cards and then auction them off at a discount in online auction sites. The problem is, the cards are worthless and you will have parted with cold cash or given up credit card information which might then be used by the scammers. Don't risk it.

Counterfeit merchandise –  Besides being illegal, the quality of the knock-offs is usually poor and you are wasting your money. Counterfeit toys pose a special risk to the safety of your child as they are often made in China and painted with lead-based paints. Buy the real thing and if you absolutely don't want to pay full price, seek out legitimate discount sales of authentic merchandise.

Letter from Santa scam

 

–

 You receive an unsolicited (spam) email offering a personalized letter from Santa to your child.  Prices vary, but chances are it's just a phishing scheme designed to steal your identity. If you want to make a letter to your child from Santa, there are legitimate sites that let you do it free. Here's one of them: www.freelettersfromsantaclaus.com.
I'll post more on the identity theft/tax fraud issues as tax season approaches, but for now, here are some tips from the IRS to help you avoid identity theft: http://www.irs.gov/Individuals/Identity-Protection-Tips.
Have a Safe, Happy and Fraud-free Holiday Season!