Feb 11 2009 10:30PM GMT

Profile: Ken Harthun
Most of the email we send and receive from our co-workers, family, and businesses contains little that requires any degree of confidentiality. The same goes for most of the files we have stored on our hard drives and thumb drives. Occasionally, however, we need to pass on or store some information that wouldn't be prudent for us to send or store in clear text, i.e., unencrypted. To go through all of the effort (and it's a bit of effort, believe me) to set up secure email or create encrypted partitions or directories on the hard drive is a waste of time for most people. Fortunately, there's a simple, free solution: AxCrypt.
AxCrypt is open source file encryption software for Windows. It integrates seamlessly with Windows to encrypt, decrypt, store, send and work with individual files. It runs on Windows 2000/2003/XP/Vista and uses AES-128 encryption.
Once installed, AxCrypt is integrated into Windows Explorer's context menu. You simply right-click files and folders in Windows Explorer, select AxCrypt and then select the action you want from the sub-menu (see screen shot).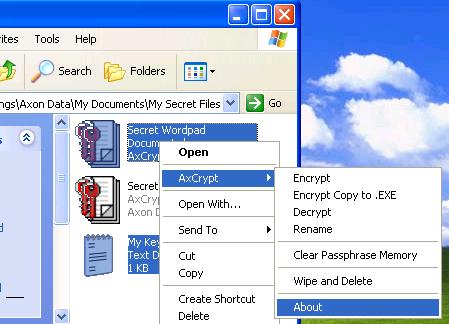 If you choose Encrypt Copy to .EXE, AxCrypt makes a copy of the document, asks you for a passphrase, and creates a standalone, self-decrypting file that you can safely send across the network or store anywhere you choose.
To use AxCrypt for secure email, simply create a text file that contains all of the sensitive information you want to send, make a self-decrypting EXE file, and send it as an attachment. You'll have to make contact with the recipient off-line to give them the passphrase, but your information will be secure in transit.
The AxCrypt site has plenty of information on how to use the program, as well as an excellent FAQ and command line reference.
Check it out. It's a great addition to your secure computing software collection.