Sep 30 2009 9:43PM GMT

Profile: Ken Harthun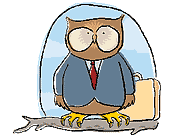 Search for "computer security maxims" on any of the top three search engines (Google, Yahoo, Bing) and my articles mostly dominate the results. So I was quite surprised that Security Now Episode #215, entitled "Security Maxims," gave no mention whatsoever of my contributions to this subject over the past three years. Guess I'll have to take that up with Steve and Leo. To be fair about it, though, the maxims that Steve talked about in the episode, composed by Roger G. Johnston, Ph.D., CPP of Argonne National Laboratory, Nuclear Engineering Division, are related to "…physical security and nuclear safeguards." However, according to Johnston, "They probably also have considerable applicability to cyber security." Many of them are also amusing.
Take this one for instance:
So We're In Agreement Maxim: If you're happy with your security, so are the bad guys.
Or this one:
Schneier's Maxim #1 (Don't Wet Your Pants Maxim): The more excited people are about a given security technology, the less they understand (1) that technology and (2) their own security problems.
Comment: From security guru Bruce Schneier.
How about this?
Byrne's Law: In any electrical circuit, appliances and wiring will burn out to protect the fuses.
In all, there are more than 60 maxims listed. You can download a PDF of "Security Maxims" if you want to see more. I highly recommend you read them. You may learn something new. Like I did.
Now, I'm out of here. Have to go fire off an email to Steve and Leo…
Comments? Let me know what you think.