May 13 2010 2:20AM GMT

Profile: Ken Harthun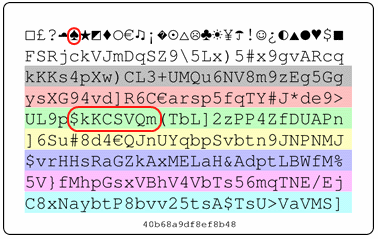 Thanks to "A password reminder to carry with you" on the IT Trenches blog letting me know about this great little tool. This thing is a real winner for all those XP forgotten password issues. Now, when you get those calls like "I forgot my password for my ____," you can give them something that allows them to write down password clues that are secure and also easily remembered.
You visit http://passwordcard.org and it generates an unique credit card sized matrix like the one in the picture at left. Just pick a symbol, a color and a number of characters and you have a secure password. You have the option of creating a numbers-only area as well as including symbols into the mix, depending on the type of passwords or PINs you require. The default is upper/lowercase and numbers. If you lose your card you can get a duplicate by going to the site and entering the number that appears on the bottom of the card, so you might want to write that down and keep it in a safe place just in case.
There are several ways you can use the password card. The simplest way is to pick a symbol, color and sequence of characters from left to right as in the illustration. You would remember this, or write it down, as "spade green 8." But notice that there are eight rows under each symbol. You could could choose the column under the diamond symbol and use the password JwdC4aGt. You'd write that down as "diamond down." Reverse the order, and you might write it down as "diamond up." In this case, the password would be tGa4CdwJ.
Want to get really fancy? You can if you want. How about four symbols, four colors, two characters from each? The possibilities are endless.
Visit IT Trenches and tell me what you think about this tool.