May 30 2011 11:47PM GMT

Profile: Ken Harthun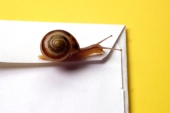 Sophos reports that one of its SophosLab researchers received a 419 scam via snail mail:
The gentleman who contacted my colleague calls himself Tim Wu, and claims to be a private investment manager based in Hong Kong.

It seems that a former client of his (who had the first name "Anderson" and came to a sticky end in a hiking accident in mainland China) didn't leave a will, and because there is no next of kin some of his $21 million fortune could be coming to my colleague here at Sophos instead!
There's nothing new about snail mail scams, of course, but email scams are far more prevalent these days. Maybe this signals a paradigm shift. Are the scammers finally getting desperate because no one is responding to their junk emails? We can only hope. I plan to continue to admonish people not to open emails that come from persons they don't know. I know I'm not the only one who does this. Spam filters are getting better, too, so much of the scammers' crap ends up in the bit bucket.
Now, lets consider this: when they are messing with the postal services of the U.S. and other countries, there are no proxies and no onion routers. The mail can at least be traced from the point at which it was dropped. The anonymity factor is greatly diminished. Another thing to consider is that physical mailings require an expenditure for postage, which emails do not.
An acquaintance of mine in law enforcement once told me that if you take the profit out of crime, the only crimes would be crimes of passion. If the scammers have to spend huge sums on postage and people heed our warnings about their tricks and don't fall for them, perhaps they'll fade away.
Let's hope that's what happens.