Jun 23 2010 1:12AM GMT

Profile: Ken Harthun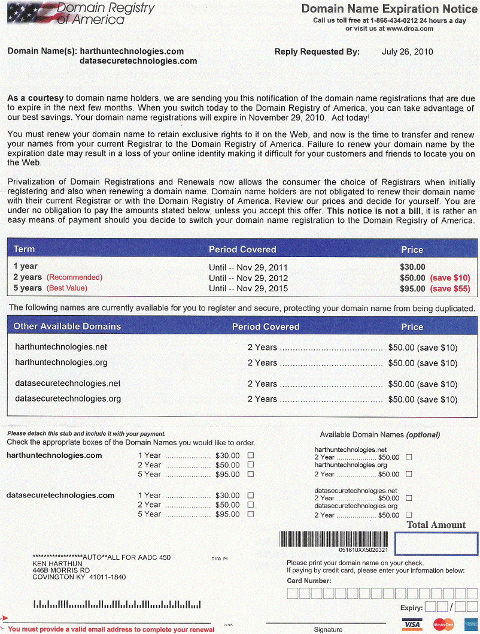 Every once in awhile, I get a letter from "Domain Registry of America" warning me that my domain is about to expire: "As a courtesy to domain name holders, we are sending you this notification. . . When you switch today," etc., etc. And heck, they only want $50.00 (save $10!) for 2 years (Recommended). Better yet, they offer me 5 years for only $95.00 (save $55!) (Best Value). I pay $8.99/year for most of my domains. Some of them I got for $0.89 for the first year and $6.99/yr thereafter.
It's the best legal scam on the Internet, duping the uninformed into parting with more money than they should. Yes, it's a completely legal con as far as I can tell. Well, maybe; the FTC doesn't like them: Court Bars Canadian Company from Misleading Consumers in Marketing of Internet Domain Name Service.
The Federal Trade Commission has requested that a federal district court enjoin Domain Registry of America, Inc., an Internet domain name re-seller, from making misrepresentations in the marketing of its domain name registration services and require it to pay redress to consumers. According to the FTC, the company told consumers that their domain registrations were expiring, leading many consumers unwittingly to switch their domain name registrar.
This was in 2003. Why are they still at it? They are still misleading consumers with their misrepresentations; unless the fine print on the back of the letter–which requires a magnifying glass to read and even then is hard on the eyes–covers them sufficiently.
I call it a scam. What do you think?