Jun 18 2010 1:12AM GMT

Profile: Ken Harthun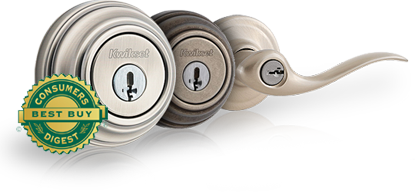 In late April, I posted  Physical Security: Master Lock 1500iD Speed Dial. Now, Kwikset has come out with its line of SmartKey Re-Key Technology locks, billed as "The only lock you can re-key yourself in seconds." I call this a great innovation.
How many keys have you given out? Maybe you've even forgotten about one or two of them. It's hard to keep track of all the keys you give out, but with this technology, it really doesn't matter. A SmartKey lock can be quickly and securely re-keyed, so you can give a key to your neighbor, a contractor, whomever one day and render it completely useless the next. Kwikset also claims that their SmartKey locks are virtually unpickable due to their patented BumpGuard™ technology.
Re-keying the lock couldn't be simpler than this:
Insert the functioning key and rotate 1/4 turn clockwise to the horizontal position ("Learn" position)
Insert the SmartKey tool fully and firmly into the SmartKey tool hole then remove the tool
Carefully remove the key
Insert new key and rotate 1/4 turn counterclockwise to the vertical position then remove key
Kwikset's website has an interesting section called "Science of Security" that has some great security tips. Here's an example of one that even I didn't think about:
Valeting your car?

Good Idea: Do not keep your home address on anything found within your car.
Best Practice: Never give your house keys to a valet service, just your car ignition key.
Good stuff. I suggest you take a look.