---
September 30, 2010 11:59 PM
On Monday, some members of the business social network LinkedIn were emailed LinkedIn Alert messages with a link that masqueraded as a contact request. It was the largest such attack known to day. Cisco reports in a blog post:
Clicking the link takes victims to a web page that says, "PLEASE WAITING…. 4 SECONDS," and redirects them to Google. During those four seconds, the victim's PC is infected with the ZeuS data-theft malware via a drive-by download.
It is thought that the attackers were targeting business users who would likely have financial responsibility in order to gain access to funds in bank accounts. In case you're not familiar with what Zeus does, here's info from Wikipedia:
Zeus (also known as Zbot, PRG, Wsnpoem, Gorhax and Kneber) is a Trojan horse that steals banking information by keystroke logging. Zeus is spread mainly through drive-by downloads and phishing schemes. First identified in July 2007 when it was used to steal information from the United States Department of Transportation, it became more widespread in March 2009. In June 2009, security company Prevx discovered that Zeus had compromised over 74,000 FTP accounts on websites of such companies as the Bank of America, NASA, Monster, ABC, Oracle, Cisco, Amazon, and BusinessWeek.

It is still active in 2010. On July 14, 2010, security firm Trusteer filed a report which says that the credit cards of more than 15 unnamed US banks have been compromised.[8] A recent outbreak is being called Kneber.
Better be careful and delete any suspicious items if you are a LinkedIn member.
September 30, 2010 6:22 PM
PandaLabs has just published an exclusive Q&A with the leaders of the "Anonymous" group responsible for the anti-piracy motivated attacks against the Motion Picture Association of America, Recording Industry Association of America and others over the past week.
You can find the entire Q&A on the PandaLabs blog: http://pandalabs.pandasecurity.com/an-interview-with-anonymous/
The group's spokesperson, when asked about their mission stated:
To fight back against the anti-piracy lobby. There been a massive lobbyist-provoked surge in unfair infringements of personal freedom online, lately. See the Digital Economy Bill in the UK, and "three strikes" legislation in the EU which both threaten to disconnect internet connections based on accusations supplied by the music and movie industries. In the USA, a new bill has been proposed that could allow the USA to force top level registrars such as ICANN and Nominet to shut down websites, all with NO fair trial. Guilty until proven guilty! Our tactics are inspired by the very people who provoked us, AiPlex Software. A few weeks back they admitted to attacking file sharing sites with DDoS attacks.
It's apparent that the attacks are going to continue. The spokesperson said, "We will keep going until we stop being angry."
I wouldn't want to be in the IT department of the targets!
---
September 27, 2010 10:55 PM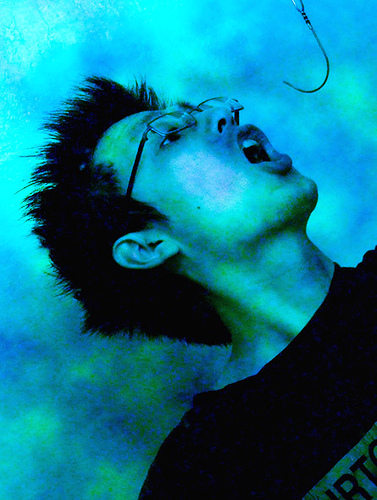 This phishing attempt started showing up in my inbox around the end of last month and since then, I've seen it three times, each with different links. The text of the emails is always the same:
Dear customer,

Please give us only 5 minutes of your valuable time to ask you some questions about our products . Please be aware that we will not ask you about any personal information.

In return, we will credit $90.00 to your account - just for your time.

If you want to answer our simply 8 questions , please click the link below:

http://remo.ved.uri.edu/.mcdonalds.com/survey/index.html

Thank you for helping us to become better.

Sincerely, McDonald's Survey Department.

Please do not reply to this email. This mailbox is not monitored and you will not receive a response.
The link takes you to a page with survey questions that looks legitimate and when you submit your answers, you arrive at this page: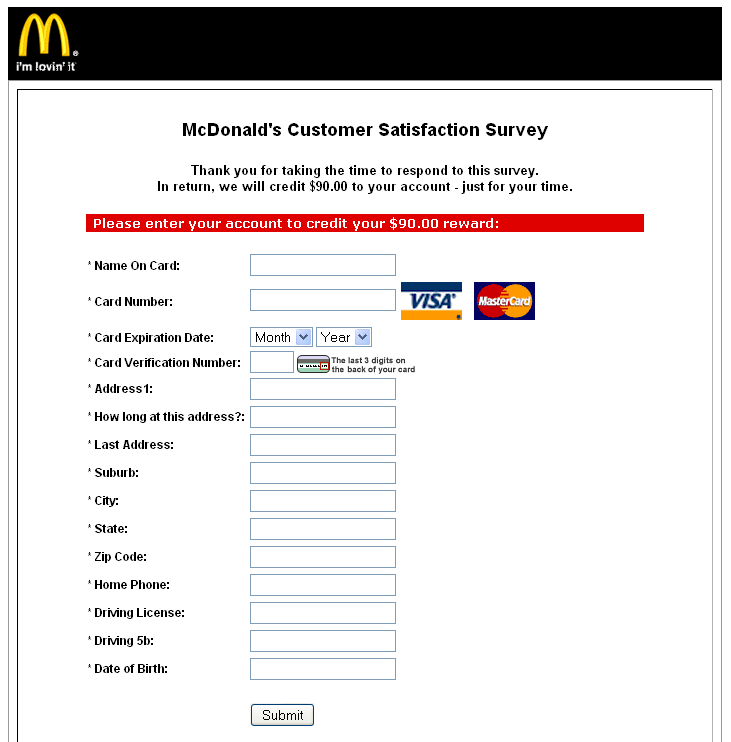 Looks like they're going for full-blown identity theft information, not just simple credit card fraud. I feel sorry for the poor souls who fall for this one.
Be sure to warn your family and clients about this one.
---
September 27, 2010 3:26 PM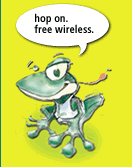 When I think "free wireless Internet access," I think I won't use it for anything sensitive and I'll make darned sure that any email logins, etc. show https:// in the URL. So, you can imagine my delight when I connected to the free LilyPad wireless at the Greater Cincinnati/Northern Kentucky International Airport last week and found that it uses a secure proxy. You can conduct any business you want and know that you're doing so securely. I was able to take advantage of some down time at the terminal to catch up on some business I would not have otherwise been able to conduct.
I love it when people "get" security and do it right from the start. What a pleasant surprise.
So, I have to plug LilyPad. Here's info from their site:
Lily Pad is a 100% volunteer initiative, led by Give Back Cincinnati and supported by key business partners, government leaders and academic representatives. Project Lily Pad is one of many city-wide projects to create an environment that attracts mobile "creatives" to the Greater Cincinnati area. Project Lily Pad will foster a vibrant community and enhance the quality of life in the region, while allowing access to data anytime, anywhere.

Project Lily Pad is part of an effort to improve our ability to attract the creative class and raise national awareness that the Greater Cincinnati area is a tech-savvy region. Attracting and creating people to the region is critical, as it will promote economic growth, facilitate research efforts at our regional universities and businesses, and improve educational opportunities to under-represented communities.
Very cool, and something I'm going to look into further.
---
September 26, 2010 4:02 PM
I have to admit this one is good enough that I opened it, but as soon as I started reading, its true intent was obvious. By the second sentence, it doesn't even make sense anymore. Not only that, but another telltale sign is the way the headline is constructed. See for yourself: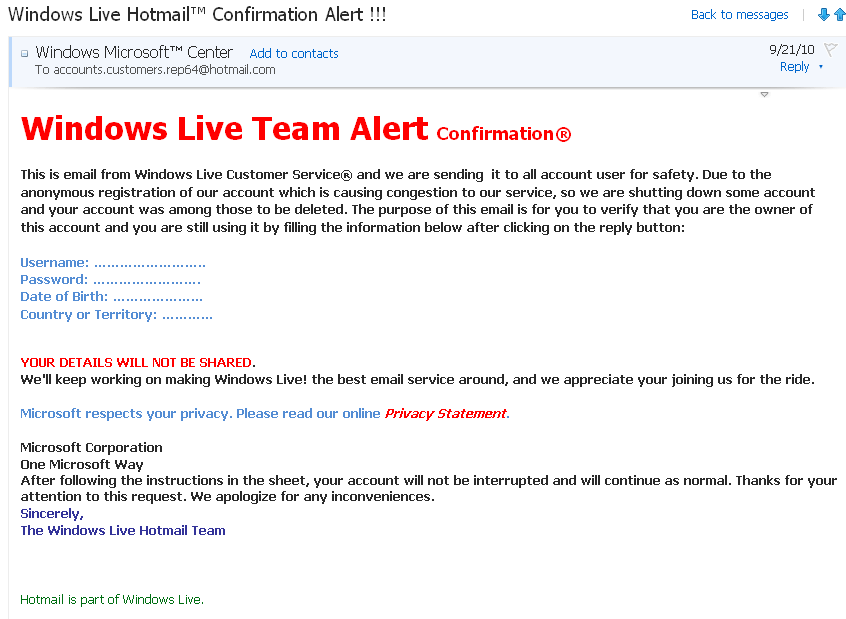 Why anyone ever falls for these is beyond me, but I know that people fall victim to these things every day.
Don't let your family and clients become victims. Teach them what to look for and how to avoid these attempts and once you've taught them, remind them on a regular basis.
---
September 21, 2010 1:59 AM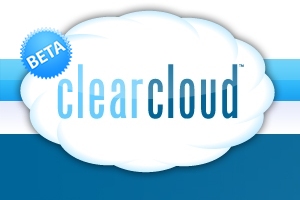 Back in 2010 June, I posted Sunbelt's ClearCloud DNS Sneak Peek. At that time, only one server was available. Now, ClearCloud DNS is officially in Beta.
You can configure your DNS settings to use ClearCloud with the following IP addresses: Preferred DNS server: 74.118.212.1; Alternate DNS server: 74.118.212. You will find complete instructions for Windows, Macintosh and router configuration here. They also provide a utility that allows you to automatically enable and disable ClearCloud at the click of a button. This can be handy if you run into a blocked site that you actually need or want to load.
Similar to OpenDNS, ClearCloud DNS is a free service that checks every website address your computer is trying to access; unlike OpenDNS, ClearCloud DNS does not provide content filtering as its intent is to be a security device to keep your computer safe from malicious sites. Here's what they say:
As such, we do a lot more research on sites that try to steal information from you, download malicious files onto your machine, trick you into buying useless programs, and other similar functions. We block a lot more sites that are malicious because that's what we concentrate on. We process up to a million potential threats a day, and capture any URLs that real threats "phone home" to. We also actively search out malicious sites and have other systems in place to identify who the bad guys are.
It would appear that you now have to make a choice between content filtering and blocking of malicious sites. I don't know of any way to query two servers at the same time without some major shenanigans.
After you've configured ClearCloud, you can test it with 2 pages to verify that it's working:
test.ssdsandbox.net – ClearCloud block page
clearcloudtest.ssdsandbox.net – Test page – You should see the ClearCloud logo on this page.
---
September 19, 2010 6:48 PM
You've disabled third-party cookies and locked down your privacy settings. Ever wondered why you are still tracked? You've probably got scores of "super cookies," also known as Local Shared Objects (LSO) or Flash cookies. Maybe you've heard about these and used Adobe's own tools, Adobe Global Storage Settings Panel, to disable and delete them, but they just seem to keep coming back. Suspicious. In Security Now! Episode 266, Steve Gibson talks about the problems he's noticed:
So I went back over to the Flash configuration. And just using that UI, I disabled these again. I went through the various tabs, noting that there were more of them now than there used to be. And when I went back to the first tab where I turned it off, it was already turned on again. So I'm really annoyed by this. I don't know, I haven't tracked down what's going on. But I'll just tell people, you think you've turned this off, check back the next day and see if it stays off because something is turning it back on.
Enter BetterPrivacy, a safeguard which protects your system from these super cookies:
Better Privacy serves to protect against non-deletable long term cookies, a new generation of 'Super-Cookie', which silently conquered the internet. This new cookie generation offers unlimited user tracking to industry and market research. Concerning privacy Flash- and DOM Storage objects are most critical. This addon was made to make users aware of those hidden, never expiring objects and to offer an easy way to get rid of them – since browsers are unable to do that for you.
I installed the add-on just see what was on my system and was greeted with a message on exit–that's when BetterPrivacy does its work, by default–that it was about to delete 879 LSOs. Wow! That's a lot of super cookies, but really not surprising considering the number of Flash videos I encounter on the web.
When you install the add-on, a new item appears under the Tools menu: BetterPrivacy. This control panel allows you to configure the add-on to perform according to your preferences. Explore the options and you'll see what you can do.
This add-on doesn't replace using Adobe's tool to disable the cookies in the first place, but in the event Adobe's shenanigans re-activate the "feature," this tool will let you know about it right away.
---
September 17, 2010 8:15 PM
There are those of us who haven't used Adobe's Acrobat Reader in years, choosing alternatives like the free FoxIt Reader, or Open Source Xpdf instead. My reason at first was simply that Acroreader is bloatware, took forever to load and used up too much memory; these days, my reason includes the terribly insecure software Adobe insists on releasing. Unfortunately, it's hard to get away from Flash on the web, but there is an alternative player/plugin that I'll talk about in a moment. And here we go with business as usual:
Security Advisory for Flash Player

Release date: September 13, 2010
Vulnerability identifier: APSA10-03
CVE number: CVE-2010-2884
Platform: All

Summary

A critical vulnerability exists in Adobe Flash Player 10.1.82.76 and earlier versions for Windows, Macintosh, Linux, Solaris, and Adobe Flash Player 10.1.92.10 for Android. This vulnerability also affects Adobe Reader 9.3.4 for Windows, Macintosh and UNIX, and Adobe Acrobat 9.3.4 and earlier versions for Windows and Macintosh. This vulnerability (CVE-2010-2884) could cause a crash and potentially allow an attacker to take control of the affected system. There are reports that this vulnerability is being actively exploited in the wild against Adobe Flash Player on Windows. Adobe is not aware of any attacks exploiting this vulnerability against Adobe Reader or Acrobat to date.
We'll have to wait until the week of September 27, 2010 for the Flash patch, and the week of October 4, 2010 for the Reader/Acrobat patches.
What can you do? Unless you absolutely have to have Reader/Acrobat for some reason, switch to an alternative such as one of those I mentioned above. FoxIt Reader integrates nicely with Firefox. There's another FF add-on that's an alternative to Adobe: gPDF is a handy tool to view PDF, DOC, DOCX and PPT files online, using Google's Docs Viewer.
Next, disable Shockwave Flash plugin. Download and install Swiff Player (current version 1.7), a Free stand-alone player that enables web designers and Flash users to easily play Flash movies. When you install it, it also becomes the default player for .swf files on the web. Sweet, eh? Swiff Player is very fast, too. This won't eliminate Flash (Swiff Player requires it), so I'm not sure exactly what is gained, but it's an extra layer for hackers to penetrate, so it just might break a Flash exploit by introducing a misdirection.
Anyone have any thoughts on this?
---
September 17, 2010 1:24 AM
If you're not familiar with this great company, you need to be. I've written about them here on several occasions. It seems to me that in this highly competitive security industry, these people just seem to want to do it right. They have great products and they're attentive to their clients and potential clients. No, I didn't get paid to say that.
The latest news from Panda Security is their announcement of the the results of their First Annual Social Media Risk Index for SMBs, a study which surveyed 315 US businesses with up to 1,000 employees.
Highlights from the study include:
33% of SMBs have been infected by malware propagated via social networks
23% of SMBs cited employee privacy violations on popular social media sites
35% of SMBs infected by malware from social networks have suffered financial loss
Facebook takes top spot for social networking-related malware infections, followed by YouTube and Twitter
57% of SMBs currently have a social media governance policy in place, with 81 percent of these companies employing personnel to actively enforce those policies
In addition, thirty-five percent of survey respondents that were infected by malware from social networking sites suffered a financial loss, with more than a third of those companies reporting losses in excess of $5,000.
"Social media is now ubiquitous among SMBs because of its many obvious business benefits, yet these tools don't come without serious risks," said Sean-Paul Correll, threat researcher at Panda Security. "In Panda's first annual Social Media Risk Index, we set out to uncover the top SMB concerns about social media and draw a correlation to actual incidence of malware infection, privacy violations and hard financial losses. While a relatively high number of SMBs have been infected by malware from social sites, we were pleased to see that the majority of companies already have formal governance and education programs in place. These types of policies combined with up to date network security solutions are required to minimize risk and ultimately prevent loss."
Is it any surprise that Facebook was cited as the top culprit for companies that experienced malware infection (71.6 percent) and privacy violations (73.2 percent)? I know that Facebook has taken some major steps to fix various privacy issues, but, hey, you still have to be very careful on there. YouTube took the second spot for malware infection (41.2 percent), while Twitter contributed to a significant amount of privacy violations (51 percent).
For companies suffering financial losses from employee privacy violations, Facebook was again cited as the most common social media site where these losses occurred (62 percent), followed by Twitter (38 percent), YouTube (24 percent) and LinkedIn (11 percent).
---
September 14, 2010 4:24 PM
My friend, Steve Lorenzo over at http://tipsandtricks.im just compiled a report Top 500 Most Common Passwords Used Online and he's giving it away for the asking. The subject has certainly been around for awhile, but every now and again it's a good idea to revisit it.
In the 33-page report, Steve covers a lot of ground starting with phishing attacks on MySpace from a few years back and the most recent phishing attempts on Skype (which I also wrote about last month: Skype Phishing Attempts and Account Hacking – Part 1, and Skype Phishing Attempts and Account Hacking – Part 2).
If you are using any of the passwords on the lists presented in the report, you should change them immediately and then make sure that you don't use the same username and password combination more than once on any site that matters. I confess that I have the same username/password combination on a few sites, but they are nothing important and I don't use those combinations anywhere else. So, if a cracker manages to get one of those, he'll waste time trying to make it work on my email accounts, back accounts, etc.
Further recommendations from the report:
Never use the same username / password combination twice
Always use the strongest possible passwords we may come with
Not dictionary words
Not our pet's name
Or our Mother-in-Law's
Neither the latest basketball or rock star's name
Nor the latest trends in gaming
Finally, not even the coolest 4 letter word you just learned…
Again, this is a great reason to use a password manager to generate and store secure passwords. Steve likes RoboForm; as you know, I recommend LastPass. There's a plethora of them out there; at last count, I was able to locate no fewer than 22 of them and with that many, there's surely something for everyone.
---