---
July 31, 2012 10:00 PM
This story bears repeating. The more things change, the more they stay the same.
Many small business owners treat their business computers like their home computers; they run minimal security and engage in unsafe computing practices. This isn't my opinion, mind you, it is based on my years of field experience servicing small business clients. My most recent call to one such client was to restore a PC that had become infected by malware. It was my first visit to their office and during the course of that visit, I got familiar with how lax they were in setting things up.

The office runs on a Windows 2003 domain controller. Four PCs running Windows XP Service Pack 2 are domain members and all business data is stored on the server. They're backing up daily to tape. That's about as far as it goes before getting ugly. Suffice it to say that even a mediocre attempt to compromise their network would probably be successful. This got me to thinking about what level of security comprises a baseline for small business networks. Here's what I came up with, see if you agree:

Physical access to servers, backup, and network equipment is restricted and controlled.
Backup power sufficient to allow for graceful shutdown of servers is in place.
The local network is isolated from the Internet by a hardware UTM device, firewall, or NAT router.
If wireless access is in use, security is applied, preferably WPA or WPA2 with AES encryption.
File servers are protected by appropriate anti-malware applications.
Mail servers are protected by anti-spam software or this is implemented at the gateway.
Password policy requires strong passwords, frequent changes, and is enforced.
Desktops use screen savers and they are password protected.
Unless they are required to be left on for security scanning or backup purposes, desktops are powered down at night.
Desktops have appropriate anti-malware applications installed.
Company policy regarding appropriate use of the Internet is in place and enforced.
Data is backed up and media is stored securely off-site.
Encryption is implemented and in use for the storage of sensitive information.
Procedure is in place for denying access to personnel upon termination of employment.
July 30, 2012 3:42 PM
If you receive the chain letter "Invitation FACEBOOK – Olympic Torch," don't waste your time forwarding it: it's a hoax, variations of which have appeared in email boxes since 1998 or earlier. Big news items generally spawn such things and the opening of the 2012 Summer Olympics in London is the genus of this one:
PLEASE CIRCULATE THIS NOTICE TO YOUR FRIENDS, FAMILY, CONTACTS!
In the coming days, you should be aware.....Do not open any message with an attachment called: Invitation FACEBOOK, regardless of who sent it. It is a virus that opens an OlympIc torch that burns the whole hard disc C of your computer.
This virus will be received from someone you had in your address book. That's why you should send this message to all your contacts. It is better to receive this email 25 times than to receive the virus and open it.
If you receive an email called: Invitation FACEBOOK, though sent by a friend, do not open it and delete it immediately. It is the worst virus announced by CNN.
A new virus has been discovered recently that has been classified by Microsoft as the most destructive virus ever. It is a Trojan Horse that asks you to install an adobe flash plug-in. Once you install it, it's all over. And there is no repair yet for this kind of virus. This virus simply destroys the Zero Sector of the Hard Disc, where the vital information of their function is saved.
SNOPES SAYS THIS IS TRUE
http://www.snopes.com/computer/virus/facebook.asp
In case you are wondering, the line "Snopes says this is true" generally is a good indicator of a hoax and if you check Snopes.com, you'll find The link to Snopes – a well-known source of anti-hoax information – is legitimate, but says exactly the opposite, confirming that the email is false: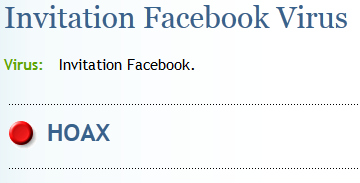 Don't fall for it.
---
July 27, 2012 5:05 PM
Oh, and did I mention that it also keeps you safer?
Both Firefox and Chrome have added a new security feature called "Click-to-play." After you enable it–which you will have to do since the feature is not enabled by default in either browser–you will have to click on a specified blank placeholder on the web page if you want the content to play.
Gizmo's Freeware provides these instructions:
How to enable Click-to-play in Chrome

Enter "chrome://chrome/settings/content" in the Chrome address bar (without quotes)
Scroll down the configuration page that opens to the Plug-ins section (shown in the figure)
Click the button "Click to play"

How to enable Click-to-play in Firefox 14

Enter "about:config" in the Firefox address bar (without quotes)
Agree to be careful
Scroll to the plug-ins section (shown in the figure below)
Double-click the entry " plugins.click_to_play" so that the Boolean value reads "true"
---
July 20, 2012 6:52 PM

This says it all (as things from SANS usually do), so I won't belabor the point. This is the preamble to SANS NewsBites, July 17, 2012, Vol. 14, Num. 057:
Just heard the best answer ever to the question of whether security
managers need to have hands-on technical skills.  An Air Force Major was
complaining to an Air Force course director that the major didn't need
to know networking and security taught in the intensive in house Air
Force course, "My people will do that; I never will; I am a manager."
The course director asked the major, "Do you know what a router access
control list is?"
Major: "Yes."
Course director: "Have you ever sat down at a terminal and written an ACL?"
Major: "No"
Course director: "Then how do you know your netadmin is doing it right,
when just one error in one line can stop all the traffic on your
network?"
Major: eyes wide
Course director: "And how do you know whether your netadmin isn't
blowing smoke?"
Major: "Get me registered for the course."

Alan
Alan Paller is director of research at the SANS Institute.
---
July 16, 2012 10:59 PM
I hope that none of you, my readers, are using any passwords like these: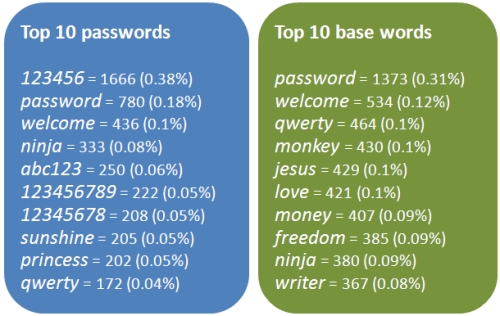 I have spent endless hours writing about best password practice and how to generate strong, unguessable passwords. I know many other writers in the security field are doing the same. Do people listen? Maybe some do, but as Graham Cluley, Senior Technology Consultant at Sophos says: "And yet, people continue to use passwords that are – quite frankly – dumb, and then compound the problem by using the same simple password in multiple places."
The recent hack of Yahoo Voices presented another opportunity for someone to analyze the passwords that people tend to use. This from the Naked Security blog:
Scandinavian security blogger Anders Nilsson spent a little time with the Pipal password analysing tool, running it against the 450,000 plaintext passwords snatched by hackers from Yahoo Voices.

And what he found doesn't inspire much confidence that users are getting the message about password security.
Sigh…
---
July 16, 2012 12:55 PM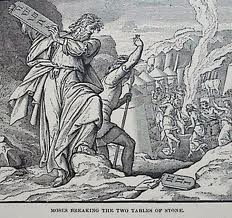 I don't know the exact source of this (unless its creator is the colleague who sent it to me, Kenneth Nelson), but my hat is off to the author.
Tablets, of course, are a vital component of Christian iconography, as the Old Testament tells us. On Mount Sinai, God gave Moses two tablets (of the analog kind) upon which the deity had inscribed the rules for his creations, a process which saw Moses on the mountain for 40 days and 40 nights without food or water.

But when Moses came down the mountain and discovered the Israelites cavorting around a golden calf, he smashed the tablets, burnt the idol, ground it up, mixed it with water, made everyone drink it, then ordered the killing of 3,000 of of those Israelites who didn't immediately side with him (Exodus 32:19-28).

Moses was then told to carve a new set of tablets, and upon them God restored the sacred text files from what was presumably a celestial backup, thus retiring history's first recorded tablet tech-support ticket.
---
July 8, 2012 11:40 PM
These two articles became the subject of a lot of thought and discussion on how to best pass on your electronic assets when you pass away:
How will you pass on your passwords when you pass away? Part 1
How will you pass on your passwords when you pass away? Part 2
In the process of figuring out my own system, I became aware of the existence of  "electronic will" sites that will supposedly allow your loved ones to get your passwords and other online account information in the event of your demise. I advise against using such sites for two reasons:
If the site disappears (despite what promises are made as to their plan for succession) and you die before you can find a replacement site, your loved ones are out of luck; and,
If you fail to keep the site updated with changes, it's useless.
This is why I say "paper is king." You need to come up with a system that is relatively fail safe and that system needs to be committed to paper and placed in a safe deposit box or held by your attorney or other trusted person.
By "fail safe," I mean a system that will allow your survivors to gain access to all of your important online assets even if you do not faithfully apply it. Yes, it has to be set up in such a way that someone could easily discover where your lapse occurred and recover your credentials. This isn't the least bit difficult to do; in fact, it's rather simple and I'll present a full system in a future post.
---
July 6, 2012 1:12 PM
If you are still infected with the DNS Changer malware, you will be unable to access the internet as of July 9, 2012. According to the FBI, who took over a series of rogue DNS servers last November,  there are still hundreds of thousands of computers infected with the malware. While the FBI substituted valid DNS servers to keep resolving internet names, these servers will be taken offline on July 9, making it impossible for infected PCs to resolve domain names.
You need to make sure your PC is not infected. You can do that by checking websites created by the DNS Changer Working Group (DCWG), a cross-industry team of experts. The list is posted here.
Sophos also provided an informative video:How not to lose your internet connection
---
June 30, 2012 8:11 PM
No, I'm not talking about that finger; it'll become obvious in a moment which finger I'm talking about. First, let me ask a few questions:
Is your car parked, empty, in the driveway right now with its engine on?
Is your shower, with no one in it, running?
Is your stove, with nothing cooking on it, turned on?
Is your attic light on 24/7?
I'm fairly sure that you answered "no" to all of these questions. It just doesn't make sense to leave something on if you're not using it. All this does is run up your electric bill for nothing, right?
Then why would you want to leave your PC on 24/7? If your PC has been compromised and is a member of one of the major spam zombie networks, chances are that you're spewing spam in a constant stream.
Do us all a favor and use your index finger to switch it off when you're not using it. If you do nothing else to clean it up, just shutting down the PC if it's not being used would cut spam volume significantly.
Do you agree or disagree? Hit the comments and put in your two cents.
Cheers!
The Geek
---
June 29, 2012 1:17 PM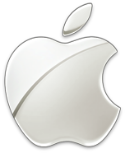 Apple is making security a priority in the next version of OS X, Mountain Lion. This is good news:  new threats continue to crop up as Macs gain a larger user base. Apple Insider reports that "…Apple's upcoming OS X Mountain Lion will feature an automatic security check feature that will ensure users have the most up-to-date software protection amid a growing number of Mac-targeted malware."
The new feature is called "OS X Security Update Test 1.0" and will either run daily or whenever a Mac restarts. It will download and install updates in the background, thus lessening the necessity for manually performing checks. The feature is also reported to create a "more secure connection" to Apple's servers.
This comes at about the same time as Apple changed its OS X web page. No longer is Apple boasting "It doesn't get PC viruses" or "Safeguard your data. By doing nothing." The web page has been toned down to read "It's built to be safe" and "Safety. Built right in."
Nice to see this attention to security.
---