Sep 19 2009 3:05PM GMT

Profile: Ken Harthun
As if we don't already have enough to deal with, it seems that malvertising–a technique where malicious code is placed in an online ad to either mislead the user or infect their computer—is on the rise. Microsoft recently filed five lawsuits against unnamed individuals accusing them of posting ads containing malicious and deceptive code on its MSN advertising network. And when Microsoft stands up and takes notice against a threat, you know it has some teeth.
The lawsuits Microsoft filed allege that individuals doing business as Soft Solutions, Direct Ad, "qiweroqw.com" (that's a randomly generated name if there ever was one), ITmeter INC, and "ote2008.info" used malverstisements to either spread malicious code or deceive users into visiting websites that peddle scareware. Microsoft hopes that by filing civil suits in the U.S., the individuals responsible will be discovered and enjoined from continuing to post malvertising.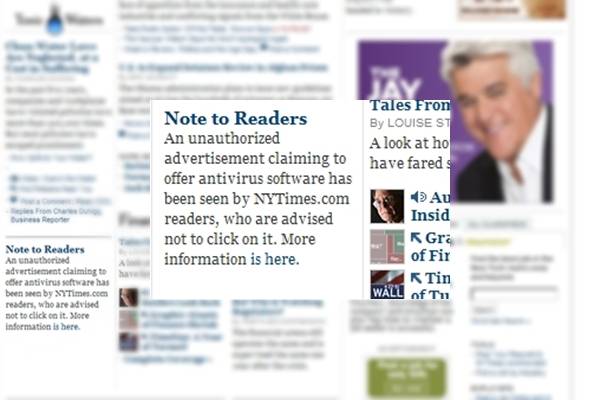 Recall that last week, as reported in The Register, an ad appeared on the New York Times web site offering a virus scan that then attempted to sell scareware to the user ("NYT scareware scam linked to click fraud botnet").
As always, I recommend using a secure browser (Firefox with NoScript) and keeping your OS and security software up to date. Oh, yes, and a healthy serving of general caution couldn't hurt.
Caveat araneo-fluitator! (Let the web-surfer beware!)
What do you think? Leave a comment!