Oct 8 2010 11:55PM GMT

Profile: Ken Harthun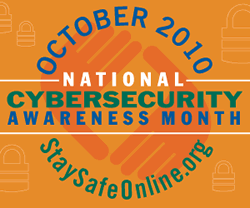 In the US, it's currently National Cybersecurity Awareness Month, which is an initiative sponsored and promoted by the Department for Homeland Security.
October 2010 marks the seventh annual National Cybersecurity Awareness Month sponsored by the Department of Homeland Security. Americans can follow a few simple steps to keep themselves safe online. By doing so, you will not only keep your personal assets and information secure but you will also help to improve the overall security of cyberspace.
In honor of this event, I post my all-time evergreen security tips:
Repeat after me: I will NEVER, EVER click on any pop-up of any kind – NEVER, EVER. Not even on the "X" (it's usually safe, but why take the chance?). Use the key combination Alt-F4 instead; it safely closes the current window. In the slimy world of sleaze-ware, "No" means yes, "Cancel" means yes, "Close" means yes – ANY click on a button means yes. So many times users ask, "How did I get that? I clicked 'no' when it asked me!" Well, sorry, but you clicked, so they got you. NEVER, EVER CLICK!
Although Internet Explorer has enhanced security and has been detached somewhat from the Windows operating system, it is still too big a target. Crackers are still writing malware that exploits IE security flaws. I recommend you use Firefox or Opera to browse the Web. (Some web sites still require IE, so you'll be forced to use it for those, but you should minimize its use otherwise.) Whatever browser you use, be sure you configure your preferences to block all unwanted pop-ups or install a pop-up killer like the Google Tool Bar. And while you're at it, re-read #1!
Patch your system. If you're still running XP, make sure you have at least service pack 2. If you're a home user, install service pack 3. (I still see systems that are running XP with service pack 1 or 1a, probably because they turned off automatic updates. While some argue against it, I recommend you turn them on.) And be sure to install any recommended security updates and patches for ALL software on your system, – especially Microsoft Office – not just Windows. If you're running Windows Vista, you benefit from its enhanced security, but you still need to keep ALL of your applications patched. Secunia's Online Software Inspector is an excellent tool for scanning your system's applications to discover those that need updates.
Besides installing a NAT router (see How to Secure Your Computer: Maxim #2), run a properly-configured, proven software firewall. Don't rely only on Windows XP's built-in firewall – it blocks inbound attacks only (see this article) and it has flaws of its own (see this article). It will not stop back-door trojans, adware, spyware, and the like from "phoning home" with your sensitive information. (See this article for more info.) My favorites are the Comodo Personal Firewall (free), and the Sunbelt Kerio Personal Firewall (full-featured for 30 days, then runs free in limited-feature mode, $19.95/yr for full version).
Run a good anti-virus program. Choices abound. I have used AntiVir Personal Edition (free) and Grisoft's AVG (free). Other good ones are Avast! and Comodo AntiVirus. Microsoft Security Essentials is now my hands-down favorite, however.
Run multiple anti-spyware/anti-adware programs and keep them updated. I recommend you run Malware Bytes Anti-malware. One of the best commercial anti-spyware applications is Sunbelt Software's CounterSpy. It is a PC World Best Buy award winner. Comodo BOClean:AntiMalware is also a good one and it's free.
Run a spam blocker to isolate junk e-mail. Most malware and all phishing attempts rely on spam. You want to isolate this stuff and delete it. NEVER, I repeat, NEVER, EVER click on a link in any e-mail you are not absolutely certain is legitimate. And to be as safe as possible, always type in the address of your bank, credit card companies, and any other site that you want to keep secure. (See #1 above and apply that principle to links, too!) One of the best programs is Open Field Software's ella for Spam Control. It uses wizards to "train" it to your personal specifications.
On Windows XP, set up a restricted user account and use that for routine tasks. Only log on with administrative privileges when you need to install or configure software. This will prevent rogue programs from affecting your system – they won't be able to install. You can activate the "run as" feature so you can do administrative tasks while logged in as a restricted user. Microsoft Knowledge Base article Q294676 explains how to activate and use this feature. If you are running Vista, you don't have to worry about this step: User Access Control (UAC) takes care of it.
Finally, disable scripting in your browser. If you use IE (you probably shouldn't, see Step 2), Tony Bradley gives you an excellent step-by-step procedure to accomplish this. Firefox users have a more elegant solution in the form of an add-on: NoScript. I use it on every PC. Scripts are blocked globally by default, but you can selectively activate them if you trust the site. For example, you can trust the main site's scripts but keep blocking any advertising or other third party scripts with no ill effects.