Jul 16 2012 12:55PM GMT

Profile: Ken Harthun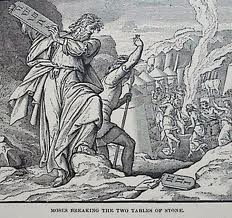 I don't know the exact source of this (unless its creator is the colleague who sent it to me, Kenneth Nelson), but my hat is off to the author.
Tablets, of course, are a vital component of Christian iconography, as the Old Testament tells us. On Mount Sinai, God gave Moses two tablets (of the analog kind) upon which the deity had inscribed the rules for his creations, a process which saw Moses on the mountain for 40 days and 40 nights without food or water.

But when Moses came down the mountain and discovered the Israelites cavorting around a golden calf, he smashed the tablets, burnt the idol, ground it up, mixed it with water, made everyone drink it, then ordered the killing of 3,000 of of those Israelites who didn't immediately side with him (

Exodus 32:19-28

).

Moses was then told to carve a new set of tablets, and upon them God restored the sacred text files from what was presumably a celestial backup, thus retiring history's first recorded tablet tech-support ticket.