May 29 2011 1:35PM GMT

Profile: Ken Harthun
According to the good folks over at Sunbelt Security (now owned by GFI), an incredible 73,000 new types of malware are being issued every day, a 26% increase over last year's figures. Between this and the recent security breach at Epsilon, I am noticing a huge increase in my own spam levels. One of the most significant increases seems to be the pharmacy scam, but the 419 scams and variations are a close second. So far this week, I'm the beneficiary of nearly $750 million!
Here's a screen shot of a portion of one of the more interesting scams purportedly directly from the FBI: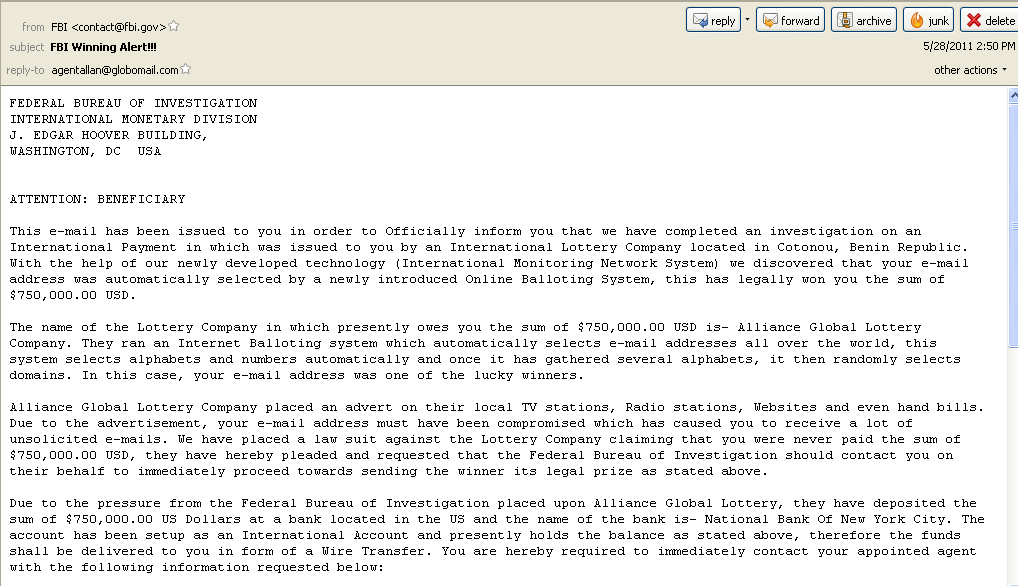 Not surprising, I have also been called upon to remove more malware infections than usual. Some of them are getting quite stealthy. Sunbelt Security's Threats Page maintains and up-to-date list of the top ten malware detections as well as a handy meter of the worldwide threat activity level. Right now, it's recommending that you take a guarded approach in your computing practices.
Six out of the 10 listings are Trojans that are normally delivered through email. No surprise there, either: email is the #2 vector for malware eclipsed only by malicious websites.