Jul 30 2012 3:42PM GMT

Profile: Ken Harthun
If you receive the chain letter "Invitation FACEBOOK – Olympic Torch," don't waste your time forwarding it: it's a hoax, variations of which have appeared in email boxes since 1998 or earlier. Big news items generally spawn such things and the opening of the 2012 Summer Olympics in London is the genus of this one:
PLEASE CIRCULATE THIS NOTICE TO YOUR FRIENDS, FAMILY, CONTACTS!
In the coming days, you should be aware.....Do not open any message with an attachment called: Invitation FACEBOOK, regardless of who sent it. It is a virus that opens an OlympIc torch that burns the whole hard disc C of your computer.
This virus will be received from someone you had in your address book. That's why you should send this message to all your contacts. It is better to receive this email 25 times than to receive the virus and open it.
If you receive an email called: Invitation FACEBOOK, though sent by a friend, do not open it and delete it immediately. It is the worst virus announced by CNN.
A new virus has been discovered recently that has been classified by Microsoft as the most destructive virus ever. It is a Trojan Horse that asks you to install an adobe flash plug-in. Once you install it, it's all over. And there is no repair yet for this kind of virus. This virus simply destroys the Zero Sector of the Hard Disc, where the vital information of their function is saved.
SNOPES SAYS THIS IS TRUE
http://www.snopes.com/computer/virus/facebook.asp
In case you are wondering, the line "Snopes says this is true" generally is a good indicator of a hoax and if you check Snopes.com, you'll find The link to Snopes – a well-known source of anti-hoax information – is legitimate, but says exactly the opposite, confirming that the email is false: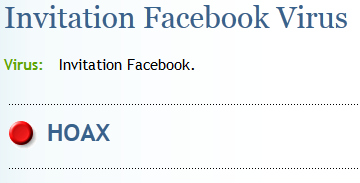 Don't fall for it.