Dec 13 2009 11:33PM GMT

Profile: Ken Harthun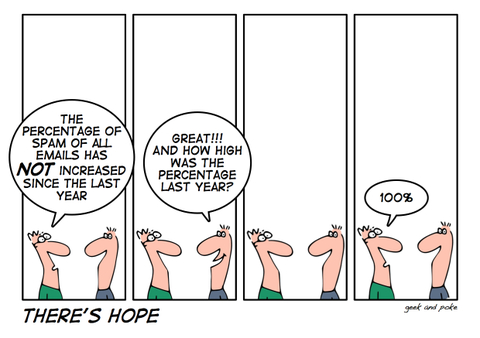 Spam email is not only a nuisance, it's a security risk. Most of the viruses, worms, and trojans floating around these days are transmitted in one form or another via spam. The threat can be attached directly to the email or it can rely on some subterfuge to get a clueless victim to click on a link to a malicious website. No matter the method used, the bottom line is that if the spammer doesn't have a proper email address, the spam won't be delivered.
Spammers get email addresses in various ways, but the primary method is to use a web bot to scrape them from web sites. It's not hard to do; the Web is called that because everything is tied together through various links. All the bot has to do is hop around the Web, collecting any email addresses it finds along the way. What the bot is looking for is text strings that take the form of xxx@xxx.xxx. It can easily find those and store them in a database, but it can't tell whether or not that string is a valid address. You can use this to your advantage; if you can prevent Internet criminals from getting your email address, you can stop them cold. How do you do this? Obfuscate! (Definition: make obscure or unclear.)
Bots can't think; humans can. To you, the string "kengharthunatyahoodotcom" means something; most scraper bots would ignore it. Similarly, "no_spam_kengharthun@yahoo.com" is easily understood by a human; the bot would recognize it as an email address, but it's not a valid one and any message sent to that address would bounce. This technique is a good way to post your email address in forums, social networking profiles, etc., but what about posting your email address on your home page or web site?
There are plenty of free tools on the Web to obfuscate a valid email address. This email obfuscator converts my Yahoo! email address to a meaningless (to most bots) string of characters (go try it and you'll see what I mean). When properly entered into the html code of a web page, it looks like this: kengharthun@yahoo.com. Anyone clicking on the link will be able to send an email, but your average bot won't be able to harvest it. This technique isn't foolproof; more sophisticated bots may be able to figure it out. But it's going to make it more difficult for them and you'll be calmer and more secure as a result.
So, I wrap up this book with Golden Rule #14: If your email address will be visible to the public, obfuscate it using one of the methods or tools above.