Nov 11 2012 2:51PM GMT

Profile: Ken Harthun
As you may recall, last month I had a physical security issue at one of my campuses. This post gave an update and on Wednesday of last week, I put in place what I consider the final portion of the solution: RJ-45 cable locks. The locks I chose are Panduit(TM) brand locks that I purchased from CableOrganizer.com (photo below). I chose the recessed ones.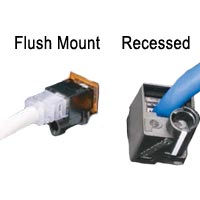 As part of the installation, I had a good discussion with the building management's rep about physical security for the data closets.
Realize that this solution will not prevent anyone with malicious intent from doing damage, but it will certainly prevent an absent-minded technician from messing with the cables and forgetting to put them back. The locks require a special key to remove them.
If you have had any similar issues, I highly suggest you install these cable locks.