Jun 12 2011 4:33PM GMT

Profile: Ken Harthun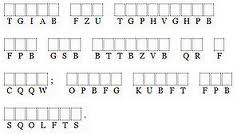 This is the "lighten up" portion of this month's series of blog posts. I have created a cryptogram that I believe will be difficult to solve, though I have used a simple sequential variation on the Caesar Cipher. Everyone is eligible to play and the prize will be a DVD (or download – your preference) of my Geek Toolkit that normally sells for $27 through my special offer (You don't have to enter – you can just buy a copy of the toolkit if you want). To enter, just email your solution and shipping details to me: ken [at] kenharthun.com. Deadline is 28 June 2011. I will publish the method I used and the solution on 30 June 2011.
The ciphertext is below. Hint: The key to solving this cipher is to figure out the shift and the variation. The very first letter of the cryptogram is the actual first letter of the first word and all punctuation is preserved. Please note that this is NOT a simple substitution cipher. There is no guaranteed the letters will be the same throughout, though you may notice repeating patterns.
'TXZT ASHMKIF, BME SID TKJSIZ UNWDT CJC HXSD BME FJLCKF HO SID XZCD: BKM LJLTX XDSD UGF APQPFPUFR, BME SID NNND SZUGT NVSHQBAF.
Good luck!