Jul 29 2011 2:46AM GMT

Profile: Ken Harthun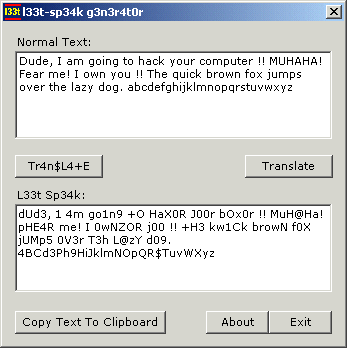 I was playing around on the web the other day and found a rather cool tool called "l33t-sp34k g3n3r4t0r." For the unenlightened among you, that's "leet-speak generator." Leet speak originated back in the 1980's when dial-up bulletin board systems (BBSs) were popular. You can read the Wikipedia entry for more detailed information and history. The leet alphabet is a specialized form of symbolic writing that may also be considered a substitution cipher; however, it is also a fine way to generate passwords.
Now, before you start throwing rotten tomatoes at me, let me explain. Yes, hackers know leet and may try to test such patterns; however, there is no "standard" leet alphabet, so one person's variations will be different from another person's. This makes the tool I found a very useful password generator for three reasons:
The password will be unguessable; and,
You can use something easy to remember; and,
If you forget the actual password, you have a tool to translate your phrase.
I downloaded the app, which is just a small .exe file. You enter the normal text in one window and click the Tr4n$L4+E button; out comes l33t spe4k. If you enter l33t sp34k and click the  Translate button, you get the normal text. Very cool. I chose "ILoveLucy" as my pass-phrase. In leet, that translates to "IL0VeLUCy." That's not particularly strong, but it would do for a non-critical website login. It actually works better if you put spaces in the phrase: "I Love Lucy" becomes "1 L0V3 lucy." You can then run the characters together if you want.
Try it out and have some fun with it!