Sep 27 2010 3:26PM GMT

Profile: Ken Harthun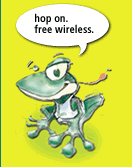 When I think "free wireless Internet access," I think I won't use it for anything sensitive and I'll make darned sure that any email logins, etc. show https:// in the URL. So, you can imagine my delight when I connected to the free LilyPad wireless at the Greater Cincinnati/Northern Kentucky International Airport last week and found that it uses a secure proxy. You can conduct any business you want and know that you're doing so securely. I was able to take advantage of some down time at the terminal to catch up on some business I would not have otherwise been able to conduct.
I love it when people "get" security and do it right from the start. What a pleasant surprise.
So, I have to plug LilyPad. Here's info from their site:
Lily Pad is a 100% volunteer initiative, led by Give Back Cincinnati and supported by key business partners, government leaders and academic representatives. Project Lily Pad is one of many city-wide projects to create an environment that attracts mobile "creatives" to the Greater Cincinnati area. Project Lily Pad will foster a vibrant community and enhance the quality of life in the region, while allowing access to data anytime, anywhere.

Project Lily Pad is part of an effort to improve our ability to attract the creative class and raise national awareness that the Greater Cincinnati area is a tech-savvy region. Attracting and creating people to the region is critical, as it will promote economic growth, facilitate research efforts at our regional universities and businesses, and improve educational opportunities to under-represented communities.
Very cool, and something I'm going to look into further.