---
January 9, 2018 6:50 PM
Security
When Intel CEO Brian Krzanich took the stage last night at CES 2018 in Las Vegas, he began his keynote by addressing the elephants in the room – the recently disclosed Meltdown and Spectre vulnerabilities affecting


RSS Feed

Email a friend
December 28, 2017 9:15 PM
Security
After the number of major data breaches in 2017, it wouldn't be surprising to see some measure of data breach fatigue set in for both the general public and enterprises. Such an occurrence, however, would mean we missed valuable lessons from some of this year's worst breaches. First, a...
---
November 22, 2017 5:33 PM
Security
Uber Technologies, Inc., is no stranger to self-inflicted wounds, but the latest visit to the infirmary goes far beyond the kinds of running-with-scissors episodes that have made the ride sharing company infamous. Bloomberg Technology reported Tuesday that Uber suffered a massive data breach in...
---
May 3, 2017 8:14 PM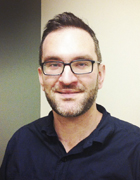 Profile: Michael Heller
Security
Looking at the overall numbers for the contributors to the Verizon Data Breach Investigations Report (DBIR) from the past five years, it would seem like the amount of partners is hitting a plateau, but looking at the specifics raises questions about international data sharing. The number of...
---
February 24, 2017 7:39 PM
Security
Security expert Bruce Schneier dragged an uncomfortable but very real possibility into public view during RSA Conference 2017, and it should have developers of all types pondering a very grim future full of software regulations. Schneier discussed his case for internet of things (IoT) regulation...
---
February 15, 2017 4:53 PM
Security
SAN FRANCISCO -- While much of the talk at this year's RSA Conference has been about future IoT threats and new attacks, Intel Security's Christopher Young urged attendees not forget the past -- specifically, the Mirai
---
February 8, 2017 9:09 PM
iot security
,
Security
RSA Conference 2017 officially kicks off Monday, and once again it will bring several topics, trends and potential controversies to the center of attention of the information security industry. Unlike
---
June 30, 2016 2:34 PM
Security
It's becoming harder and harder for me to read about the glaring security holes, the bafflingly risky behaviors and the all-around worst practices of the healthcare...
---
May 20, 2016 9:01 PM
Security
According to market forecasts, more companies are investing in cybersecurity and that spending is likely to increase dramatically in the next few...
---
February 24, 2016 7:58 PM
RSA Conference
This is our own fault. That was my first thought when I read the news last week that U.S. Magistrate Judge Sheri Pym had ordered Apple to assist the FBI in bypassing the...
---