---
October 1, 2018 1:46 PM
As most of the nation watched the Senate battle over a contentious Supreme Court appointment, the FBI and DHS jointly released a "Public Service Announcement," in which they warn us...
August 3, 2018 4:56 PM

Profile: Robert Richardson
When the latest edition of Black Hat USA kicks off in Las Vegas next week, it will find itself deep in the swirl of nation-state election tampering, with top security administrator's gathering jointly in the White House press room to underscore the dangers of Russian cybermeddling while President...
---
July 17, 2018 2:26 PM
The difference between data privacy protections afforded to European Union residents and people in the U.S. is more sharply highlighted now that the EU's General Data Protection Regulation has taken...
---
June 29, 2018 8:09 PM
The "who" in a whodunit has always been the most crucial element, but when it comes to cyberattacks, that conventional wisdom has been turned on its head. A growing chorus of infosec experts in recent years has argued
---
May 30, 2018 5:14 PM
May 25, 2018 was "GDPR Day;" the day enforcement of the European Union's new General Data Protection Regulation began; the day so many information security professionals have been preparing for over the...
---
May 9, 2018 3:43 PM
It's fairly easy to find stories sparking security and privacy concerns regarding a Google product or service — Search, Chrome, Android, AdSense and more — but if you watched or attended Google I/O, you might be convinced everything is fine. On the first day of
---
May 3, 2018 5:58 PM
Given the increased digitization of society and explosion of devices generating data (including retail, social media, search, mobile, and the internet of things), it seems like it might have been inevitable that cybersecurity pervasiveness would eventually touch every aspect of life. But, it feels...
---
March 30, 2018 6:23 PM
With less than two months before the European Union's General Data Protection Regulation goes into effect, Apple is making notable changes in the name of user privacy. For everyone. While all companies that collect data from EU data subjects will be subject to the GDPR, Apple has stepped up to...
---
March 27, 2018 8:55 PM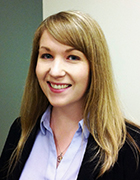 Profile: Madelyn Bacon
RSA Conference finalized its keynote speaker lineup this week, and while the new cast has been adjusted to include more female speakers, precious few actually work in cybersecurity. RSA conference was criticized last month for initially only booking one female keynote. Activist and writer Monica...
---
December 29, 2017 6:58 PM
"Measure twice, cut once," is a good way to approach new protocols, and TLS 1.3 is no exception. When it comes to approving updates to key security protocols, the Internet Engineering Task Force may seem to move slowly as it measures the impact of changes to important protocols. In the case of...
---