May 14 2008 2:27PM GMT

Profile: Robert Westervelt
Tags: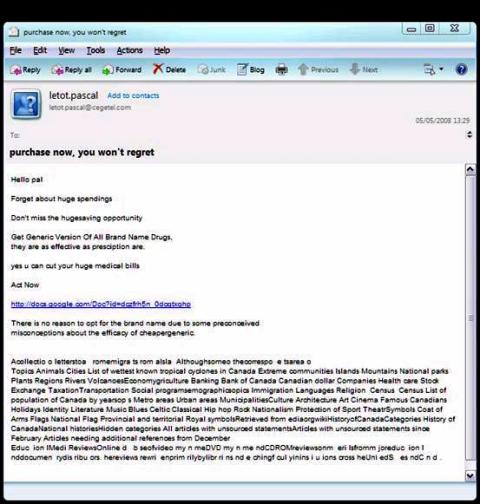 Spam researchers have discovered a recent run of unwanted messages using Google's Web-based word processor and even testing their campaigns using Google analytical tools.
MessageLabs spokesperson Matt Sergeant, said the spam messages are successful in getting through most enterprise email filters. The messages don't contain content, only a link that takes recipients to a Google Docs file. Once opened the file touts the all too familiar pharmaceuticals hyped in many spam campaigns.
"This is another method that spammers have found of hosting a website in a place that's bulletproof basically," Sergeant said.
Google has labeled the hosted file as being registered as spam. The good news is that Google Docs is still in its infancy, so there aren't a lot of people using them in a corporate setting, Sergeant told me. So far the messages have come in very small numbers, but large enough that they triggered an alert at MessageLabs.