---
January 29, 2016 2:30 PM
It wasn't that long ago that endpoint security was viewed as an afterthought (and some might argue that for a lot of folks, it still is). As enterprises and security managers scrambled to shore up the perimeter defenses and protect the corporate network, it felt like attending to the security needs...
January 27, 2016 10:09 PM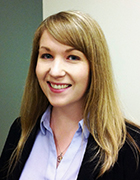 Profile: Madelyn Bacon
The security industry is suffering from a complex staffing shortage, and the dreaded millennials might just be the answer to this problem. Some in the industry disagree...
---
January 15, 2016 9:46 PM
Cloud Security
,
Cloud Services
,
Shadow IT
Most people have encountered the cloud at work, whether it's downloading files from an external business contact's Dropbox or hearing through the grapevine that your department is now "moving" to a cloud service. Security controls in many of these initiatives is handled (you hope) by someone at...
---
January 8, 2016 7:27 PM
CES
We're doomed. I try not to be too much of an alarmist when it comes to information security matters, because all things considered, the situation on a global level could be a lot worse. We could all be suffering from
---