---
September 28, 2007 12:53 PM
In late 2004, 3Com was in a buying mood when it acquired IPS vendor TippingPoint for $430 million in cash. This past June, 3Com announced it was planning an IPO for its TippingPoint...
September 27, 2007 8:11 PM

---
September 27, 2007 5:06 PM

Profile: Eric Parizo
I wanted to highlight an article that debuted on the site this week that was written by Joel Dubin, which makes the case for identity-enabled network devices. On one hand, as Joel writes, the technology is...
---
September 27, 2007 8:31 AM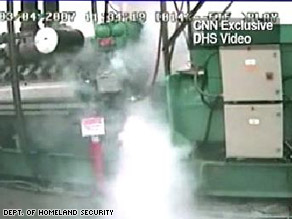 Remember that...
---
September 26, 2007 11:42 AM
eBay is getting a lot of unwanted attention today, after someone managed to post personal contact information and credit card numbers for about 1,200 eBay users on the eBay.com Trust & Saftey forums. eBay has yanked the Trust & Safety forums offline, but the trouble doesn't end there....
---
September 25, 2007 8:56 AM
The marketing team at Symantec has dreamed up its own competition analogous to the Halo 3 launch set for this week. Symantec wants to turn its customers into Master Chief to save their IT infrastructures – instead of alien hordes, it's viruses and worms that you'll have to gun down. The...
---
September 25, 2007 5:28 AM
The agency tasked with protecting America from terrorist attacks is apparently having trouble keeping the bad guys out of its computer systems. What's worse is that the company hired to secure those systems knew about hacking activity and tried to cover it up, according to investigators. According...
---
September 24, 2007 3:40 PM
Microsoft is holding the latest edition of its twice-yearly BlueHat Security Briefings this week, and the speaker lineup is a who's who of researchers and technologists. The topics of the scheduled talks run the gamut...
---
September 21, 2007 11:16 AM
For any of you who are nostalgic for the halcyon days of 2001 and 2002 when network-aware worms such as Code Red, Slammer and Nimda ruled the headlines, the success of the Storm worm in the last year must bring back some fond memories. Or not. But at the very least it has shown us that the malware...
---
---