Mar 21 2012 4:03PM GMT

Profile: Jacquelyn Howard
Have you seen Moneyball, the film about how Billy Beane introduced a new level of baseball analytics to the Oakland A's? In the film, Jonah Hill's character is a whiz at creating programs that helped the Oakland A's GM find value in players who otherwise were ignored (hello, Scott Hatteberg).
What does this have to do with SAP? Jump ahead ten years or so to the MLB demonstration I saw at the recent SAP Run Better event in New York. Oscar Fernandez, Senior Manager of Application Development and Business  for the MLB Office of the Commissioner, gave a tour of how MLB is using customized SAP BusinessObjects 4.0 applications to pinpoint anything from what type of injury a player is most likely to experience (hamstring strain) to the release point of Roy Halliday's pitches over time (it's dropping).
The program, called Player Information Application Plus (PIA+) incorporates SAP BusinessObjects Explorer and Dashboards (aka Xcelsius) for data visualizations; Crystal Reports  for financial reporting ; SAP Business Objects Data Services for ETL and SAP BusinessObjects Information Steward for data governance.
But what's really interesting is the amount of information the systems provide and how users can manipulate the data to fit different scenarios. While users see a simplified UI offering them options, on the back end are the Web Intelligence queries familiar to BusinessObjects users.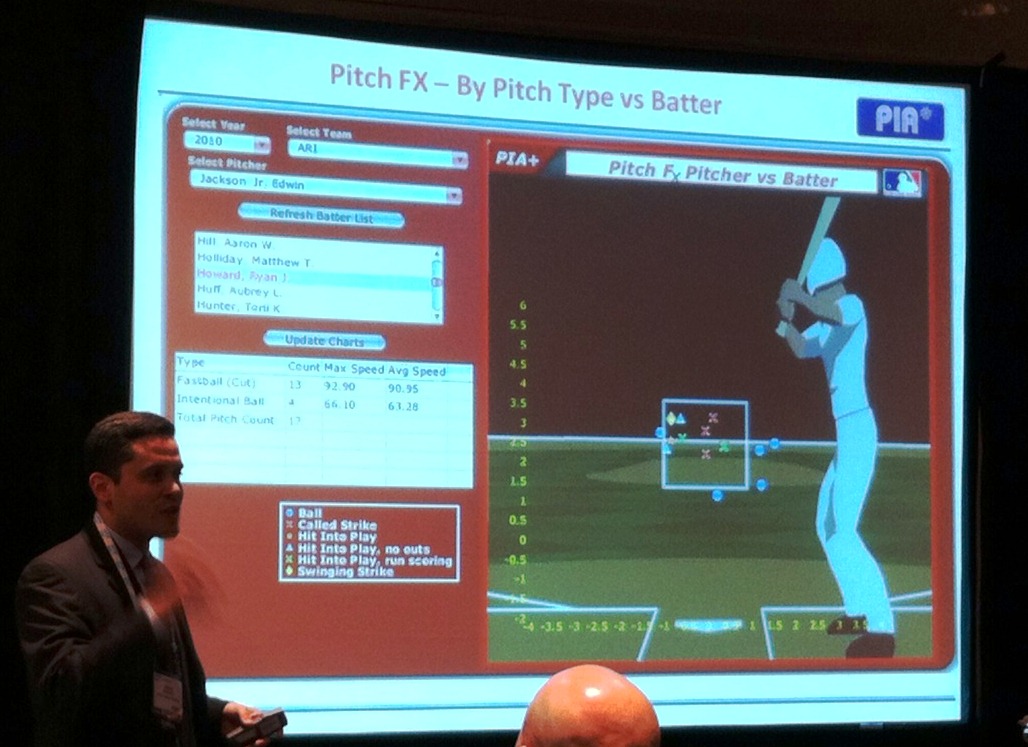 Oscar Fernandez shows how SAP BusinessObjects helps pitching coaches with mock matchups
In an example that spoke to this Red Sox fan, Fernandez brought up a dashboard that compared Jon Lester and Josh Beckett – I could easily see how comparable the two pitchers are, despite a big difference in salary.
What was even more intriguing was how in the future, you might see iPads deployed to umpires for instant replay calls – something Fernandez noted "a pitcher in Detroit" would have liked to have had in place during the 2011 season. I can't say that I'd be a fan of bringing iPads and other smart devices into the dugout, but it is remarkable to see an idea that was in its infancy in 2002 come to fruition in 2012.