---
March 23, 2012 3:31 PM
Two software deployment case studies that were recently posted on SearchSAP.com shared a common thread. The companies dumped their previous system thanks largely to botched data integrations. In both cases, they blamed the implementation partner for at least some of their problems.
In one case, it was Indigo Books and Music, the Amazon.com of Canada, which had a number of faulty connections between its existing warehouse management system and its ERP before switching to SAP Extended Warehouse Management. Indigo had been using a best of breed warehouse management system for eight years, but it had outlasted its usefulness, according to Sumit Oberai, Indigo's chief information officer:
"It was a bad implementation," he said. "There were a lot of data issues, integration issues. Even though it supposedly had a certified connector to SAP, [we had an] an inventory accuracy rate that simply wasn't acceptable."
Those "disconnects" created an endless number of headaches — inventory recalculations, out-of-stocks, not ordering enough inventory or ordering too much, according to Oberai. Those problems have been solved with the current deployment of SAP EWM.
For Novus International, a manufacturer of animal and livestock food additives, having to go back and fix SAP Business Warehouse before recently deploying SAP Supply Chain Performance Management, cost the company roughly $200,000.
"The integrator that delivered it, it was a piece of crap.  They did a shoddy job, so we had to go back and fix a lot of it," Alex Pierroutsakos, the company's director of enterprise systems and optimization, said.
"The wiring was wrong, custom tables were not brought forward, [there was a problem with] anything that wasn't standard," Pierroutsakos said. "Basically the data wasn't harmonized."
Neither company's situation is a total surprise, according to Ethan Jewett, a consultant with the German consultancy Business & Decision. There are always going to be bugs, no matter how good the programmer or implementation partner is.
Because of that, it's critical to test all aspects of integration, according to Jewett.
"It's a lot of work and it takes discipline on both the part of the customer and the systems integrator. But not doing this sort of testing is a lot more expensive," he said. "If you don't have tests in place to catch these bugs, then you'll always end up with an integration that is broken in some way, often severely."
March 21, 2012 4:03 PM

Profile: Jacquelyn Howard
Have you seen Moneyball, the film about how Billy Beane introduced a new level of baseball analytics to the Oakland A's? In the film, Jonah Hill's character is a whiz at creating programs that helped the Oakland A's GM find value in players who otherwise were ignored (hello, Scott Hatteberg).
What does this have to do with SAP? Jump ahead ten years or so to the MLB demonstration I saw at the recent SAP Run Better event in New York. Oscar Fernandez, Senior Manager of Application Development and Business  for the MLB Office of the Commissioner, gave a tour of how MLB is using customized SAP BusinessObjects 4.0 applications to pinpoint anything from what type of injury a player is most likely to experience (hamstring strain) to the release point of Roy Halliday's pitches over time (it's dropping).
The program, called Player Information Application Plus (PIA+) incorporates SAP BusinessObjects Explorer and Dashboards (aka Xcelsius) for data visualizations; Crystal Reports  for financial reporting ; SAP Business Objects Data Services for ETL and SAP BusinessObjects Information Steward for data governance.
But what's really interesting is the amount of information the systems provide and how users can manipulate the data to fit different scenarios. While users see a simplified UI offering them options, on the back end are the Web Intelligence queries familiar to BusinessObjects users.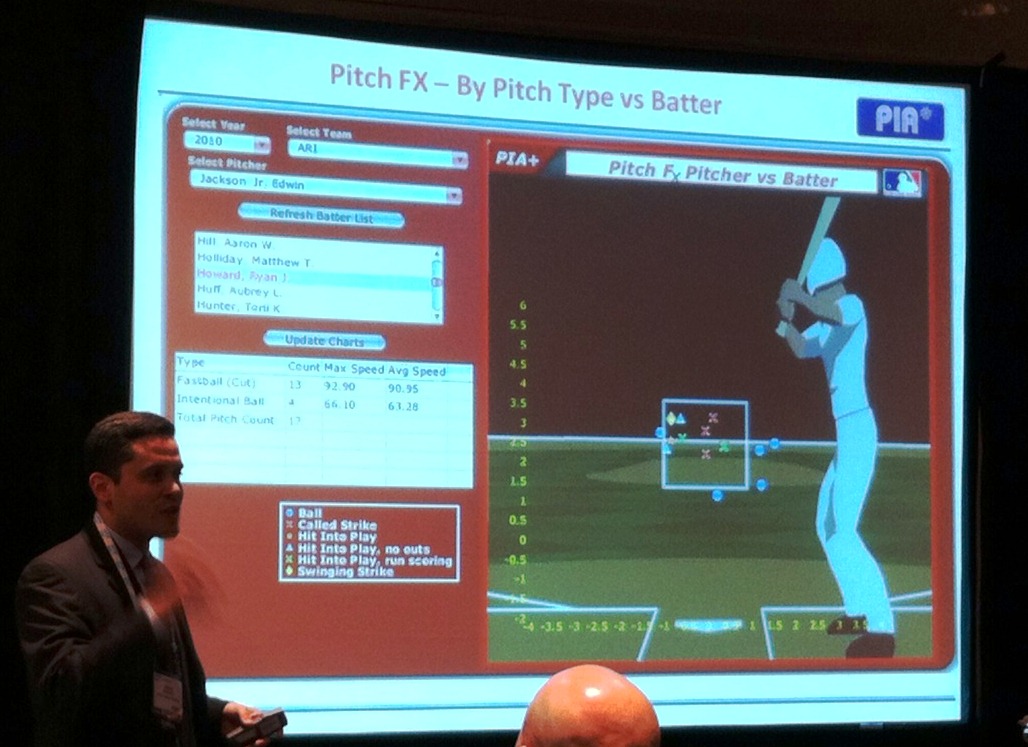 Oscar Fernandez shows how SAP BusinessObjects helps pitching coaches with mock matchups
In an example that spoke to this Red Sox fan, Fernandez brought up a dashboard that compared Jon Lester and Josh Beckett – I could easily see how comparable the two pitchers are, despite a big difference in salary.
What was even more intriguing was how in the future, you might see iPads deployed to umpires for instant replay calls – something Fernandez noted "a pitcher in Detroit" would have liked to have had in place during the 2011 season. I can't say that I'd be a fan of bringing iPads and other smart devices into the dugout, but it is remarkable to see an idea that was in its infancy in 2002 come to fruition in 2012.
---
March 20, 2012 6:47 PM
SAP is doing a few things right when it comes to its IT education courses, according to a new report by IDC.
While most vendors offer training on a wide range of applications, SAP has distinguished itself by being one of the few that provides training even for software that's still in beta-testing mode, according to the report. Training users on beta software allows the company to fix bugs and flaws in the training process as well as the software itself, according to the consulting firm.
IDC compliments SAP on the introduction of SAP Workforce Performance Builder, which helps companies create, deploy, and track employee training. It also commends SAP for improvements to its SAP BusinessObjects Knowledge Acceleration tool, which provide training on a number of BOBJ products, and SAP User Experience Management, a third-party tool which helps companies gauge how well employees are using the SAP software and using that feedback to help tailor customized training.
So what should SAP be doing better? For one thing the company needs to continue working on "life-cycle training," according to the report.
"SAP's focus on understanding and responding to the life cycle of training needs of its clients is increasing — from familiarization and implementation training to user training, advance user training, and finally to upgrade or gap training. The life-cycle concept can help assure customers that their training needs will be appropriately addressed as their needs and uses of the supported products evolve over time."
Better search capabilities within the training modules would be another:
"While search capability is improving, the keyword search extends out neither to the broader SAP nor to the support-specific sites. Additionally, its keyword searching allows for only a single keyword — leaving much of the "finding" to the user. If users know they are looking for a specific course, this may be acceptable, but if they are trying to answer a particular support question and search the main site or support sites, the appropriate course or curriculum is never offered as a solution. This is a common problem for training vendors and represents a disconnect between training offerings and the problems users are trying to solve."
---
March 19, 2012 3:37 PM
Stephen Goldsmith is a believer that cool new technology isn't necessarily limited to private enterprise, and in many ways, the former New York City Deputy Mayor for Operations is right.
At the SAP Run Better Tour in Washington, DC, Goldsmith talked about how the NYC government was able to use analytics software to examine the city's non-emergency 311 call records. The calls run the gamut, covering everything from minor accidents to noise complaints.  As you can imagine, the city gets tons of those — nearly 20,000 per year.
The city began analyzing the data in search of "outliers" – unique trends that might not be explained away by ordinary human behavior or the more mundane ebb and flow of metropolitan life, and could therefore be fixed.
The situation has turned out to be a pretty interesting exercise in what's possible with "big data" even at the municipal level.  In one case, they found there were an inordinate amount of pedestrian accidents at one intersection.  When they went looking for answers, they found that most of the accidents involved elderly folks crossing from an assisted living facility to the pharmacy across the street.  The accidents were caused by a crossing signal that was too short to allow the residents enough time to cross.  Problem fixed.
Individually, it may be hard to see trends in those single events, but patterns emerge when the incidents are analyzed and compared with other data sets, Goldsmith said. The trick is to take the data and, when possible, share it with the dozens of neighborhood associations spread across the city. Those associations are made of people who know the area better than anyone else and can help the city better understand why problems are occurring, Goldsmith said.
"They like to complain," Goldsmith said of the neighborhood groups, "but they also like to solve problems."
---
March 5, 2012 6:07 PM
SAP has rolled out a new version of its Sybase Afaria mobile device management platform, and although it includes a number of new bells and whistles on top of an already well-developed platform, it's improvements to the UI that have most people talking.
"It's definitely a big deal. A lot of the customers liked the software, liked the functionality, but just had challenges using it," said Gartner analyst Phillip Redman, whose Mobile Device Management Magic Quadrant report last year named Sybase Afaria as one of the top platforms, while criticizing Afaria's clunky user interface. "Things were hard to find, policies were hard to implement" with the previous version, Redman said.
So what's new in Afaria 7.0?  Sybase's Eric Liu gives a good rundown of improvements to the UI as well as other parts of the platform:
"Our goal was unabashedly to cut down on the clicks, simplify the UI so as to make it easier and faster for IT administrators to use…its workflows have been rebuilt to make more sense for today's devices.
Browser support has been expanded to Google Chrome, Mozilla Firefox and Apple Safari from Internet Explorer only. And the touchscreen-enabled tablet version of the Afaria app has been enhanced so that Afaria administrators can do much much more from their iPad.
There still are powerful improvements in Afaria 7.0. Integration with SAP BusinessObjects is one, allowing you to bring a market-leading BI tool to analyze your employees' mobile usage, even from your iPad.
But apart from the UI, what about some of Afaria's other weaknesses?  In that Magic Quadrant, Redman noted that Afaria was notoriously difficult to install, which he said doesn't appear to have changed much in the latest release. Redman and his co-authors also noted that Sybase Afaria was one of the priciest mobile device management platforms on the market – even if the cost was more or less justified given the range of functionality.
My guess is that Sybase Afaria has only further solidified its reputation as one of the top mobile device management platforms for companies that need that breadth of functionality – and can pay for it.
---
February 27, 2012 5:44 PM
Last week I wrote about the need for companies running SAP HANA to bring those job skills in-house, in order to maximize their ROI.
But that's not all they need to do, according to Vijay Vijayasankar, a consultant who specializes in SAP business analytics at IBM Global Business Services in Phoenix.
Even though the technology is maturing, companies need to have a plan in place for how they deal with the patches to the software. Although they are not as frequent as they used to be, patches are still coming once a month on average, according to Vijayasankar.
Whether or not to apply the patches as they come in, or more infrequently depends on how well their IT personnel can handle the changes, as well as what they're using HANA for, and how much of a company's operations it's planning on putting into HANA.
If it's just using HANA for its CO-PA Accelerator (for costing-based profitability analysis) for example, constant patching is less necessary than if a company is running a slew of in-memory applications.
"If you're not going to develop anything new, you're just in maintenance mode. [For many companies] the idea is to put more and more functionality into HANA, and then it becomes like ECC support where you are constantly developing and maintaining the system," Vijayasankar said.
---
February 24, 2012 7:33 PM
Not long ago when I had a problem with my Internet service, I tweeted that I that my Comcast service wasn't working and heard back from a representative via Twitter shortly afterward. Comcast fixed the problem but set up a house call with a representative just to be sure.
Okay, so the technician never showed, but the experience at least shows that big companies are watching social media channels for feedback from customers-even if some are clearly better than others when it comes to follow-up. Comcast is just one of the most high-profile organizations offering customer service via Twitter, thanks to an outspoken early evangelist and Salesforce.com.
Brian Ellefritz, vice president of Global Social Media for SAP, says his company is also focused on monitoring media channels for comments or feedback from customers on how SAP and its applications are being perceived globally.
So far, it's yielded some interesting results. Ellefritz told me the team had picked up on a tweet from one customer complaining about how difficult it was to do business with SAP. When SAP responded, the customer explained that he had been trying to get Crystal Reports from one of SAP's partners but was finding the partner to be largely unresponsive.
"We quickly resolved that and got someone to reach out to him," Ellefritz said, adding that SAP is looking for ways to use the information to improve how SAP operates.
"This isn't about can we 'one-off' help somebody with a given pain point.  What we should be doing as a business is trying to figure out is what [business processes are presenting challenges]."
Not all comments come from customers, Ellefritz added.
One developer wrote directly on SAP's Facebook page telling them about a security flaw in their website, which he had written about on his blog.  SAP responded asking more about the issue, but also asked him to take the blog down – which he gladly did. The developer then asked SAP for a job working on security issues. It worked, Ellefritz said. SAP is currently in the process of finding a place for him within the company.
Compared to engaging with SAP support or navigating Walldorf's human resources department, communicating via social channels seems remarkably effective. Is Twitter now a more appropriate channel for dealing with SAP?
---
February 15, 2012 5:31 PM
Last year I wrote a piece that looked at what a slowly improving economy meant for spending on SAP projects and software.
And while the figures were mostly anecdotal, it seemed companies were spending more. Since that time, the economic news has mostly been good, with a dropping unemployment rate and rising stock market.
Yet, while the U.S. economy added 243,000 jobs in January, only 3,100 jobs were added in IT, at least according to the government's definition.
Why is the trend so anemic?  If the economy is improving, shouldn't those IT number be higher? And what's going on with SAP customers?
I asked David Foote, president of Foote Partners LLC, which studies the IT employment market, about his take on the numbers. According to Foote, a large number of companies still have to outsource much of their hiring because they aren't having much luck in bringing people on full-time.  There's still a shortage of skills.
The same is going on in the SAP job market, as companies require more specialized skills and demand is outpacing supply.
So what's on the rise? Foote pointed to a number of skills that are in increasingly high demand, including those in  XMII (xApp Manufacturing Integration and Intelligence) development,  SAP GRC (governance, risk, and compliance), and SAP Workflow. Foote said that SAP PM (plant management) skills are also highly sought-after.
"Manufacturing's coming back strong," Foote said.  Not surprisingly, skill having to do with SAP supply chain management are also in high demand. Business analytics and BusinessObjects skills are also near the top.
Foote said that the highest paid skills, however, are for those for HANA, SAP's in-memory technology, suggesting that HANA is beginning to catch on among its customer base, in no small part because of SAP's relentlessly marketing the technology.
"SAP's been pushing it big time now," Foote said. "They're generating the interest, but it's become a hot technology."
---
February 8, 2012 8:45 PM
You could almost hear the collective thud of SAP's attorneys banging their heads against the wall over Oracle's decision to ask for a new trial in its intellectual property claims against SAP.
Not that it's any surprise, of course.  I'm sure SAP could see it coming.  It's just that SAP would love to close the books on the roughly five-year-old court case.
"We are disappointed that Oracle has passed up yet another opportunity to resolve this case," SAP spokesman James Dever said, putting it mildly.
During the trial, Oracle accused SAP and its long-defunct subsidiary TomorrowNow of intellectual property theft on a massive scale, and asked for $1.7 billion in damages. Oracle said it arrived at the figure by calculating the actual cost of the licenses that TomorrowNow would have had to purchase to legally acquire the software it downloaded.
The jury largely agreed, awarding Oracle $1.3 billion in damages. The judge subsequently reduced the damages to $272 million. Instead of taking the deal, Oracle is opting for a do-over, hoping for a better outcome this time.
But as Digital Trends' Geoff Duncan points out, SAP's guilt wasn't in question, and still isn't:
Oracle isn't risking that SAP will be found innocent of infringement in a second trial-SAP basically threw itself on the mercy of the court last time around-but it hopes for an interpretation of the law that would see it awarded the full $1.3 billion. And maybe then some, with interest.
What might this mean in terms of the continued animosity between Oracle and SAP?  All Things Digital's Arik Hesseldahl wonders:
The case has caused a lot of personal enmity between Oracle and SAP, as well as with Hewlett-Packard, especially during the 11-month period when former SAP co-CEO Léo Apotheker was CEO of HP. Apotheker's first days on the job at HP were marred by his apparent absence from HP headquarters, in what couldn't help but look like an attempt to avoid being served with a subpoena. Maybe Oracle will try again.
Although SAP would prefer not to see Oracle's lawyers in court anytime soon, it can at least take solace in that it's not alone.  As Fox Business points out, Oracle is still trying to stick it to Google.
---
February 7, 2012 9:01 PM
As I wrote last fall, SAP will roll out enhancements to its Business Suite software on a quarterly basis as a way to deliver newer technologies faster, and with less disruption.
On Monday, SAP announced the first round of the "incremental updates" it's going to make available to SAP customers.
The changes include, according to SAP:
Improved analysis of suppliers' performance within the SAP Supply Network Collaboration (SAP SNC) application
A new marketing user interface (UI) that allows users to interactively compile target groups for marketing campaigns from multiple high-volume data sources
A new UI in the SAP Enterprise Asset Management (SAP EAM) application that includes enhanced functionality for worker safety and risk management
Simplified receipt submission processes within SAP Travel Management
Better batch handling, cost planning, and label printing for manufacturers
Embedding of consume-to-cash processes within the CRM application
SAP did not say when the changes will be made available to customers, only that they're currently in ramp up. That said, though this initial list doesn't yet include enhancements involving some of their newer technologies around mobility or in-memory computing that SAP said would make its way into the rotation, it's a pretty solid start. Will the quarterly enhancements pay off as a way to increase satisfaction among its customer base? We'll see.
---