---
June 6, 2006 2:37 PM
Unless company financial issues are already in the public limelight, it is rare that companies will admit to investors that they have been relying on faulty data. That poses a challenge for SAP and other software vendors who are pushing master data management (MDM) tools to help firms deal with the mountains of mangled data located in corporate systems. So what's the challenge? Finding a group of happy MDM users that will come out openly and admit that the data released in company financial figures is possibly inaccurate.
When companies embark on MDM projects the result is usually the discovery of a myriad of problems, according to Andrew White, a research vice president at Stamford, Conn.-based Gartner Inc. Systems sometimes hold duplicate data. Data on a specific product may be different sizes in two systems. A customer in one system may be labeled as "customer 1234" and in another system, may be reentered in another system associated with "customer 5432." Mismatched and duplicate data can end result in financial implications.
Putting the pieces together is what MDM is all about. And MDM is not a six month project or not even a year long project, according to White. It's very much an enduring process, he said.
Ericsson, one of SAP's largest customers, is one such MDM user that is speaking openly and frankly about its data woes. And the company recognized its master data issues about four years ago, when it formed a central master data group as part of a massive global system consolidation project. Rod Hall, who gave a presentation to attendees at SAP Sapphire '06 user conference in Paris, told me recently that the goal of the project was to centralize data from its various subsidiaries.
During the process, the company found that its various subsidiaries were being serviced not by nearly 200,000 vendors as executives believed, but about 130,000 vendors. And an ongoing intensive MDM project using SAP MDM may find duplicate information and bring that number lower, Hall said.
"We're finally getting a consistent picture of what we're actually spending our money on with our vendors," Hall said.
Now that's the real value of MDM.
SearchSAP.com will soon have a more in depth story on Ericsson's MDM initiatives. Stay tuned.
-Rob Westervelt
June 5, 2006 4:27 PM
I recently spoke with Andrew White, a research director at Gartner Inc. on the topic of master data management. White shared the latest trends and how companies are facing a difficult road when starting MDM projects. In a separate interview, SAP's Sunil Gupta explained how SAP customers can address master data issues with SAP MDM.
The bottom line is that it's still an emerging area, and the large ERP vendors see companies investing in this area and want in. There are still some third party niche vendors that do MDM very well, White said. Get the full podcast here:
Podcast: Master data management trends and resources for SAP customers
-Rob Westervelt
---
June 1, 2006 3:16 AM
I'm pleased to announce that SearchSAP.com and the SAP Developer Network (SDN) has entered into a content-sharing partnership starting today. This allows us to tap the expertise and insights of some of the best and brightest within SAP, complementing our regular news reporting and market coverage without compromising our position as the number one independent SAP resource around.
The first article, An introduction to RFID, by SAP Industry Standards Architect Steve Winkler, is also the final piece of the RFID theme month we've run throughout the month of May here on SearchSAP.com. For a round-up of all recent RFID content, check out Special Report: RFID for SAP.
Next up is an in-depth discussion about xApps between Business Process expert Helen Sunderland and xApp Analytics implementation expert Greg Root. Watch for it on Monday, June 5.
Matt Danielsson
Editor
---
May 31, 2006 10:22 AM
Project Argo will result in an SAP xApp, a composite application, which leverages the existing back-end search technology SAP call's TREX, (Text Retrieval and Classification). TREX is an indexing capability within NetWeaver. The Argo application will sit on top of NetWeaver and TREX and it can be integrated with other SAP applications allowing an SAP end-user to get quick answers out of SAP via a desktop widget, a Web browser or even a mobile device.
SAP is calling Project Argo part of its software solutions for information workers. So, SAP plans to target field service technicians or a sales person out in the field with this search product. For example, these employees can conduct a search on their mobile devices in the same fashion a Google search is conducted and call up e-mails, reports and even SAP transactions.
"Argo is completely open ended and extensible. It will allow you to connect to other search services or other kinds of APIs," said Dennis Moore, general manager of emerging systems at SAP. "Anything that can be querried through an API or Web service can be queried through Argo."
SAP said that Argo will also be tied into Duet, SAP's joint product developed with Microsoft that ties many SAP end-user tasks with Microsoft Outlook. Project Argo will also be used in SAP's new Muse, updated GUI, which users were given a sneak peek of at the Sapphire '06 conference in Orlando, Fla.
SAP has been using Argo internally for some time and has even hooked it up to external search services such as Google News.
We still don't know if Argo will be released as a xApp that can be purchased separately, or if it will be packaged as an update to Duet in the third quarter or even an extension to Muse when it is officially released.
A story with more details will be available at SearchSAP.com
-Rob Westervelt
---
May 26, 2006 4:15 PM
Project Argo is SAP's extension of its enterprise search capabilities. Below is a screenshot of the SAP Developer Network download page for the beta version of Argo. The page was made public, but SAP has since placed it behind a login wall. The DVD is being distributed to a select few Sapphire user conference attendees in Paris, according to the site. While details are still slim, what we do know is that Argo will extend search to Google and other search services via Web services.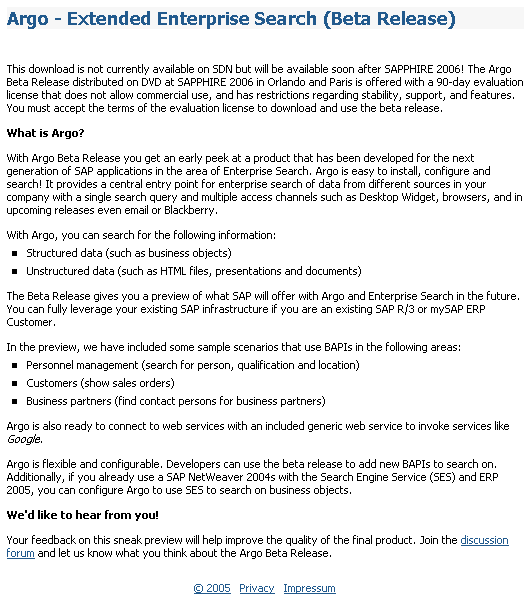 ---
May 23, 2006 4:20 PM
During a session at the Sapphire user conference in Orlando, Fla., last week an SAP executive mentioned Argo albeit briefly as a colleague of mine sat quietly in a room full of attendees. SAP executives wouldn't elaborate about Argo during the conference and during a panel discussion with press, said that Shai Agassi, president of SAP's product and technology group, would have more to say about Argo at a keynote session. That never happened.
So what happened to Argo? Some analysts have pondered that Microsoft's announcement last Wednesday may have temporarily put the Argo announcement on ice. Microsoft unveiled new search tools that manage end user searches on company data in multiple locations. Code-named "OneView," Microsoft's search capabilities meld Windows Desktop Search, Intranet search through SharePoint, and Internet search.
What little information we know can be found at SearchSAP.com. The beta download page at SDN is still available for viewing here.
Update: SAP put its SDN page behind a login wall.

According to information about Argo at the SAP Developer NetWork Web site, Argo was to be released on DVD at the Sapphire user conference in Orlando and Paris. It was also to be made available for download at SDN shortly after the two conferences. SAP Sapphire '06 Paris is scheduled for May 30-June 1 at the Paris Expo in Porte de Versailles, Paris. Perhaps we'll learn more about Argo there?
-Rob Westervelt
---
May 20, 2006 11:20 AM
In a broad ranging interview, Andrew Nelson, CEO of SAP subsidiary TomorrowNow, discusses his firm's strategy as it broadens support to include Siebel customers and recent criticism from members of the Quest International User's Group.
Download the Andrew Nelson interview here: Nelson also discusses whether TomorrowNow outsources its support personnel, and how the SAP subsidiary intends to bolster staff as it adds Siebel customers to its growing list of support services.
-Rob Westervelt
---
May 18, 2006 10:27 AM
SAP spokesman Bill Wohl confirmed that SAP played a role in getting a NetSuite event ousted from a nearby hotel during the Sapphire and America's SAP User's Group conferences this week. NetSuite CEO Zach Nelson told reporters invited to a press and analyst cocktail hour that it was quashed through some pressure from SAP executives. Nelson was scheduled to speak Wednesday at The Rosen Centre, a hotel and conference center located directly across from the SAP Sapphire user conference. NetSuite sells on-demand software suite for small and midmarket businesses. Oracle CEO Larry Ellison owns the majority of NetSuite.
Wohl said SAP is responsible for filling many of the hotels close to the Orange County Convention Center, where the Sapphire conference is being held. Events sponsored by competitors in a hotel, completely booked by SAP personnel and press covering the event is considered "poor sportsmanship."
Meanwhile, a group of about a dozen taxi cabs emblazoned with rooftop Oracle ads were devoid of passengers, but circled around the drop off area of Sapphire earlier this week. Convention center personnel ordered the cabs to leave the premises, according to Wohl.
-Rob Westervelt
---
May 12, 2006 3:34 PM
Looking for a comprehensive overview of NetWeaver or Business Intelligence technology for SAP? Then you'll be pleased to know that we just gave our NetWeaver and SAP BI Learning Guides a complete overhaul, adding fresh news stories and even more in-depth tips and insights from some of the sharpest minds in the business.
SAP Business Intelligence Learning Guide
SAP NetWeaver Learning Guide
Matt Danielsson
Editor
---
May 12, 2006 3:20 PM
Some NetSuite executives are saying that a press and analyst cocktail hour with NetSuite CEO Zach Nelson may have been quashed through some pressure from SAP executives. Nelson was scheduled to speak Wednesday at The Rosen Centre, a hotel and conference center located directly across from the SAP Sapphire user conference.
NetSuite sells on-demand software suite for small and midmarket businesses. Oracle CEO Larry Ellison owns the majority of NetSuite.
Some rumblings we're hearing from NetSuite executives is that the hotel may have pulled the contract and all nearby hotels refused to accept a NetSuite event.
The title of Nelson's cocktail hour: "SAP for the rest of us"
"While filling you with cocktails, NetSuite CEO Zach Nelson will discuss SAP's most recent attempts to break into the mid-market and why these efforts are 'more of the same.' He will unveil new NetSuite capabilities for the mid-market and explain why the on-demand suite is the disruptive new force that is delivering what the mid-market has long sought."
A formal letter about the issue from Nelson is expected on Monday.
More to come…
-Rob Westervelt

---