---
September 21, 2012 5:31 PM
This week, SAP announced the opening of its new SAP Mobility Design Center, aimed at helping its customers build custom mobile applications.
The center, based at the company's headquarters in Palo Alto, Calif., is intended to be a "one-stop shop" for building custom apps — in as short of time as possible — for the Sybase Unwired Platform.
But a big part of what will happen at the center is education, according to Richard Campitelli, who oversees the design center and is the head of mobile services for SAP.
Customers, especially those new to mobility, will start with a two-day "discovery" workshop to begin laying out their vision and the use cases for their ideal mobile application.
That's often when their plans first hit a snag, Campitelli said.
"They want to build an application they've been thinking about for their PC on their mobile device, which isn't really practical," Campitelli said. "So you have to focus on what are the core experiences or transactions that they really need to execute, and then [look at] what are the best ways to enable that on a mobile device — given the restrictions like the amount of screen space on a phone or tablet."
Often, customers want to emulate the consumer applications they see on the marketplace or they've used themselves, but are unaware of other considerations that go into building an app, he said.
"They have a sense that the application should work just like [those they download off of] iTunes.  It should be simple, easy to access," Campitelli said. "[But] they really aren't aware of the contingent issues like security, data integrity, or all the components of running a world-class ERP-style application in an enterprise framework. Customers are really confused about what they should do."
When it comes to building the app, Campitelli said they first construct wireframe designs based on how the application will be accessed and used according to the company's own processes.  Once that's nailed down, SAP helps the customers design how the back end of the application will work.
"It's a little different approach. Instead of process design, and then systems design, it starts at the experience first and works backwards."
August 27, 2012 4:02 PM
The article I recently wrote on SAP Rapid Deployment Solutions drew some interesting comments about the potential impact and benefits of RDS applications as well as the potential pitfalls related to scope creep.
In the article, Dominick Beck, an IT manager with Papyrus, a midsize vendor of wholesale commercial paper and cleaning products based in Göteborg, Sweden, spoke about his company's experience deploying the RDS version of SAP Extended Warehouse Management. According to Beck, the RDS templates had provided about 60% or so of what they needed, and Papyrus did the rest.
"When we started with this RDS, [it gave us] a system where one warehouse number was fully set up," Beck told me. "Then we copied from this warehouse number all the settings to our own warehouse number, and [went through the] customizing process where our processes were different compared with the original template,"
Scott Priest at SAP Experts writes that this could be the way of on-premises apps in the future — or not:
That might be where on-premise software is heading. Think of it like the way personal computers used to be: You'd get a giant package from Gateway or IBM or whomever with scores of discs to run, that took a bunch of time and left the possibility that you'd make a mistake. Nowadays you buy a computer and it's ready to go from the start. The battery's usually fully charged, too.
So maybe what will happen with enterprise solutions is a shift to RDS-like packages that are easier to implement, with experienced shops having an advantage on customization due to their own resources.
Or maybe RDS will prove a failure. It's certainly possible. Due to the ever-changing nature of many of these applications, it's difficult to be comfortable that your in-house resources will know the software inside and out, where a consultant might be able to provide more value.
At the same time, other folks weighed in with some thoughts of their own on independent SAP analyst Jon Reed's Google Plus page. Reed, who noted that SAP created the RDS line in part to compete against SaaS-based applications, writes about scope creep, the tendency of some IT projects to grow out of control:
The catch is that RDS approaches are intended to be out-of-the-box. SAP has also said in conversations about this topic that change requests after RDS installs can be the biggest threat to success. In other words, the danger is scope creep. If a customer misunderstands what the RDS can and can't do, or if an overzealous salesperson pushes it too hard, you have a bad fit, ergo change requests. I want to talk to more RDS customers, my views on this are still in flux.
Reed said afterward that scope creep is a danger to any project, but it could be especially toxic to RDS projects given that the whole point is to get something up and running in a matter of weeks.
"A lot times, say with an ERP upgrade, [you will] allow nine months for a project.  If you go over a month because of scope issues, [it's likely not a huge problem given] you probably allocated a year because you knew it was going to be a big deal," Reed said. "With RDS, if you go over a month, and it was only supposed to take six weeks to begin with, you're not very happy."
Jarret Pazahanick, an SAP HCM consultant with EIC Experts, a Houston-based IT consulting firm, echoed Reed's concern, stating that many systems integrators love RDS is because it helps them get their foot in the door, after which they can sell pricey add-ons for the RDS software.
Pazahanick also wondered if some of the "best practices" that SAP claims are baked into RDS applications are really just basic functionality.
Those are good questions.  And I'm not sure of all the answers, either. Like Reed, I look forward to talking to more customers about their experiences with RDS. RDS was designed to be as simple as possible. But as many IT professionals can attest, enterprise software rarely turns out to be as straightforward as it might seem.
---
August 23, 2012 2:47 AM
SAP customers currently on extended maintenance may not realize that they have until the end of September to let SAP know they don't want to move on to customer-specific maintenance now that extended maintenance is ending in March 2013.
According to industry analyst Ray Wang of Constellation Research, the deadline applies to the following applications:
SAP ERP 2004
SAP NetWeaver 7.0
SAP CRM 6.0
SAP SCM 5.1
SAP SRM 6.0
SAP SRM 5.0
SAP CRM 5.0
SAP SCM 5.0
SAP ERP 2004
SAP Netweaver 2004
SAP SRM 4.0
SAP SCM 4.1
SAP R/3 Enterprise
SAP R/3 4.6C
SAP has taken a tough stance in the past when it comes to deadlines, so SAP customers need to avoid letting the September 30 deadline get away from them in order to take advantage of other support options, according to Wang.
Wang writes that apart from any advantages that SAP may claim, customers can likely expect an increase of up to 22% in support fees, no new tax and regulatory updates, and no new fixes, among other downers.
SAP customers should instead give notice to SAP and keep their options open, Wang writes.  In the meantime, they should explore third party maintenance options, using giving notice and the possibility of moving to a third-party maintenance provider as leverage for any 2013 maintenance contracts, and resist any overtures by SAP to bundle existing contracts, which locks contracts in as a block and prevents customers from renegotiating them separately.
Rimini Street, one of two third-party maintenance vendors that focus on the SAP market, has heard from hundreds of SAP customers interested in possibly moving to third-party support, according to Dave Rowe, the company's senior vice president and chief marketing officer.
"Even if SAP extends the support window, many customers just want to quit playing the support window game," Rowe said.
---
August 6, 2012 2:42 PM
Running the SAP HANA in-memory database effectively requires a lot of things –the right use case, the technical expertise, and of course, the financial resources to deploy and maintain it.
But that's not all, explains Sean Moore, who leads Capgemini's North American business analytics practice. Enterprises must also have the correct organizational structure in place — something that not every company can boast.
Capgemini offers a strategic assessment for companies seeking to deploy HANA, Moore explained. The assessment looks at an organization's readiness for HANA from a cultural, political and technological perspective. They often find that firms are not ready for HANA at all.
It comes down to an issue of people and how they use data, according to Moore.
With HANA, "you're changing the way that people are accessing information," Moore said. "They're not running a report at 9 a.m. and going off to get a cup of coffee, and then printing the report and going into a meeting to discuss what to do next."
Instead, HANA users must be ready to analyze data and make decisions in near real-time.
"If you have an organization that is resistant to very quick decision making, or if have a lot of red tape or an inability to act quickly, then it doesn't matter how fast the information comes to you," Moore said.
There has to be someone in each business area — whether it's manufacturing, supply chain, procurement or what have you — with the authority to make decisions on the spot based on the data that's coming in, according to Moore. And some companies may need to restructure their IT landscape as well.
Capgemini recently worked with Provimi, a Dutch manufacturer of animal feed products, to deploy the HANA profitability analysis accelerator application, or CO-PA, which runs on the HANA in-memory database.
"That required quite a bit of work up front," Moore said, explaining that the company first had to consolidate roughly 28 different ERP platforms the company had across its landscape, something that was hindering their growth and [taking] up a significant amount of the IT department's time. Having that many ERP instances also meant that it took a long time to close their financial books each month.
"They realized before they went to HANA that they really had some work to do to get ready for financial close and financial reporting," Moore said. "So they spent time consolidating their instances of ERP, reorganized their structure from an overall maintenance [perspective], and then started down the path of HANA."
---
August 3, 2012 1:52 PM
SAP is aiming to help organizations better understand their customers with the release of a new Rapid Deployment Solution (RDS) for sentiment analysis with SAP HANA in-memory database technology.
Customers can pull information into the software from a range of social media channels like Twitter and Facebook, any site that makes its APIs (application programming interfaces) public, according to SAP. The application performs a semantic analysis on the content and users can view the results with SAP BusinessObjects software.
Any helpful or relevant information gleaned from the analysis can also be integrated with structured data sets for further analysis, perhaps as part of an effort to launch a new sales or marketing campaign.
SAP proclaims the software, which has to be run in conjunction with the SAP HANA in-memory database platform, can be deployed in less than six weeks. But Doug Henschen of Information Week takes the news with a huge grain of salt. He writes:
For starters, many companies would be hard pressed to get a conventional database appliance into meaningful production use in less than six weeks, yet here is SAP saying you can deploy what will be entirely new types of systems for many of them–an in-memory database requiring specific new hardware and a sentiment analysis application–at break-neck speed.
What really raises doubts, however, is the fact that SAP has virtually no track record in social network sentiment analysis. Yes, BusinessObjects acquired Inxight, and its natural-language processing and text analytics technology way back in 2007 (before SAP acquired BusinessObjects). But it didn't do much with that technology until it was reintroduced last year–just in time for the fervor around all things social.
---
July 27, 2012 2:10 PM
SAP trumpeted its achievement when it surpassed the 1,000 customer mark last year, but is declining to shed more light on what those numbers might look like now, despite continued interest in the cloud ERP's future, and whether or not it will ever hit a critical mass when it comes to adoption.
As analyst Jon Reed put it late last year, "I think this is sort of a make-or-break year for Business ByDesign."
Even so, SAP is keeping those adoption numbers close to its chest, rather than make its case that it has grown those overall customer numbers in a significant way.
 "We're still referring to the number that we provided last November, more than one thousand users," according to Astrid Poelchen, director of SAP product communications.
Still, there's no sign that SAP is cooling its plans for ByDesign, either. This week SAP touted some good news, namely that the trade and industry department of the government of New South Wales in Australia is deploying the on-demand ERP as a part of a $14.5 million deal that also includes SAP payroll and cloud consulting services.
At the same time, the latest version Business ByDesign will be available in August, and newly available in Denmark, Italy, the Netherlands, and Spain.  Business ByDesign 4.0 also includes a software localization kit for companies to create country-specific content, as well as an improved software development kit (SDK) that SAP says will allow for customers to create add-ons and integrate with third-party software more easily.
Jakob Jung, writing for ZDNet, outlines some of the new functionality being delivered in the new release:
Version 4.0 sees over 800 separate tweaks to functionality, including new elements for the service, manufacturing and distribution industries. For the latter, SAP has improved Business ByDesign's ability to combine both products and services on projects, which links material in sales orders to project tasks, while enhancements for manufacturing and distribution include support for customers that manage and track onsite and in-house repair scenarios.
---
July 17, 2012 9:00 PM
SAP made SAP BusinessObjects 4.0, Feature Pack 3 generally available today, claiming a raft of new bells and whistles when it comes to mobility, data integration and social media.
For starters, SAP claims Feature Pack 3 answers a growing demand to accommodate "big data" by adding support for HiveQL data sets.
"Now, within that same exact information design tool you've been using all along, we support HiveQL, so you can start to bring in, mash up, information from Hadoop to your BI environment," according to Jason Rose, vice president of business intelligence marketing for SAP.
On the mobile front, SAP says tighter integration with SAP Business Explorer now lets users manipulate and drill down on data in ways they weren't able to before using what it calls "exploration views." SAP says the new BOBJ update is also more closely tied to the Sybase Unwired Platform (SUP), given that so much of analytics is consumed on mobile devices.
Feature Pack 3 also lets users run operational reporting off of SAP ERP application and multi-source universes. SAP has also integrated its StreamWork social platform with Feature Pack 3, letting users collaborate on BI documents.
In other news, SAP announced that the new 1.0.1 version of SAP Visual Intelligence now supports Excel and .CSV files, whereas the initial release only worked with HANA data sources, a criticism of some analysts. SAP also said that Visual Intelligence is now integrated with SAP StreamWork, allowing users to collaborate on data visualizations.
---
July 17, 2012 2:44 AM
A couple of years ago, SAP realized it had a problem when it came to public perception over its strategy for industries, according to Dr. Kerstin Geiger, SAP's head of industry solutions. Few really understood what it was.
"I knew that we had an industry strategy [but] it obviously wasn't communicated to the market.  It wasn't really perceived as an industry strategy."
Geiger said that despite perceptions that SAP recently began refocusing on industries, it's the same strategy SAP had in place for years. The difference is that people now have a better idea of what that strategy is: helping customers "run, grow and transform" their businesses in new and different ways using technologies that weren't a part of the IT landscape until recently. That sounds fine – if not pretty broad – but what does it mean exactly?
The first part of the equation, run, focuses on the core ERP technologies SAP has developed over the decades, supplemented by newer technologies. The "grow" part of the equation is about helping businesses grow globally, which SAP says it's uniquely suited to do.
"[Companies] might increase their volumes, but they're also moving into other countries, for instance. We have the capability to support our customers going into China. We know how to run manufacturing in China, or we know how to run financials in China," Geiger said. "Brazil is even more painful. You have double taxation, triple taxation. This is how we can help companies grow in various dimensions."
SAP contends it has the know-how – and systems – to help companies transform from one type of business to another as they expand into new industries. Think of the oil and gas company whose locations now include a retail component.
"This is something we've seen happen over the last ten years, where we see companies crossing the border lines of their industry, and that means like Nike, for instance, they opened retail shops, so they're no longer a CP and fashion company, they're also a retailer," Geiger said. "All of a sudden, you have different business processes that you need to support."
One SAP customer, a commercial truck tire manufacturer has opened up a new line of business – handling the maintenance on rotating those tires. That involves heavy use of analytics, measuring things like miles travelled, road conditions, and other factors to predict when those tires need to be swapped out.
"This is where you need an IT landscape scalable and flexible enough to allow our customers to make those moves," Geiger said.
---
July 3, 2012 1:47 PM
Whether you see big data as a problem or an opportunity may depend on where you sit – literally.
In a survey SAP recently commissioned on perceptions around "big data," roughly 76% of the 100 or so executives they polled said they see big data as an opportunity, not something to fear or wring their hands over.
David Yonker, director of product marketing for data management and analytics at SAP said he isn't surprised.
"[Business executives] have seen how one company increased revenue by such an amount, or they increased the response rate of their marketing programs by such an amount.  It's generally related to big data," Yonker said.  "The executives tend to think, hey, this is an opportunity for us, how do we make this happen?"
Once again, there's a split in how business and IT see things.
"Then you have the IT side of the house. They tend to look at data as a challenge," Yonker said of the roughly 25% of respondents who had a slightly more pessimistic view of big data compared with their colleagues down the hall.
The view comes from the fact that a lot of the systems in place at most companies are running on technology that just wasn't designed to deal with reams of information now flooding today's businesses.
"[Most businesses'] database technology, at the end of the day, was a traditional relational database designed back in the '80s.  A lot of the challenge comes with the kind of infrastructure that's been shoehorned into doing reporting," Yonker said. "Now people want to figure out how to do big data analytics on it, and its just not cutting it."
---
June 18, 2012 6:07 PM
A lot of software vendors tout the benefits of analytics. But in a good reminder that business intelligence isn't only limited to corporate types, SAP says it's helping one non-profit foster the next generation of IT entrepreneurs in places like Argentina.
Endeavor Global, based in New York City, focuses on raising the standard of living in developing nations by helping promising young entrepreneurs grow their companies. They see innovative, cutting-edge companies as the best way to create jobs.
Earlier this year, Endeavor went to SAP, asking for help creating dashboards that could show how well the approach was working.
Endeavor combined data on a range of factors from how many jobs and revenue their entrepreneurs had created, the salaries of their employees, and other factors that help determine the social and economic effects they're having, compared with data compiled by the World Bank which reflected broader averages in those countries.
Using customized SAP Crystal Dashboards, Endeavor found that the companies they were helping were typically outperforming the country averages, an obvious boon to the non-profit's marketing and fundraising operations.
But it's also shown Endeavor which of their sectors and clients are making the biggest difference, information which can be used in the creation and improvement of programs. For example, though Endeavor helps companies in a range of areas, from agriculture to retail and manufacturing, some of the more detailed analysis Endeavor did on its Argentine entrepreneurs found that IT companies there were having the largest impact.
"We've gone back into our selection process internally, and designed a whole new component of that to target the selection of these fast-growing tech entrepreneurs in every country," said Erin Barringer, the Endeavor program manager who's overseeing the analytics project.
"So we've taken what we've learned in Argentina, and we're rolling that out [with] a fast track program, to catch technological entrepreneurs earlier in their growth."
The next step, Barringer said, is looking at what companies benefit from most, and using that information to better help its companies, Barringer said. "Is it the talent that we're providing, or is it the investment capital?"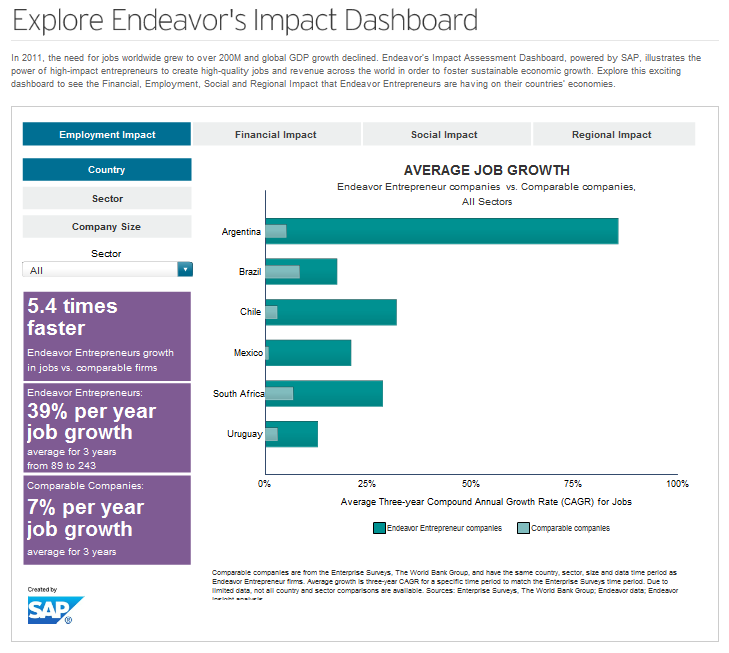 ---