---
January 24, 2013 4:29 PM
Hurricane Sandy continues to wreak havoc, even long after electrical power has been restored across the region.
According to the Syracuse Post-Standard, the payroll component of utility company National Grid's newly-installed SAP ERP system failed in a big way after the fall storm, in part due to the overtime incurred in the aftermath of Hurricane Sandy.  Reporter Tim Knauss has the details in a recent article:
National Grid rolled out its new system Nov. 1 — in the hectic aftermath of Hurricane Sandy — and the system proved incapable of accounting for overtime pay and expenses for many of the workers who spent 16-hour days on the restoration, said Ted Skerpon, president of a union representing 3,100 Upstate National Grid workers. Some employees didn't get paid at all. Others got regular pay, but not overtime, Skerpon said.
… Two unions have filed lawsuits on behalf of unpaid workers, and on Monday the Massachusetts attorney general fined the company $270,000 for failing to comply with wage laws. New York's attorney general has subpoenaed company records to investigate.
Knauss wrote that National Grid had to initially issue emergency checks to workers to make sure they were paid.
National Grid spokesman Patrick Stella said over one thousand employees are still affected, either getting paid too much or too little, or experiencing issues like child support payments not being subtracted and processed correctly.  That number is down from around a peak of a few thousand employees that were affected in the beginning.  But while progress is being made, National Grid isn't sure when the issues will be resolved.
Stella said they don't know yet what caused the system to go haywire. "I think that's something we're probably going to be looking at in detail later," he said. "Our first priority right now is to get the payroll straightened out and our employees are being compensated correctly."
SAP spokesperson Andy Kendzie provided no additional details other than to say SAP is working with National Grid to resolve the problems.
"All those involved have committed leadership and resources toward resolving any issues as quickly as possible," Kendzie said. "Together, we believe we are making solid progress."
November 28, 2012 2:54 AM
SAP's new Predictive Analysis software is now generally available, company officials announced today.
SAP says the advanced analysis offering is designed to let companies crunch data in an effort to uncover and predict future business trends. Company officials add that the software now also includes the SAP Visual Intelligence tools, which allow users to manipulate data and create charts and graphs to display query results.
The decision to incorporate SAP Visual Intelligence was the result of feedback they heard from trial customers, according to Mani Gill, vice president and general manager for SAP business intelligence software.
"The customers told us '[SAP Visual Intelligence is] great, but we would like you to take it even further," he said. "We'd like you to bring it even closer to the rest of the [SAP] BI (business intelligence) capabilities."
Customers can run SAP Predictive Analysis standalone or in conjunction with the HANA in-memory database platform.
SAP Predictive Analytics allows customers to perform a range of predictive functions, including determining how past sales and costs relate, how they will affect future performance and how those forecasts stack up against corporate goals, according to SAP. It also allows businesses to better understand sales trends as well as find correlations in the data so they can cross-sell and up-sell.
While there have been aspects of forecasting and planning in some of SAP's existing business applications before, including software like SAP Smart Meter Analytics, SAP Predictive Analysis marks the first time SAP has created an application specifically devoted to predictive analytics. SAP had previously ceded that functionality to its partners and competitors.
---
November 20, 2012 3:37 PM
A new survey by the UK & Ireland SAP Users Group finds that a majority of SAP customers polled aren't clear on how to migrate to SAP's growing portfolio of on-demand applications, and what thee benefits are if they do.
According to the poll of 160 customers in the UK and Ireland, nearly 60% said SAP wasn't making it attractive enough for them to move to the company's cloud applications.
That's a statistic SAP will have to do a better job of improving, especially as it continues to build its portfolio of on-demand applications. Those products include Financials OnDemand, which SAP rolled out last week in Madrid, in addition to acquisitions like the on-demand Ariba Network of buyers and sellers and SuccessFactors cloud-based HR software.
Perhaps even more troubling for SAP is that the confusion over its cloud roadmap doesn't seem to be improving. Last year's numbers were about the same, with 60% of respondents saying cloud adoption was being slowed by a lack of clarity over SAP's product roadmap. And 59% of respondents said they don't understand how to upgrade or integrate SAP OnDemand modules with their existing SAP implementation.
Clearly, SAP has a lot of work to do when it comes to getting customers more excited about cloud software.
Customers are also unhappy with licensing of SAP's cloud applications. In this year's survey, roughly 95% said there should be some kind of discounts, or the ability to trade licenses outright, for customers moving from on-premises to cloud applications.
Part of the dissatisfaction with licensing stems from the fact that companies see the cloud merely as a different way to deliver IT services, according to user group chairman Alan Bowling.
"Therefore, they are asking the question, if they have already invested in an IT service, do they want to pay for it again simply to have it delivered from the cloud?" Bowling said in a statement.
"We are now at the point where the benefits of cloud are well understood.  [But] at the same time, users want to see how SAP's recent acquisitions in the cloud space could benefit their organizations. Our figures show that currently the majority of users don't understand how the acquisitions of Ariba and SuccessFactors will benefit them."
---
November 15, 2012 7:55 PM
It's been a busy week for news coming out of Madrid, where SAP is hosting its combined TechEd and SapphireNow conference.
In addition to announcing SAP CRM on HANA – with the new SAP 360 Customer software – and SAP Financials OnDemand, SAP today announced a new raft of applications built on its HANA in-memory platform.  The thirty new applications SAP is announcing include:
SAP Liquidity Risk Management: Helps provide banks with the ability to perform real-time, high speed liquidity risk management and reporting on large volumes of cash flow, according to SAP.
SAP Accelerated Trade Promotion Planning: Created to help consumer packaged goods companies plan customized trade promotions. The software lets businesses analyze volumes of promotion-related data in real time to speed up promotion planning, find new promotion opportunities and track campaign spend.
SAP POS (Point of Sales) Data Management: Geared towards helping retailers not only report on what's been sold but also answer questions about sales and customer behavior.
SAP Customer Usage Analytics: For telecommunications, high-tech and financial services companies with "big data" needs.  SAP said the application lets marketing, sales and service departments better understand customer usage patterns for those types of companies.
SAP also announced the following planned applications:
SAP Demand Signal Management: Helps companies with operations in multiple industries capture downstream data and integrate it with their internal data to help improve decision making in areas like sales, marketing, and the supply chain.
SAP Operational Process Intelligence: Being created to give line-of-business users real-time visibility across end-to-end business processes.
---
November 14, 2012 9:45 PM
Add another company suing an SAP implementation partner over an allegedly botched ERP implementation to the list.
Late last week, Avantor Performance Materials, which manufactures high-performance chemicals and materials, filed suit against IBM seeking tens of millions in damages.
IBM, which was called in to implement SAP ERP software as well as deploy the IBM Express Life Sciences Solution that runs on SAP All-in-One ERP software for small and midsize companies, was unable to back up sales talk with competence, according to Avantor.
"IBM representatives assured us that its Express Life Sciences Solution, a pre-packaged software solution, was suitable to run Avantor's core business processes," said John Steitz, Avantor's president and CEO.
"The solution—and the service and support offered by IBM throughout the implementation—proved to be woefully misaligned with the unique needs of our company and our customers."
SAP declined comment given they are not named in the lawsuit.
---
November 13, 2012 7:35 PM
As reported this morning, SAP took the stage at the combined TechEd/Sapphire Now conference in Madrid to announce it is finally rolling out SAP Financials OnDemand. While the news wasn't totally unexpected, the move represents a pretty large jump forward for SAP's portfolio of cloud-based applications.
At the same time, SAP also announced the SAP 360 Customer package, basically a hyped-up version of SAP CRM that runs on SAP HANA, the company's in-memory database platform.  The product is the first to fulfill SAP's promise to start running ERP transactional processes on HANA.
Nick Heath spells out some of the benefits of SAP 360 Customer:
SAP 360 Customer will offer real-time text, transaction and analytics processing to generate immediate insights into customer preferences and behavior, he said. Analysis can be carried out on both on internal company data and external data, such as posts on social networks, and results can be delivered to a range of mobile devices.
At the same time, Doug Henschen sounds a note of caution as the HANA road map continues to play out:
SAP has long promised that running both transactional and analytical workloads on a single database would drive "dramatic simplification" by eliminating layers of complexity and data redundancy built into conventional architectures.
With applications like CRM and analytics like data marts, warehouses and analytic apps running on a single database, SAP says HANA will consolidate the database layer. That's the vision, but with just one major core app now supported (with CRM now moving into beta on HANA), customers will still need a separate database(s) for all their other transactional applications.
SAP is also releasing Service Pack Stack 5 (SPS 5) for HANA, which includes support for real-time streamed data processing, embedded analytics, and enhanced text analytics that give customers the ability to filter files, identify entities and do sentiment analysis in 31 languages — all within HANA, according to SAP.  SPS5 is intended to help developers build applications to run on HANA more easily and add business rules to those applications.
SAP also announced several new Rapid Deployment Solution (RDS) packages for helping customers connect to its Ariba Network, including product catalog integration between components of the SAP Business Suite, such as logistics material management and supplier relationship management and the network.  SAP also announced another package for purchase order and invoice automation that allows automated exchange of documents in the procure-to-pay and order-to-cash processes.
---
October 9, 2012 2:58 PM
What if workforce analytics software were not only about crunching numbers and providing dashboards, but actually telling you what was important?
That's the idea behind the new Headlines analytics software that SuccessFactors announced Monday at the HR Technology Conference and Expo going on in Chicago. SAP acquired SuccessFactors, a maker of on-demand HR software, early this year.
The idea is a pretty good one, if it works as SuccessFactors claims it does.  According to the company, SuccessFactors Headlines acts as an "automated data analyst," combing through reams of data, and pushing out alerts in newspaper headline format based on identifiable trends in the data — information that the user should be paying attention to.  Users can get the alerts via a range of avenues, such as email, or Jam, SuccessFactors' online collaboration tool.
Folia Grace, vice president of product marketing for SuccessFactors, explained why this is good news for business users.
"Most managers don't have time, or the skill set sometimes, to really make the data useful. Even though companies have had lots of investments in analytic systems over the years, typically it sits in another system, it's difficult to log on when you get there, you may not know how to navigate it, or interpret the data," Grace said.
"So what happens [with Headlines] is you end up getting the data-driven organization that you're looking for," she said.
In one example cited by the company, one alert might say "Your team is losing high potential employees. Sixty-six exited this month, double last month's count." At that point you could drill down into the data for more information, and find out who's at risk of leaving, based on the profiles of those who left.
Headlines also bases recommendations and alerts on baked-in workforce averages and metrics, as well as industry benchmark standards.  SuccessFactors claims that the software is also able to predict future problems and areas of risk based on the data.
According to Grace, the software is in ramp-up, being used by Coca-Cola and Procter & Gamble, who are helping SuccessFactors develop additional uses cases before it's made available.
At the same time, SuccessFactors also announced a raft of other enhancements, including a new user interface for SuccessFactors Employee Central and across the company's BizX Suite, the ability to handle all aspects of payroll administration within Employee Central, and tighter integration with third-party HR software vendors like Benefitfocus, for benefits administration, and Workforce Software for workforce management. Because of the integration, users can access all apps by logging into Employee Central once.
At least one attendee at the conference was listening – and looking.
David Adrian, Walmart's senior director of global talent management said he had seen demos of the new user interface and Headlines feature but is taking a wait and see approach, though he expects to get them when SuccessFactors makes the upgrades available.
"We've been on SuccessFactors for three years. There's nothing that's going to change that for the near term," Adrian said.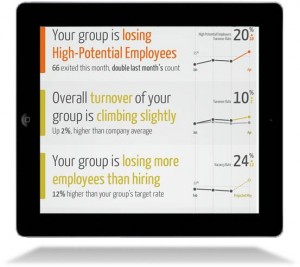 ---
October 2, 2012 7:07 PM
Can't they all just get along? As anyone who follows enterprise computing knows, SAP and Oracle have a long history of going at it, which certainly won't end anytime soon, especially as the two continue to fight over competing visions of in-memory technology.
Months after sparring over SAP HANA and Oracle Exalytics, Oracle CEO Larry Ellison reportedly couldn't keep from referring to SAP's marquee in-memory product as if it were actually an unthreatening nine-year-old in a frilly pink dress compared to Oracle's new Exadata X3. Ellison took his shots at SAP during the Oracle OpenWorld user conference now underway in San Francisco.
Business Insider's Julie Bort recounts Ellison's comments:
"SAP has an in-memory database that's a little smaller than what we offer," Ellison said. "I think her name is Hana. I promised Mark [Hurd] that I would not mention them [SAP]. I'm glad to keep my promise."
Ouch.
Steve Lucas, who oversees business analytics and database technologies at SAP, answered that HANA is different, in that it spans everything from traditional to predictive analytics to sentiment analysis:
Making an old-school database faster by putting it in a superfast piece of hardware is not going to hurt Hana, Lucas says.
"You've got a company with a $10 billion database albatross around their neck, and a multibillion hardware albatross around their neck, so their solution is to throw more hardware at the same old tired software. It's a myopic view that what companies need is a faster database," Lucas said. "It absolutely fries my brain."
On a separate note, Computerworld's Chris Kanaracus outlines some of the economics around Oracle Exadata:
Exadata machines are big money-makers for Oracle because they also run a lot of separately licensed database software, which provides steady annual maintenance payments. The combination has meant that a fully-loaded Exadata box tends to require a significant investment from customers.
But Ellison seems keen on getting midsized customers into the Exadata market. He announced a new "eighth-rack" X3 edition that has a list price of $200,000. It is faster than larger Exadata configurations released in 2010 and 2008, according to a slide.
** UPDATE:  SAP CTO Vishal Sikka weighed in on the Experience SAP HANA site, saying Oracle's customers and shareholders deserve more honesty from Ellison:
The statement Mr Ellison made about HANA, when talking about the release of a new Exadata machine, that has 4TB of DRAM and 22TB of SSD, is false.  He referred to HANA being "a small machine" with 0.5TB of memory. He said his machine has 26TB of memory, which is also wrong (SSD is not DRAM and does not count as memory, HANA servers also use SSDs for persistence).
Read Sikka's full response here. 
---
September 27, 2012 8:55 PM
SAP this week rolled out a new "cockpit" mobile app geared especially for sales teams looking to have a greater range of customer and sales data before they meet with customers.
SAP Customer Insight is part of the broader Sales OnDemand software, and was created to make sales team members' lives a little easier by grouping sales and account information with news about the customer itself, rendered in a visual "tile" format, according to SAP.
Rolf Schumann-Rieber, a general manager with Rieber, a German manufacturer of kitchen fixtures and other products, said is has been using the application since July and found it  helpful.  In particular, he said having historical data combined with sales pipeline information helps different sales teams – which may share a single client – to stay on the same page when it comes to that customer's account.
"I call it information at your fingertips," said Schumann-Rieber. "It means the sales team is better informed."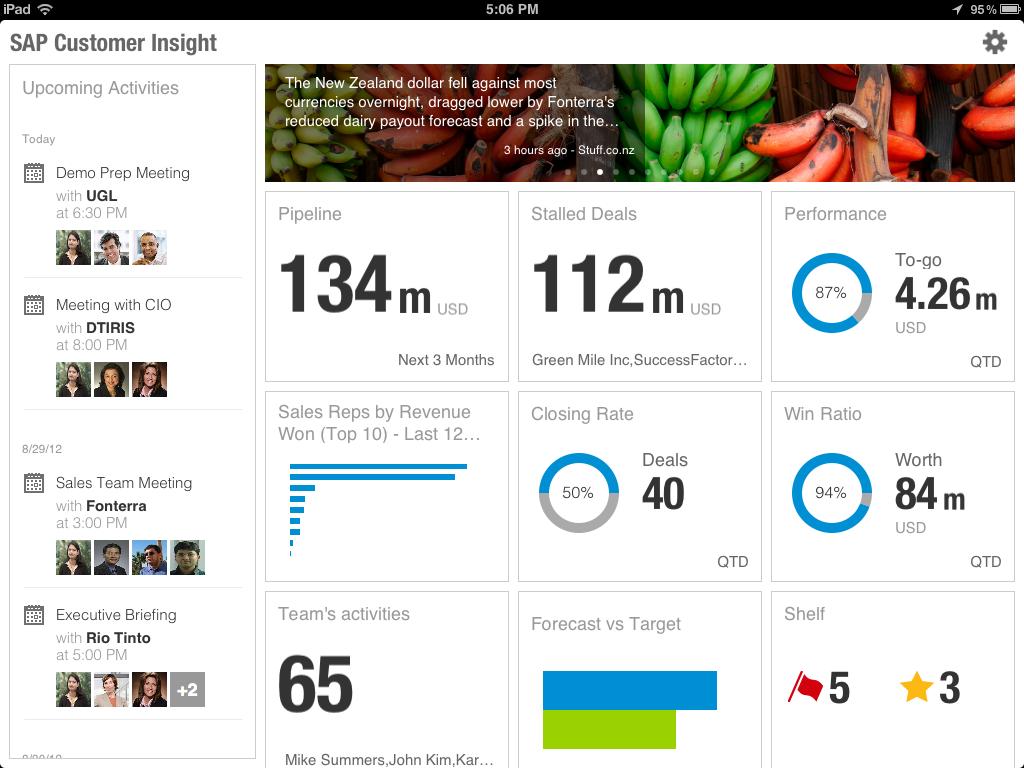 ---
September 24, 2012 8:25 PM
Looking to give businesses a way to tackle BI and "big data" in one fell swoop – with packages suited to their size and needs – SAP today announced four new analytics packages that combine SAP BusinessObjects BI, Crystal Reports, Sybase IQ, and SAP Data Integrator software.
"What we've done here is brought together best practices, industry, and line-of-business content with our BI solutions, Sybase IQ and data integration into a complete package, at a very compelling price point, so that customers have everything they need to start to get going with analytics, and do so in a way that it's a high performance solution," SAP said in a statement.
ZDNet's Rachel King gets to the packages' nexus of analytics and big data:
Specifically, that means accessing and analyzing transactional data across enterprise systems and the web, including social networks, to get a better grasp in real-time about what consumers are thinking about products and brands.
SAP asserted that the infusion of analytics technologies will enable business of all sizes to be able to manage big data with advanced business intelligence capabilities for solving specific business problems with this consumption model.
SAP also boasted about the bundles' discount price, noting that for just 20% more than the price of BusinessObjects alone, customers get the rest of the software included.
Jayne Landry, a vice president of solution marketing at SAP charged with overseeing the new products, said including best-practice content tailored for key industries and lines of business with database and integration software will help companies deploy the applications in a faster, more comprehensive way.
"What we've been hearing from IT is 'we know about the tools, but we don't know about the use cases.'  And the line-of-business users are saying 'we know we want to take advantage of analytics, but we're not sure about what's possible,'" Landry said.
"By developing this solution, and focusing on delivering those use cases and content, it enables line of business and IT to come together and have a conversation about what's possible, and then rapidly put that into action."
The four packages are: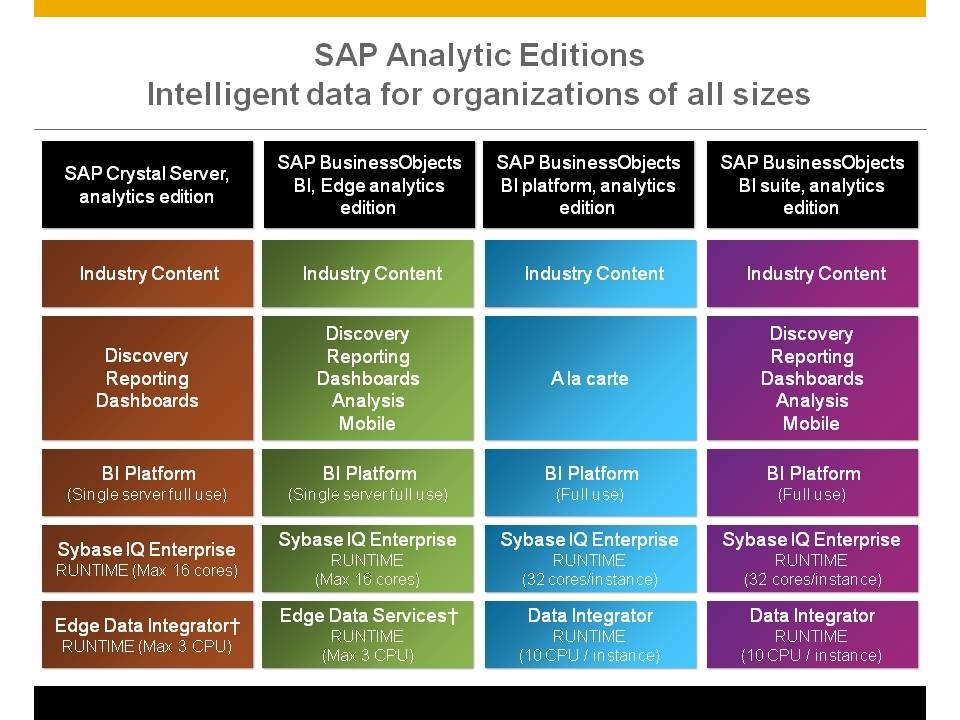 ---