Oct 3 2007 7:04PM GMT

Profile: JackDanahy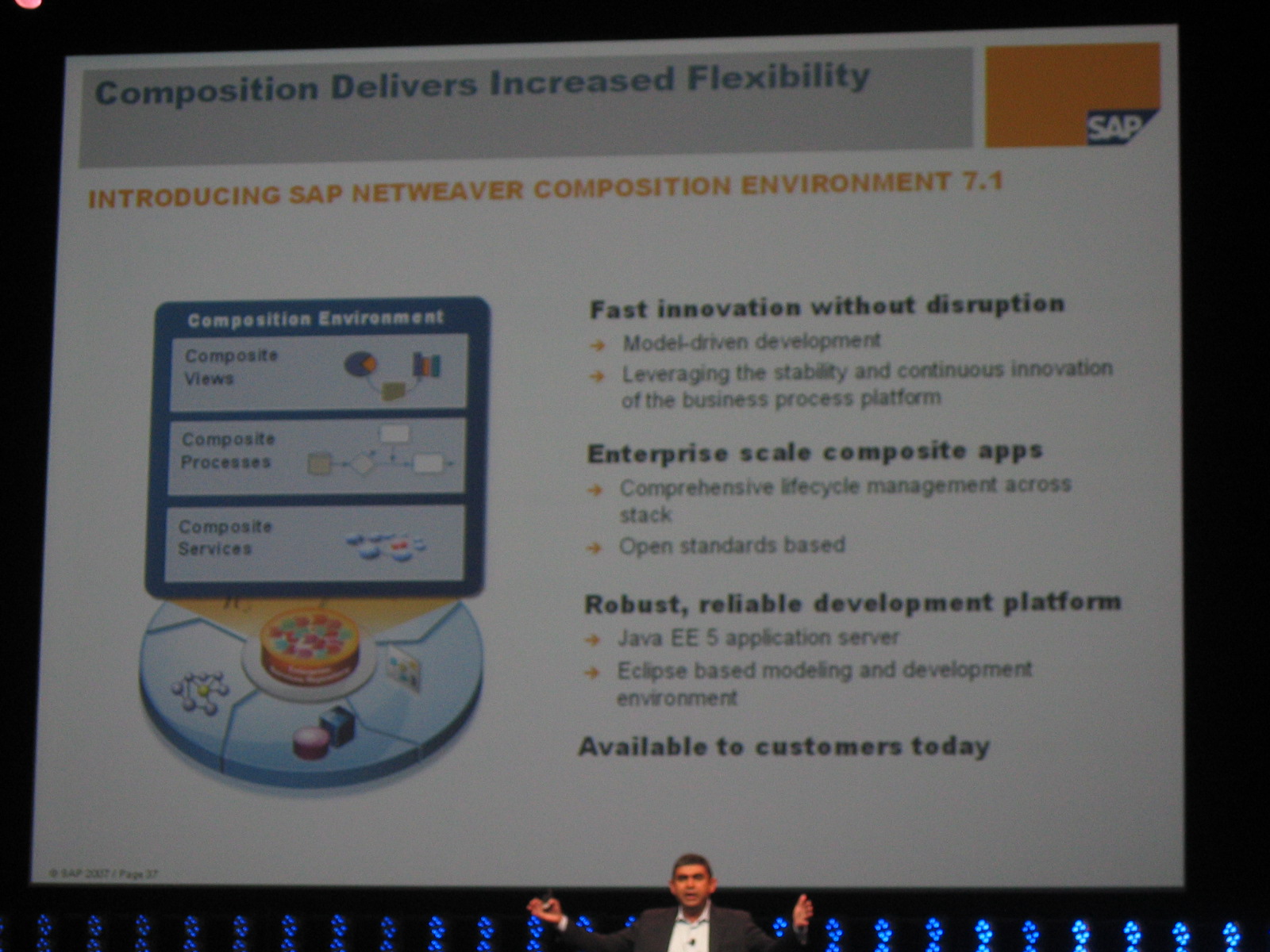 As mentioned in yesterday's TechEd keynote article, SAP has now announced the availability of NetWeaver 7.1. Renee Boucher Ferguson on ZDNet summarized the key improvements in her article earlier today.
"[NetWeaver 7.1] brings the discussion around the integration and development platform full circle—back to business process orchestration, where it started when NetWeaver was announced in 2003," Ferguson said. "There are three main pieces being added to the NetWeaver stack in version 7.1: Composition Environment, Enterprise Services Repository and NetWeaver Process Integration. By incorporating the three elements into NetWeaver, SAP […] hopes to lay the foundation for business process management in the world of SOA."
Practically all the attendees at TechEd we talked to were upbeat about the announcement.
"The improvements are tremendous," said Oliver Kaluscha, independent SAP consultant from Frankfurt, Germany. "I mostly work with Mobile technologies, so this is absolutely helpful to my business."
Peter Thiele, senior consultant with IDS Scheer in Philadelphia, Penn., echoed the sentiment.
"This is going to put SAP technologically on par with other EAI leaders like WebMethods, Tibco and others," Thiele said.
What's next for NetWeaver? Surely, the SAP folks who created NetWeaver 7.1 aren't spending their days playing Tetris, so what are they working on now? We asked Aiaz Kazi, VP of Solution Marketing at SAP Labs in Palo Alto, Calif. what to expect from NetWeaver 7.2.
For new features, Kazi was tight-lipped. "Our internal NetWeaver road map stretches 12-18 months into future," he said. "The public road map is typically less than a year." Today, Web 2.0 technologies like wikis are all the rage, he said. Tomorrow is papier mache — who's to tell what's going to be hot?
What he could say, however, was that we can rest assured CE will drive the front end. It's what happened with NetWeaver 7.1, and that's what will happen in the future, he said. Furthermore, the focus will remain on maintaining and improving stability, Kazi said. He largely agrees with Ferguson's full circle-comment, referring to the CE/ESR/PI as the "holy trinity" on which the future rests, although there's always room for improvement.
Matt Danielsson
Editor