---
May 5, 2015 5:59 PM
HANA
,
Salesforce.com
,
SAP
Regardless of whether the reports of Salesforce possibly seeking a bidder represent only rumors, SAP stated something as a fact:
It won't buy Salesforce.
"We have zero interest in Salesforce.com," said Bill McDermott, SAP's CEO. McDermott spoke to reporters and other attendees during a Q&A at the SAP Sapphire conference today in Orlando.
Last week, Bloomberg Business reported on rumors that Salesforce had sought advice from bankers in reaction to a potential bid for the company. The issue is of interest to attendees at Sapphire because so many SAP customers also use Salesforce.
"You couldn't throw a rock in here without hitting a Salesforce customer," said Don Loden, principal consultant at Decision First Technologies in Atlanta.
Obvious suitors for Salesforce would include SAP, Oracle, IBM, and Microsoft. Salesforce is valued at around $42 billion, but has been losing market share, according to some high tech observers.
At Sapphire, SAP is pushing a "run simple" motto that boils down to SAP's HANA system, particulary on a cloud platform, pulling data from a company's core ERP system. McDermott envisions an automated supply chain using such data that gives customers the items or services they want within an e-commerce arrangement.  The need for salesforce automation (SFA) to make those customer contacts is dwindling, McDermott said, terming Salesforce a "redundant system" in such cases.
"The cheese moved from SFA to external customer e-commerce," he said.
Scott Wallask is news director for the Business Applications and Health IT groups at TechTarget. Follow him on Twitter @Scott_HighTech.
May 4, 2015 2:25 PM
HANA
,
Healthcare
,
Human Resources
,
SAP
Heading into SAP Sapphire this week, I legitimately feel good about the company. It's not because of earnings or technology advancements or any of that business mumbo-jumbo; it's simply because SAP is offering new-found support for a small amount of its employee who are going through a big crisis.
Since last year, SAP has used HANA to help workers who are fighting solid-tumor cancers as a free healthcare benefit. I had a chance to sit down recently with Torsten Paul, who is involved with SAP's global health management programs, to discuss the initiative.

SAP's Corporate Oncology Program for Employees, or COPE, comes through a partnership with MolecularHealth, a German company that develops and produces software to analyze genomic data of patients. The company is financed through a firm associated with former SAP CEO and founded Dietmar Hopp.
Cancer treatment is at the forefront of precision medicine — a healthcare approach that aims to customize treatment using data and human genomics. Because cancers vary greatly person to person, it only makes sense that therapies should also tailor themselves to the patients.
MolecularHealth uses HANA to sequence a DNA sample of the patient's tumor and compare it to a sample of the person's normal tissue. In less than 20 minutes, that employee has a personalized treatment plan to bring to their oncologist or treating physician, Paul told me at the HIMSS 2015 conference in Chicago.
"It's a mandate to care for people," Paul said of the program. That might sound like corporate hype, but in talking to Paul after the interview ended and seeing the spark in his eyes, for him, the COPE initiative is an altruistic approach to employee wellness. "It makes work [relationships] even better, which is what we want."
Less than 100 SAP workers in the U.S. and Germany are part of COPE — Paul wouldn't give exact numbers — but he eventually expects from 2% to 5% of SAP's 74,500 employees will receive diagnoses of solid tumors.
So as we wander through Sapphire in Orlando and get caught up in the glitz of the trade show, anticipate J. Lo's concert, and maybe even visit Mickey Mouse in Fantasyland, remember that in some oncology ward somewhere, an employee has HANA results in hand that might — with medical science and a little bit of good fortune riding along — turn the tide of a cancer battle.
Scott Wallask is news director for the Business Applications and Health IT groups at TechTarget. Follow him on Twitter @Scott_HighTech.
---
June 30, 2014 2:49 PM
SAP
SAP and its CEO, Bill McDermott, made a big point of saying at this year's Sapphire Now conference that the "new" SAP is focused on making enterprise software as simple as possible for  customers, citing free Fiori apps and the new SAP Simple Finance applications as examples.
In a new blog post, Jayne Landry, global vice president and general manager of SAP business intelligence, spells out what that means for the SAP BI portfolio, as the company tries to address customers' demands for fewer, more integrated tools in the BusinessObjects (BOBJ) toolshed.  It's an important read and covers the role that SAP BOBJ Design Studio and SAP Lumira will play going forward.
But how did SAP get to a point where it now has to do the hard work of consolidating these products?  Shouldn't SAP have started on this project sooner? Users feeling confused by the number of BI tools doesn't seem like news.
When we spoke last week, Landry didn't provide a clear answer to that, merely pointing to the fact that it takes time to gather input, and many users aren't sure what they're using.  But she did point to the fact that the number of tools has exploded as needs — and the very nature of BI — have evolved and matured.
"Customers want operational reporting, as a very first step in leveraging the data they have within an organization. Those reports lead to next questions.  What we normally see happen next is the IT department will be asked for a more an executive-level view, and that's where we see the rise of dashboards within an organization," Landry said. "Once the executives get their dashboard views, there's always the next question, and that leads to more self-service and ad-hoc reporting, and BI use cases.  There's this natural progression and journey as companies mature in their adoption of business intelligence."
SAP's answer to that, Landry contends, is simplifying some of those tools according to users and roles — much in the same way it is trying to do with its other applications and UIs.
"We focus in on three key [user types]," Landry said. "The first is the business analyst. These are the ones getting the one-off questions from the business.  If those [same questions are] coming up time and time again, the analyst will then work with a developer to turn it into a solution that can be consumed by a broader audience across the business.  That's the second persona, the developer. They're not answering ad-hoc questions, they want to solve the problem systematically," Landry said.
The third user type is the end users themselves. "They want not only the ability to consume the information that they're given, but, increasingly, want to answer that next question by themselves without having to go back to an analyst, or IT."
But as one analyst recently pointed out, running more simply isn't only about products.  It's a lot of other things that relate to the customer experience, including pricing, which SAP says it is also trying to simplify and consolidate.
But running simply is also about names.  SAP can and should do a better job of curtailing the ever-changing and ever-expanding list of product names that users have to track.
It will be interesting to see how well SAP executes on its strategy.
As one reader responded to Landry's post: "Do a few things, and do them very well. The challenge now is making customers love these tools rather than cramming them down their throats."
---
July 24, 2013 2:41 PM
SAP today announced a policy change designed to make it easier for companies to move portions of their on-premises environments to SAP cloud applications..
"This is a way for us to enable our customers to access our cloud solutions in an easier way," said Augusto Abbarchi, global head of maintenance and premium engagements at SAP. "We know our customers have made big investments in our on-premises platforms. Sometimes this represents a barrier for our customers in investing in our cloud solutions.  "
With the change, existing SAP customers can "reallocate" portions of their on-premises deployments to the SAP cloud version of the same software, the company said in the announcement released this morning. Customers can apply part of their current license and maintenance fees to the cloud subscription.  The policy change applies to SAP's Ariba and SuccessFactors cloud applications as well. 
SAP declined to specify how much customers could expect to save in on-premises licensing and support, saying only that it depends on the customer and factors including the size of deployment.
The program assumes that customers will not only be migrating a portion of their SAP environment to the cloud, but expanding on it as well. 
In short, it means customers will be paying more overall, but that benefits in the form of newer technology and the lower total cost of ownership associated with on-demand software will be worth the added cost, according to SAP. "The value we can add with the cloud solutions is higher compared with higher fees paid to SAP," Abbarchi said. 
Customers can also transition at their own pace, noted Rob Addy, an analyst with Stamford, Conn.-based research firm Gartner Inc.
"The ability to migrate to the cloud on an incremental basis means that SAP customers can make the transition at a pace that suits them, thereby lowering the migration-related risk and helping them to make the change," Addy said.
In a short video provided by SAP, analyst Joshua Greenbaum said the program is a response to customers who may otherwise feel trapped by limited options for migrating to the cloud. 
"SAP is saying this is a complex marketplace where customers are going to need a lot of flexibility," said Greenbaum, president of Enterprise Applica­tions Consulting, based in Berkeley, Calif.
---
May 16, 2013 1:52 PM
ORLANDO — Could SAP — in conjunction with sports apparel makers like Under Armour, help prevent heatstroke that sidelines athletes every year — or in the case of Minnesota Vikings offensive tackle Korey Stringer, leads to their death?
At Tuesday's SapphireNow conference keynote speech in Orlando, SAP's big message was about how the confluence of big data, in-memory technology and software is changing the face of sports and sports entertainment.
The many interesting aspects of this were highlighted in a keynote panel discussion with SAP co-CEO Bill McDermott; Adam Silver, deputy commissioner and COO of the National Basketball Association; Jed York, CEO of the San Francisco 49ers football team; and Kevin Plank, CEO of Under Armour.
Much of the discussion revolved around using biometrics technology to create a better fan experience, from ticketless stadiums and the ability to order concessions from your seat, to being able to crunch reams of data. The speakers also covered how the technology can be used to draft better NFL teams.
But the more interesting discussion built off a comment by Plank about how Under Armour is developing clothes with biometric sensors that could help raise or lower an athlete's body temperature as needed.
The idea is that not only could the technology be used to regulate the athlete's body temperature, but the data could be pulled out of the sensors and analyzed in real-time using SAP HANA in-memory technology.
Coaches and trainers equipped with handheld devices could use the data on the practice or game field to determine who's in danger of overheating or over-exerting themselves and needs to be pulled for his or her own safety.
"You're going to have a healthier, safer game," York said.
While York focused mostly on organizations and fans not wanting to see team members hurt, you can imagine teams wanting to protect players given the vast sums of money they invest in them.
But could that data be used in other ways?
The NBA's Adam Silver predicted that biometric data will one day be provided, in real-time, to fans watching the game.
Imagine, for instance, watching Kobe Bryant standing at the free throw line, knowing not only how Bryant typically fares when there's less than two minutes left in an NBA championship game in which they trail, but what his pulse is doing at that very moment.  Is he panicking, or is he calm?
Fans would love it, Silver said.  "That's going to increase their level of engagement."
Would that make professional sports more interesting, or is it too creepy?  Apart from the biometrics issue, will knowing performance benchmarks in any given situation add or take away from the game?
I guess we'll find out.
---
May 15, 2013 1:26 PM
Quentin Hurst knows all about the need for mobile device management software to get a grip on the explosion of mobile devices and applications in his company.  After all, he's seen it firsthand.
Hurst, the director of business systems applications for NuVasive, a maker of medical devices used in spine surgery, said the company had seen a sharp increase in its roughly 1,500 employees wanting to work on their smartphones — the same "Bring Your Own Device" (BYOD) phenomenon so many other companies are experiencing.
At the same time, NuVasive was giving its sales teams Apple iPads and deploying them with custom-made apps  as well as other third-party software.
The trick, Hurst said, was to secure all the devices, regardless of who bought them.  Having a mobile device management solution would enable NuVasiveto deploy its own proprietary software directly to its sales staff, instead of having to go through Apple's  iTunes store or similar portals where people outside the company could download the software, he said.
"I've seen a lot of internal applications that were only meant for corporate use," Hurst said of public download sites.
NuVasive began looking at options, including SAP Afaria, SAP's mobile device management software, in addition to other vendors like MobileIron and AirWatch.
But NuVasive, being an SAP ERP customer, decided on Afaria because of its tighter integration with SAP and the Sybase Unwired Platform, which NuVasive deployed at the same time.
But instead of trying to fight BYOD, NuVasive has decided to embraceng it — while getting a handle on it.  Besides, Hurst added, BYOD gives employees control over the devices they use and saves the company money on devices.
Nuvasive counts on Afaria to wipe company-related data  when a device is stolen or an employee moves on.
Just a few days ago, Hurst said he accidentally left his company-issued iPad on the plane.  He called to let someone know but went through the process of wiping the device just in case.  He eventually got the iPad back, with all the company-related data deleted.
"I felt good that it worked. We can protect the data in a real-life scenario," Hurst said.
---
April 29, 2013 12:44 PM
OK, so SAP isn't literally offering everyone a ride to their jobs, but it has introduced a new app aimed at making it easier for people to share a ride, thereby saving money and cutting automobile emissions in the process — on top of other benefits.
The cloud-based application, called SAP TwoGo, is pretty simple: the employee answers a handful of questions about where they live, their  destination, and other variables such as whether they can take a detour to pick someone up and how much, what time they need to arrive or depart, etc. Then  the software matches people up.  SAP has partnered with Nokia for the app's geocoding, routing and mapping technology. TwoGo is also available on the Apple iOS and Android mobile platforms, so that people can use the software on their smartphones.
A few weeks ago, Thomas Cook, Europe's second largest travel company, began a pilot project using TwoGo at its German headquarters in Frankfurt, according to Julian Clemenz, the head of business development for Thomas Cook's continental Europe division.
The company saw the application as a way to meet its environmental sustainability goals, as well as a way to get employees involved in those objectives.
"A big part of our employees commute every day from Frankfurt or the greater Frankfurt area.  It was pretty obvious that many of them were driving alone in the morning, and then [returning to the same place] in the evening," Clemenz said. "It was pretty obvious that this might be a good idea."
Even in the program's early days, 100 of the branch's 1,200 employees have begun using the app, according to Clemenz.
"So far, it's already a good start.  Obviously we want to [raise awareness of the software] and motivate people to use it," he said.  "If we can get 20 or 30% [of our employees to use it,] we'll be really happy."
Apart from saving employees' money and helping the environment, there are other benefits, according to Clemenz.  For one, workers have more time to talk and to network, and the parking lot isn't as full.
"Maybe you meet people you never met before.  With 1,200 people, you can't know everyone," Clemenz said. "That's part of the idea behind it."
SAP contends that companies with automotive fleets can reduce their fuel consumption costs and help preserve the value of vehicles by using the application to make more efficient use of their cars.
TwoGo is available in the U.S. and Germany, according to SAP.  Plans are to roll it out soon to other countries, including France, Belgium and the United Kingdom.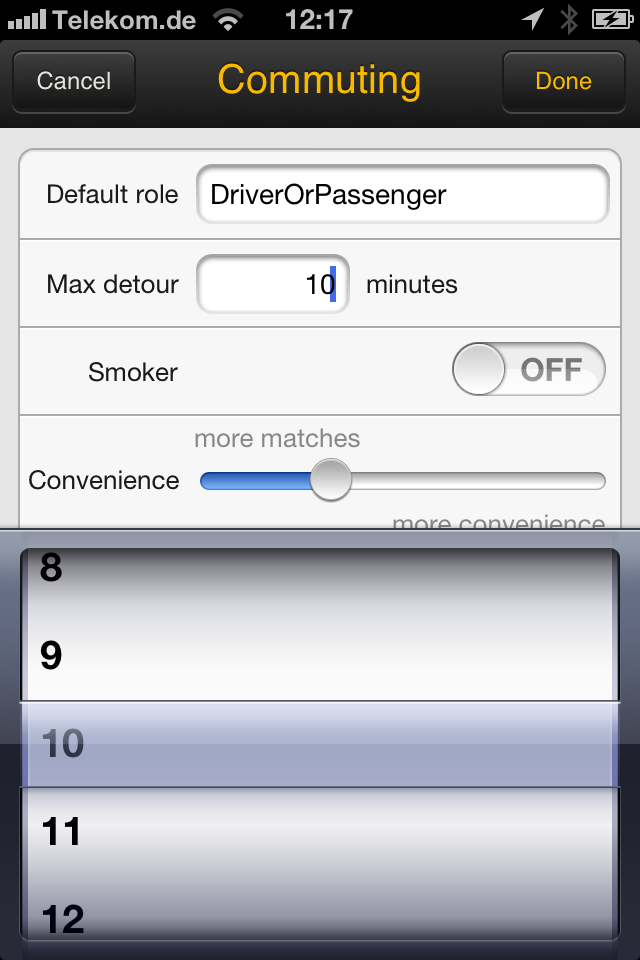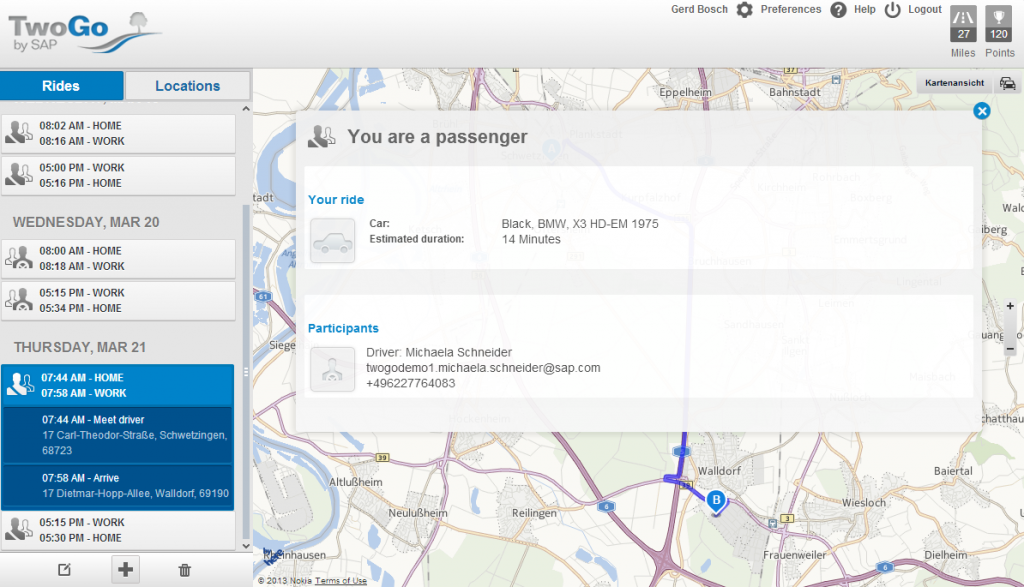 ---
April 15, 2013 12:30 PM
A little over a year and a half ago, the UK and Ireland SAP User Group announced it was participating in SAP's Customer Connection program for Continuous Improvement, aimed at giving SAP users more say in the company's product development and more influence over changes they want to see in SAP software.
How's it working out so far?
According to the group, the program has brought about roughly 300 improvements in a wide range of applications, including CRM, application performance management, and product lifecycle management, as well as vertical industries from banking to healthcare.
But there should have be more improvements, according to Craig Dale, the group's chief executive, who said that red tape in the registration process has limited the program's effectiveness.  Those problems have recently been addressed, he said.
"It was overly complex. [It's] one of the main reasons why there haven't been more improvement requests put forward, and therefore delivered," Dale said. ""There's now less complexity in the registration process that will make the program more attractive for members to get involved."
Previously, users had to register with both the SAP Community Network (SCN) and SAP Idea Place websites before they could even get to the SAP Customer Connection portal to make change requests.
Now, customers can use their SCN registration to log in at SAP's new Customer Influence site and begin making requests as soon as their registration is approved and they are assigned to their respective geographical user group.
Under the format, new topics for companies to weigh in on are introduced every few months on a staggered, ongoing basis –instead of a more chaotic any-topic-at-any-time approach.
The current roadmap of focus topics includes Human Capital Management (e-recruiting), Global Trade Services and BusinessObjects Web Intelligence, all of which are currently collecting improvement requests. Other planned focus topics include retail, HCM (compensation) and CRM.
The full list of Focus Topics can be found on the Customer Influence portal, with information available on the SAP User Group website.
---
February 15, 2013 3:19 PM
SAP and the National Basketball Association (NBA) announced today that the league is finally rolling out a new and improved stats section on its flagship website NBA.com, giving hardcore fans more ways to crunch seemingly endless amounts of statistics. It's powered by SAP's HANA in-memory database technology.
The project was announced last July.  "We know our fans are just super hungry for stats," Michael Gliedman, senior vice president and chief information officer for the NBA said at the time. "[The statistics section] is a very well-trafficked piece of NBA.com. They're always looking for new angles on stuff that's happening in the game."
Information now available on the NBA.com/stats section of the site includes:
Every NBA box score: Dating back to the inaugural 1946-47 season, every NBA box score will be available, including memorable games such as Wilt Chamberlain's 100-point game in 1962 and Kobe Bryant's 81-point game in 2006.
Advanced shooting charts: Comprehensive diagrams illustrating offensive and defensive performance, where on the court players shot from, and more.
Top lineup combinations: The best two- through five-man lineup combinations over the last six seasons.  Combinations can be sorted based on a variety of statistics.
In-depth statistical breakdowns: Per possession, player/team comparisons and additional in-depth statistics with many breakdown options.
Pages for every NBA player: Complete individual statistical pages for every player in NBA history.
The box scores from 1946-1995 were initially paper-based, according to the NBA, so it undertook a year-long initiative to validate, digitize and enter each one into the database.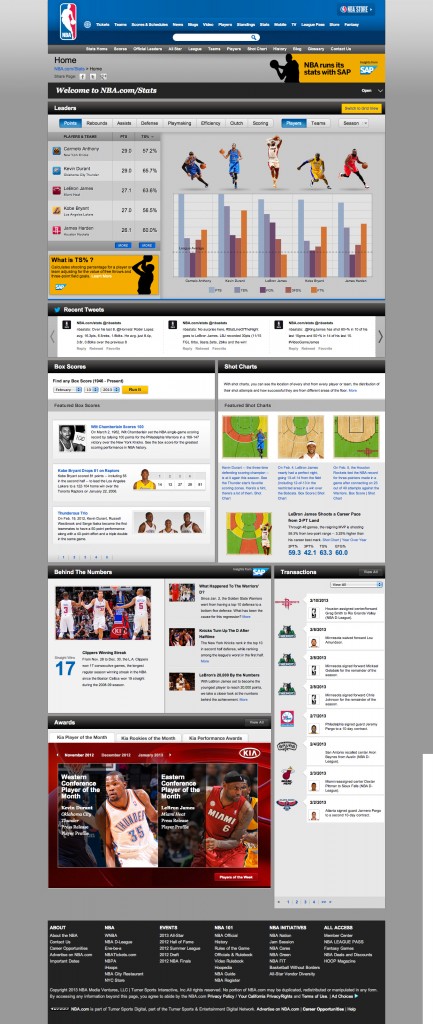 ---
January 31, 2013 6:15 PM
SAP announced today its plans to buy Ticket-Web GmbH & Co. KG, a German maker of customer relationship management (CRM) and ticketing software applications designed for the sports and entertainment industry.  SAP would not say how much they were paying for the company.
The announcement to buy Ticket-Web is part of SAP's plan to begin offering new software that caters to promoters, venues and market events. SAP is also looking to support arena management operations.
SAP has a history of reaching out to the the event management industry.  In 2011, SAP announced it was creating a sports and management version of its on-demand ERP Business ByDesign ERP for the parent company of the San Jose Sharks, as a part of its plan to spin out industry-specific versions of the application.  At last year's TechEd conference, SAP announced it was developing a new mobile application for sports fans to follow their favorite teams and players. It also launched photoTribe, a mobile application that like-minded fans can use to share photos of those same teams and players.
SAP did not say what role those prior efforts might play in its future plans for Ticket-Web. However, SAP contends that the goal is to provide sports and entertainment management software that combines business intelligence, ERP, CRM, financials with ticketing software to help promoters boost attendance, deepen customer engagement and increase profitability.
While the goal is to use Ticket-Web as the foundation of a new integrated sports platform, companies will be able to integrate the new application to other back end systems, just as SAP can run with other ticketing systems.
Under the terms of the deal, Ticket-Web employees will become part of SAP. The deal is expected to close during the second quarter of 2013, according to SAP.
---