---
October 4, 2019 1:45 PM
As IoT devices, smart MFPs are susceptible to the growing threat of attempts to implant malware, recruit to botnets (to help perpetrate DDoS attacks), as well as potentially providing an open gateway to the corporate network. A managed print service (MPS) is an effective...
---
February 19, 2019 12:16 PM
Data breaches are rarely out of the headlines and compliance pressure, such as the introduction of GDPR, means security remains high on the corporate agenda. Cyber threats and data breaches are no longer the sole domain of the IT department, they must be considered at board level as the...
---
June 28, 2018 10:02 AM
The last visit to Unified Comms (UC) expo in London reinforced a view that this sector is slightly misnamed. The attempt a few years ago to tack 'and collaboration' (UC&C) onto the end seemed like a positive move as it valiantly switched the focus up the stack from...
---
June 13, 2018 10:18 AM
There is a term which crops up a lot in the technology sector - 'legacy'. Occasionally, especially when talking to very long-established companies, the term 'heritage' occurs. It is useful therefore to consider the important difference between legacy and heritage:
---
April 26, 2018 10:43 AM
Innovation and innovative people are spread evenly around the globe. But there is more of an uneven challenge to bring products and services successfully to market. Many times this is due to a lack of resources or funding and sometimes a lack of a supportive 'community'. Hence all the...
---
April 10, 2018 2:51 PM
ThreatQuotient ups the ante for dealing with security incidents The hardware and software that constitutes the average organisation's IT infrastructure records millions of events a day which are recorded in log files. This is known as machine data. Nearly all such events are benign and of...
---
March 25, 2018 9:00 PM
The position of Chief Information Security Officer (CISO) has become well established in recent years, but where is it heading next? For many it is often perceived as an inward directed role more accustomed to saying 'no' than anything else. But is this really fair and does it represent the...
---
March 24, 2018 11:18 AM
Quocirca's Global Print 2025 report reveals that print manufacturers are set to lose their influence on customer relationships in favour of IT service providers that deliver print services as part of a broader offering.  Businesses are...
---
February 20, 2018 11:21 AM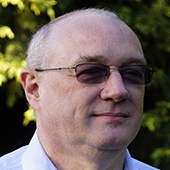 Profile: Clive Longbottom
[caption id="attachment_1047" align="alignleft" width="209"]
---