---
October 4, 2017 11:27 AM
Much of the rhetoric about the EU-GDPR, which comes into force in May 2018, relates to the danger of data breaches and the huge fines that may be imposed when they occur. This does not reflect the reality, based on precedents set by the UK Information Commissioner's Office (ICO), acting under current legislation.
As of writing, since October 20th 2015, the ICO has issued a total of 93 monetary penalties; the average fine has been £86,000 compared to a maximum fine of £500,000. There are no cases published on the website before this date as they are removed after two years.
The ICO enforces two existing laws; the 1995 Data Protection Act (DPA) and the 2003 Privacy in Electronic Communications Regulation (PECR), both are based on EU Directives. It is the DPA that will be superseded in the UK by a new GDRP-like Data Protection Act currently going through the UK parliament.
53 of the fines issued by the ICO since Oct 2015 are under PECR, which covers misuse of telephone, SMS and email communications – i.e. nuisance calls and spam messages. The average for these over the last two years was £101,500, the largest to date has been £400,000, to Keurboom. When it comes to PECR, the more data subjects (citizens) that are impacted, the bigger the fine (see graph).
The remaining 40 fines were for data privacy issues under the DPA.
As part of a charity crac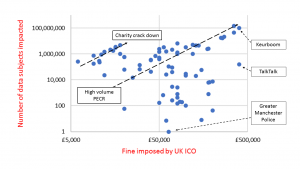 kdown, mostly in April 2017, 13 fines were issued. Again, the number of data subjects matters. The ICO objected to the way charities, including Guide Dogs for the Blind, Cancer Research UK, The British Heart Foundation and the Royal Society for the Prevention of Cruelty to Animals (RSPCA), used data. This included sharing data with related charities (without the knowledge of data subjects), tele-matching (where information is sought out which data subjects did not provide) and wealth screening (seeking, through tele-matching, the richest donors). The average fine issued to charities was £14,000.
Another 10 fines were for misuse of data or for the potential risk of exposure of data. For example, Basildon Borough Council was fined £150,000 in May 2017 for publishing sensitive data on its web site and Pharmacy2U fined £130,000 in Oct 2015 for selling data without the consent of data subjects. The average of these 10 fines was £58,000.
The remaining 17 were for data breaches (the ICO became aware of about 4,000 during the period in question). These range £400,000 to TalkTalk Telecom for its leak of 157,000 customer records in 2015 to £400 for a laptop stolen from a historical society. In between was a £60,000 fine for Norfolk County Council for filing cabinet found in second hand shop containing seven paper files including sensitive information about children and £150,000 to Greater Manchester Police for a leaked video interview. The average fine for a data breach was £110,000. Most breaches fall to the bottom right of the graph, i.e. the seriousness of the privacy violation is a bigger factor than the number of data subjects impacted.
Given the maximum fine the ICO can currently issue of £500,000, for data breaches the average has been just 16% of this. The ICO is pursuing what it believes are the interests of UK citizens, it has limited resources and is not chasing down every breach, only those it considers most serious. Of course, organisations should be wary of the new legislation and taking care of customer data is good practice anyway. However, don't take the scare stories being peddled by vendors and the popular press at face value.
September 26, 2017 2:57 PM

Profile: Louella Fernandes
iot
,
print
,
Security
HP continues to shine a spotlight on print security with the recent announcement of embedded print security features that aim to mitigate the threat of malware. So how vulnerable are printers to external attacks, and how can businesses limit their risks?
While the prevalence of connected printers and MFPs bring convenience and productivity, they also pose security risks. Along with the capabilities to capture, process, store and output information, most print devices also run embedded software. Information is therefore susceptible at a device, document and network level. Not only can confidential or sensitive data be accessed by unauthorised users – whether maliciously or accidentally –  but network connectivity makes vulnerable print devices potential entry points to the corporate network.  Any data breach can be disastrous – leading to internal consequences such as the loss of IP or productivity, as well as external repercussions including brand and reputational damage, legal penalties and loss of customers.
In today's evolving Internet of Things (IoT) threat landscape, hackers that target printers with lax security can wreak havoc on a company's network.  Data stored on print devices can be used for fraud and identity theft and once hackers have a foothold, the unsecured print device provides an open door to the network. Compromised devices can be harnessed as botnets and used as launch pads for malware propagation, DDoS attacks and devastating ransomware attacks.
It is unsurprising to see that external hacking and DDoS attacks are top print security concerns amongst businesses. And although 95% of businesses indicate that print security was an important element of their overall information security strategy (55% say it was very important, and 40% fairly important) – just 25% reported that they are completely confident that their print infrastructure is protected from threats.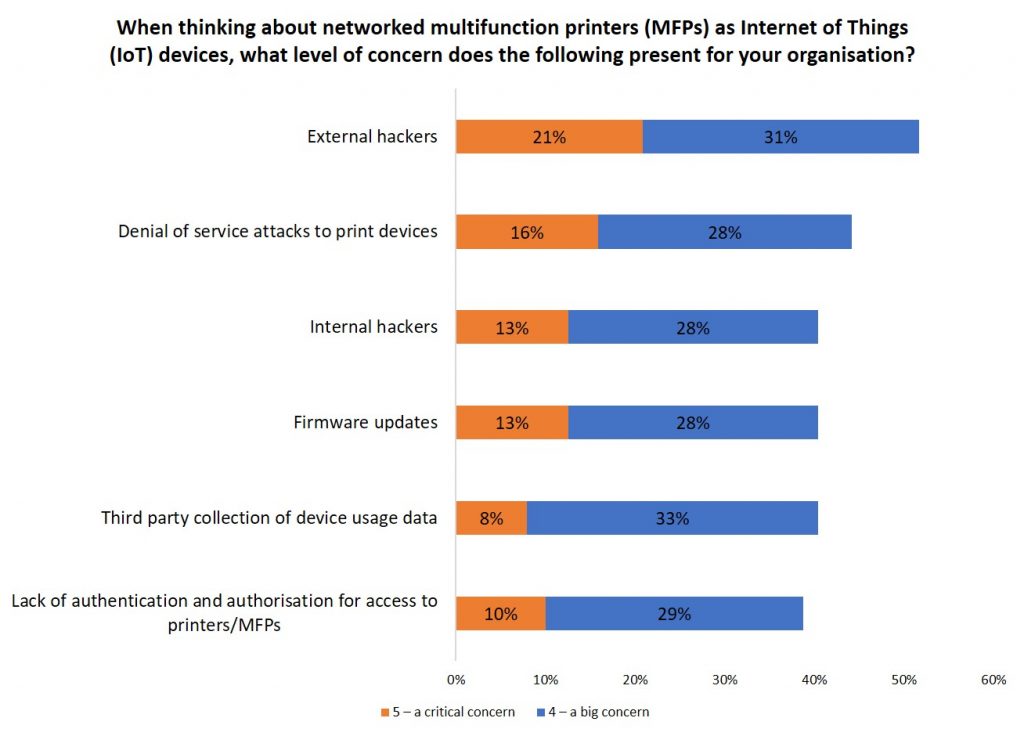 Mitigating the risk
To address these threats, print devices need to include robust security protection. Fortunately, more manufacturers are embedding security in new generation devices. HP's enterprise printers for instance, can detect and self-heal from malware attacks through run-time intrusion detection and whitelisting. The newly announced HP Connection Inspector stops malware from "calling home" to malicious servers, stopping suspicious requests and automatically triggering a self-healing reboot. Meanwhile Xerox's ConnectKey Technology enabled family of printers incorporates McAfee whitelisting technology which constantly monitors for malicious malware and automatically prevents it from running.
However, it only takes one rogue, unsecured device to weaken security. Whilst progress is being made on embedding security technology in the new generation of printers, the reality is that most organisations have a mixed fleet of devices – old and new, from different manufacturers.
Organisations should therefore undertake a print security threat assessment. Such assessments are commonly offered under a managed print service (MPS) contract, and seek to uncover security vulnerabilities. Quocirca's MPS study revealed that 31% of organisations have completed such an assessment with another 57% indicating that their assessment is underway. Organisations report that the top goal (65%) for a security assessment is to protect against new, advanced threats.
The most sophisticated security assessments not only make recommendations for device replacement and optimisation, but also offer ongoing and proactive monitoring of devices to identify potential malicious behaviour. Ultimately this requires that print devices are monitored as part of a broader security platform – HP, for instance, offers integration with security and information and event management (SIEM) tools.
 The need for a multilayered security approach
As both internal and external threats continue to evolve, a multi-layered approach to print security is essential to combat the security vulnerabilities that are inherent in today's networked printers. Unless an organisation regularly tests its defences, it will be at risk of leaving a part of the print infrastructure exposed – enabling a skilled hacker to penetrate the network.
A business can be targeted no matter how big or small, so a comprehensive print security strategy that encompasses threat detection, preventative measures, threat monitoring and analytics alongside incident response and recovery is vital in today's IoT era.
Further reading:
---
August 11, 2017 9:51 AM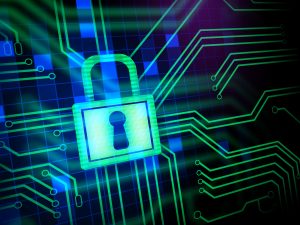 It doesn't seem that long ago where there were three main focuses on data security:
– Hardware/application security
– Database security
– Document management security
Each had its own focus; each had its own problems.  Layering the three approaches together often left gaping holes through which those with malicious intent could drive a coach and horses.
However, we are now seeing a new type of vendor coming through: ones who seem more in line with what Quocirca has termed a 'compliance oriented architecture' (COA) for some time.
The focus here is to pay less attention to the things that create or store the data and information, instead focusing on the data itself and how it flows across a set of constituent parties directly.
For example, if a company depends on application security and that security is compromised, the malicious individual is now within the 'walled garden'.  Unless identified and locked out, those breaking in with sufficient privilege are free to roam amongst the data held within that application.  The same with database security: break through the onion-skin of that security and there is all the data for the malicious individual to play with.
Document management systems that are solely dependent on the use of underlying databases for storing the documents as binary large objects (BLObs) often combine both approaches: they have user/roll policies combined with database security – still not a very strong approach.
Instead, if the data is captured at the point of creation and actions are taken from that point on, security can be applied at a far more granular and successful level – the attack vectors for malicious intent are minimised.  Combine this with total control of how data is accessed – via any means, such as a piece of client software, an application-to-application call or a direct SQL/API call – and a different approach to security across a distributed platform with different end users over an extended value chain becomes possible.
One vendor in this space that Quocirca has been talking with is Edgewise Networks.  Still operating in beta mode with a select group of customers, Edgewise takes an approach of applying direct security over the connections between different aspects of the overall system.  For example, it identifies connections from devices to applications, and from application to application or service to service.  In the case of a database, it can see that the dependent application needs to access it, and so can allow the connection.  However, should there be an attempt to access the data via any other means – another application, a direct SQL call or whatever – it can block this.  It logs all of the information, enabling forensic investigations of what has been going as well.
EnterpriseWeb is another company with a compelling approach. It offers an application platform that supports the modeling of complex distributed domains and the composition of dataflow processes. It is fully dynamic, processing functional and non-functional concerns in real-time based on live metadata and real-time state. This means that EnterpriseWeb enforces security, identity and access policies per interaction, ensuring continuous and targeted enforcement. EnterpriseWeb makes it possible to have consistent policy-control over heterogeneous endpoints, systems, databases and devices. Moreover, it can extend security across domains for highly-integrated and transparent operations. It can do this both at the human and machine-level, where it can coordinate the deployment of probes and monitoring applications on to nodes for closed-loop control.
Systems such as those provided by Edgewise Networks and EnterpriseWeb could change the way that organisations operate information security across a diverse, hybrid private/public cloud platform.  By taking control of the interactions between different functional components, data can be secured as it traverses between the functions, and man-in-the-middle attacks can be prevented.  When combined with other approaches such as object-based storage and encryption of data on the move and at rest, an organisation can move away from firewall-style approaches which are failing as the edge of the network disappears to a far wider-reaching security approach that is easier to implement and manage.
Sure, Edgewise Networks and EnterpriseWeb are young companies that still must prove themselves not only as technically viable and innovative in the long term, but they also must show that they can market themselves successfully in a world where the technology comes second to the marketing message.
---
August 8, 2017 9:30 PM

Profile: Bernt Ostergaard
2017 may well become the year that SD WAN (software defined wide area networking) routing and the SD WAN edge-to-cloud infrastructure paradigm is adopted by SMEs globally. It may also be the year where European telco manufacturing loses a big chunk of the global routing market to nimbler North American and Asian rivals. IDC's most recent market figures estimated the global market in 2015 for SD WAN products and services at $225 million rising to $1.9bn this year and growing at 69% CAG through to 2021 and thus hitting $8bn.
The SD WAN industry now counts over 40 manufacturers with global distribution potential. They include all the incumbents (Nokia, Cisco, HPE, Huawei), entrants from neighbouring technologies like WAN optimisation (Silver Peak), network security vendors (Barracuda), network virtualisation (Citrix), MPLS service (Aryaka), to pure plays like Viptela, Talari and Peplink. This gives customers a wide range of choice – dictated by configurations, prices, availability, existing infrastructure and demonstrated capabilities in similar vertical industry configurations.
Most importantly, the shift to SD WAN can come at a low CapEx level and lower than hitherto OpEx costs – all with improved network performance. This is achieved by combining (and thus achieving a higher utilisation level) of the company's existing WAN access channels (fixed, cellular, point-to-point, satellite, etc.). SD WAN creates that single virtual access – and provides the software to give quality of service (QoS) to best effort links – thus doing away with costly multi-protocol labelling service (MPLS) support for latency sensitive, mission-critical applications.
An SD WAN infrastructure allows a company to centrally configure and manage their branch office access to cloud resources.
Obviously, with that many companies emerging on the market the coming years will see consolidation down to the 5-10 global players that this market will support, once it reaches maturity in 2020. This may deter large enterprises from going down the SD WAN route just yet – they see this as a vetting period. But for the SMEs, now is a good time to engage with the SD WAN vendors who are eager to develop industry specific configurations.
European SD WAN players?
Nokia with its Alcatel take-over also acquired the US-based SD WAN company Nuage Networks. This company helps service providers including BT, China Telecom, Telefonica, and Telia to deliver fully automated and self-service SD-WAN systems. These allow enterprise customers to connect their users quickly and securely to applications in private and public clouds. Nuage Networks is the only major 'European' foothold in this exploding market – the rest is, to all intents and purposes, niche. In fact, I have only found two European vendors in this space:
Swedish vendor Icomera develops hardware/software solutions for passenger Internet access on trains and planes, as well as fleet management and telematics for remote monitoring.
In Germany, Viprinet's hardware/software concatenates different types of access media (such as ADSL, SDSL, UMTS / HSPA+ / 3G, and LTE / 4G) for mobile, ad-hoc and remote location connectivity.
Bypassing the stumbling blocks
The SD WAN market is price sensitive, very competitive and capital intensive. So to enter this market, the VC community needs to be more active, as do public venture funds. Hitherto, we have seen little VC interest in this field, and what interest there is does not seem to be in for the long haul. They prefer the usual 3-year get-in, get-out strategy. Public funding including the huge EU funds in the Horizon 2020 program also seem to have bypassed this market opportunity.
The traditionally strong European telco industry has never played particularly well in the consumer and small business space. So manufacturers like Ericsson, Nokia and Siemens may not feel it is in their sweet spot. However, SD WAN is very much software based. Companies like Talari in the US generate as much revenue from software and services as it does from hardware sales.  So, European software companies in the logistics and automotive business could build a new line of business in SD WAN using standardised hardware.
The European auto industry should also be very interested in this technology where mobile connections play a key role. Developing 5G-enabled SD WAN could align interests between telco vendors and auto manufacturers.
Now is the time for European software vendors to step up to this challenge. Not only are there the relatively straightforward examples as outlined above, but the emerging world of the internet of things (IoT) also offers a whole raft of new and lucrative opportunities.
It would be a pity to see such a green field site of new opportunities be defaulted to the incumbent US companies or the highly dynamic and hungry Asian companies.  Europe can make a strong play, looking back to its heartlands of strong software innovation.
---
July 26, 2017 3:43 PM
Are you fed up with vendor scare-mongering about the challenge of complying with the General Data Protection Regulation (GDPR) and the huge fines heading your way? UK-based organisations may be better off looking at the precedents set by the Information Commissioner's Office (ICO), the body with responsibility for enforcing data protection in the UK. How the ICO has enforced the existing Data Protection Act (DPA) may provide guidance for the future.
First, let's get Brexit out of the way, the UK government stated its commitment to data protection in the Queen's speech following the June 2017 General Election and stated that the GDPR will be implemented in the UK. The ICO has also confirmed this directly to Quocirca.
Under the DPA the ICO has had the power to instruct organisations to undertake certain actions to better protect personally identifiable information (PII). In serious cases, it can issue enforcement notices and, in extreme cases, monetary penalties, up to a current maximum of £500K. It also brings prosecutions against individuals that have abused PII. For example, the July 2017 case against the Royal Free London NHS Foundation Trust for mis-sharing data with Google DeepMind resulting in an undertaking, not a fine.
The ICO is open about its activities; it publishes actions taken on its web site and each case where it has taken action remains there for about 2 years. As of writing, since June 2015 the ICO has issued 87 monetary penalties, 52 undertakings and 35 enforcement notices. It has also brought 31 prosecutions. The DPA is not the only legislation considered by the ICO in taking these actions. It also enforces the 2003 Privacy and Electronic Communications Regulations (PECR), perhaps best known for the so-called Cookie Law, but also for limiting the use of spam SMS/email and nuisance phone calls.
The ICO's monetary penalties
The average fine issued in the last two years has been £84K; 17% of the maximum. The two largest fines to date have been £400K: one under the DPA to TalkTalk Telecom for its widely publicised 2015 leak of 156,959 customer records, and one under PECR to Keurboom Communications for 99.5M nuisance calls.
Of the 87 fines, 48 were PECR related (average £95K). A further 13 were to charities for mis-use of data (average £14K). 8 were for some sort of data processing issue (average £68K) and 18 for data leaks (average £114K). A future blog post will look at the nature of these 18 data leaks.
The ICO also maintains and publishes a spreadsheet of data security incident trends, which lists all the UK data leaks it has become aware of; these number 3,902 since June 2015. So, the 18 fines issued for data leaks represent less than 0.5% of all cases the ICO could have considered.
The ICO is too resource-stretched to pursue every data leak. As you would expect, it prioritises the worst incidents. Even then, it is reticent to fine and has rarely come near to imposing the maximum fine. The ICO's job is to protect UK citizens' data, not to bring down UK businesses. Sure, the ICO will have broader powers, and the possibility to impose higher penalties, under GDPR. However, if the ICO chooses to use these new powers with the same discretion as it has under the DPA, any data manager that has ensured their organisation is paying due diligence to way it handles PII, should not be losing too much sleep.
Quocirca presented these data and some other findings from its ICO research at a recent webinar sponsored by RiskIQ which can viewed HERE.
---
July 11, 2017 1:45 PM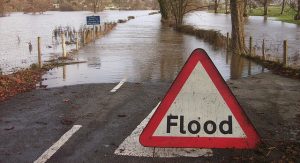 At a recent roundtable event organised by Esri UK, representatives of the North Wales police force, Wessex Water and the Environment Agency talked about how they were using geographic information systems (GIS) in their work to provide Operational Intelligence (OI).
The focus of the discussions revolved around how each organisation needed to deal with emergency situations – particularly around flood events.
For the Environment Agency, the focus is shifting from a reactive response to a more proactive position.  Using a mix of internet of things (IoT) devices combined with more standard meteorological weather forecasting and satellite data, the department is aiming to both avoid flooding through dealing with issues before they become problems and to better respond to problems when they are unavoidable.
An example here is in using topological data in order to predict water runoff in upland areas and then to use analytics to better understand what that may mean further downstream.  Nick Jones, a senior advisor at the Agency, described how it is also using real-time analytics for OI – an example here is in holding certain stocks of items such as mobile flood barriers, but being able to get them to a point of greatest need at the right time via a just-in-time logistics model.  This allows for the optimisation of inventory – and avoids issues with the public when they find that items that could have prevented a flood were available – but in the wrong place.
Wessex Water also has to respond to such events.  Floods can force sewage up into streets and gardens, or even into people's homes.  Andy Nicholson, Asset Data Manager at the company, described how the company was using GIS-based OI to better prioritise where to apply its resources in emergency situations.  For example, partnering with the Environment Agency to gain access to its data means that Wessex Water can track the progress of a flood – and can then both advise its customers of possible problems and allocate people and other resources to go and mitigate issues by working to potentially stop, redirect or slow down any issues caused by a flood event along the areas it has responsibility for.
Likewise, the North Wales police force has a responsibility to citizens.  Dave Abernethy-Clark, a PC with the force, described how he came up with Exodus, an OI system using GIS data to provide the force with a better means of dealing with vulnerable people during events such as a flood (but could also be a fire, civil disturbance or any other event).  Again, the real-time and predictive usage of OI can be invaluable. It is better to evacuate a vulnerable person before an event overtakes them.
However, doing this based on just basic safety assessments can mean that a vulnerable person is removed from their property where there is actually little real need to do so.  OI ensures that only those who are very likely to be impacted are identified and dealt with, minimising such upsets and saving resource costs and time.
Andy Nicholson from Wessex Water also emphasised how OI should never be a single data set approach.  By pulling together multiple data sets, the end result is far more illuminating and accurate.  The use of a flexible front end is also important – he discussed how one event resulted in a complex situation appraisal being shown on a screen.  From this view, it looked like the event could be a major one that would impact a large number of customers.  However, with a few extra filters in place, he managed to narrow this down to just a few core points being shown, and this then allowed for causality to be rapidly ascertained and the problem dealt with along with the minimum impact on just a few customers.
The takeaways from the event were that OI is an increasingly valuable tool to organisations out there.  The increasing capabilities of tools and the underlying power of the platforms they run on means that real-time OI is now possible.  The opening up of different organisations' data sets also means that other organisations can directly plug in to existing useful – and often free – data.
The way that these three, seemingly disparate organisations worked together to deal with an emergency event such as a flood was apparent.  By all of them (plus other groups) being able to work against the same underlying data and using collaborative systems built over the OI platform, the sum total of the capability to deal with an event is enhanced greatly. How this helps all of us cannot be underestimated.
---
July 6, 2017 7:56 AM
The theme of a recent Infosecurity Europe 2017 Strategy Talk, facilitated by Quocirca, was how to limit the ability of hackers to exploit the expanding IT attack surface created by the deployment of increasing numbers of IoT (Internet of Things) devices. The two panellists, representing the security vendors FireEye and ForeScout (the session sponsor), contended that a better integrated approach to network security was required.
Some estimates regarding future numbers of IoT devices run into the tens of billions (for example, Gartner, Juniper and McKinsey). Quocirca's own 2016 business-focused research, European Perceptions, Preparedness and Strategies for IoT Security, based on the short-term estimates of German and UK IT managers, were more conservative. However, many may be in denial about the scale of the IoT opportunity they will be expected to enable. The need for IoT device discovery and security is prescient.
The roll-out of IoT devices may be a carefully planned and application-specific or ad hoc, as the rising tides of shadow IT and consumerisation lead lines-of-business and end users to deploy their own devices. Pragmatic IoT security must be generic and able to deal with all types of devices; whether they have been endorsed by IT management or not. Both security products and network design have a part to play.
IoT security is a pressing issue for four reasons. First, there are data protection issues; devices may transmit sensitive information (even IP addresses may be considered personal data under the EU GDPR). Second, IoT devices can be used as ingress points to broader IT infrastructure. Third, IoT devices are being recruited to botnets for the ongoing launch of denial of service attacks. Fourth, attempts to disrupt business processes may be targeted at poorly defended IoT deployments.
This last point is perhaps the most worrying, many IoT deployments are all about the better monitoring and management of critical infrastructure. Such attacks have the potential for kinetic impact beyond cyber-space, for example causing power outages, disrupting transport systems and industrial espionage.
Quocirca's research shows that most organisations recognise the need to be able to discover and classify IoT devices. Furthermore, there is growing recognition that this must be achieved without on-device agents; the variety of devices and operating system is too great, the device processing power often limited and, of course, ad hoc devices will be unknown when they first connect to a network.
Gateway to the IoT
IoT gateways are turning out to be fundamental from design perspective (see Quocirca Computer Weekly buyer's guide, No silver bullet for business IoT security). For planned IoT roll-outs, all devices associated with a given application can be deployed behind single gateway where security functions can be aggregated. Gateways can also help with ad hoc device attachments, for example, through isolating network segments for supply chain interactions and guest access.
IoT security needs to recognise new threats and ensure all relevant devices are protected from them. FireEye and ForeScout advocate that their integrated approaches can achieve this at the scale required for current and future IoT deployments.
ForeScout's CounterACT technology acts as a gateway, discovering, classifying and continuously monitoring network attached devices and ensuring a given level of security. It does not require pre-installed agents to do this (although agents are available for advanced management of known devices). CounterACT can recognise hundreds of different IoT device types, ranging from sensors and probes to printers and security cameras as well as more traditional user end-points.
FireEye's Network Threat Prevention Platform (NX Series) identifies potential threats on devices via its virtual execution engine (sandbox). It can also identify anomalous behaviours, for example, recognising and blocking the outbound call-backs made by malware to command and control (C&C) systems.
FireEye can inform CounterACT about the threats it discovers via ForeScout's ControlFabric, a means for sharing security information. CounterACT can then scan other endpoints for presence of the newly identified threats and enact policy-based controls depending on the severity of the threat and priority of the device. End-points can be quarantined, network access limited, remedial actions taken and notifications issued.
ForeScout CounterACT and FireEye NX are complementary, for the former is not equipped to recognise previously unknown threats, whilst the latter does not monitor new devices attaching to networks. The partnership is a good example of how integrated security can achieve a greater level of protection than the sum of that achieved each product alone. Other network security and advanced threat protection products are available.
---
July 5, 2017 9:18 AM
How will data protection enforcement change in the UK once the EU General Data Protection Regulation (GDPR) comes in to force? Will the GDPR come into force at all, with the UK planning to leave the EU?
Insight can be gained from looking at how the UK Information Commissioner's Office (ICO) has enforced the existing 1998 Data Protection Act in recent years. Quocirca will be presenting analysis of recent ICO actions at a webinar on July 11th 2017.
Join Quocirca and RiskIQ to find out how many data leaks the ICO has recorded in the last two years and how many have led to actions being taken in the form of fines as well as prosecutions, enforcement notices and undertakings.
The biggest challenge with GDPR for many will be ensuring the new, more stringent administrative requirements are met. These will enable the ICO's to act in many new areas. The webinar will discuss these and how you can avoid the ICO's attention by better understanding how and where personally identifiable information (PII) is being processed in the name of your organisation.
More details and for free registration HERE.
What you don't know CAN hurt you. Are you GDPR PII compliant?
https://www.brighttalk.com/webcast/14683/267289?utm_source=RiskIQ&utm_medium=brighttalk&utm_campaign=267289
---
July 4, 2017 11:08 AM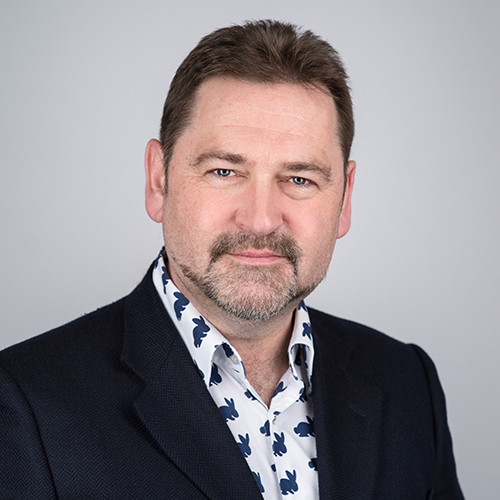 Profile: Rob Bamforth
Organisations need to balance innovation and business improvement with good governance and efficient use of IT budgets and resources. But this is not easy. Plenty of people right across the organisation think they know what IT they need and can easily go out and buy it.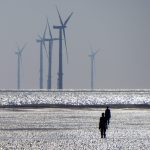 The term 'shadow IT' has become a popular way to describe this in recent years. But the practice of parts of the business buying IT systems, software or services without the knowledge of the IT department, is not new. It has happened since the days of the first mini servers, dot matrix printers and personal PCs.
However, a couple of things have changed.
Bypassing the IT function
IT has become more affordable. From consumer-priced mobile devices to subscription based services in the cloud, technology is widely available and relatively inexpensive. There is also an increase in personal choice and awareness of IT potential. Individuals know what they want and will often make their own choices of personal technology, hence the rise of bring your own device (BYOD).
Lines of business too have greater understanding of what is available. Despite not quite understanding the full implications, they want to get on with digitising assets and making processes more efficient. The IT function can often come to be seen as a blockage, or lacking awareness of the business drivers. So, a line of business makes its own decisions and spends its own budget on IT. This is then outside of the control and visibility of the IT function.
Anecdotal evidence suggests that in some organisations, this 'unofficial' IT spending can be much larger than the central IT budget. It is something that many IT departments have to live with, but potentially it will cause problems of governance. It may also be much more inefficient and costly overall than having IT co-ordinated through a central IT function.
Encouraging innovation
However, the appetite for lines of business to procure technology to bring about a 'digital transformation' should be encouraged. There is clearly an unfulfilled business need, and shadow IT is a symptom of trying to address that need. Rather than being overly defensive and resistive, the IT function should see this as an opportunity to take a different approach. It can then improve relationships by fostering the following process:
Innovate – those closest to the business are likely to know what needs to be done, but not necessarily the best way to accomplish it. IT could support and encourage innovation in the business, rather than trying, and often failing, to do it itself.
Accelerate –scale-up by IT and the line of business working closer together developing the implementation required to both meet the business need and fit within a supportable IT strategy.
Operate – once this approach is delivering results, shift to a production model. This can be orchestrated by IT, with the business offloading the task to be run by IT, as a service.
In this way, IT and the business move together through the 'Cycle of Innovation'. This is detailed in Geoffrey Moore's book, Dealing with Darwin (Invent, Deploy, Context, Offload). It describes where something non-mission critical but offering differentiation is invented, then fully deployed at scale to become mission critical and core to the business. As the differentiation diminishes, it moves from core to context. It still has to be managed at scale, but can at some point be offloaded to free-up resources for the next core innovation.
IT as a service broker
The IT function cannot deliver everything, but it is well placed to understand where value can be added and where there are others with the right capabilities. The process of managing how and what services have to be delivered needs to be co-ordinated. It involves the technical, commercial and legal integration of internal capabilities and those from external services providers. In doing this, IT can be a 'service broker' to the organisation, not an obstacle or limiting factor to change. Rather than a focus on hardware, software and services, bought and deployed in some combination to try to meet often mis-understood business needs, there is an opportunity to think differently about what IT involves and how it is consumed by the business.
Ultimately, IT can then be measured on the value obtained by the business, not the cost (or value) of the assets being employed. Diverse innovation is encouraged and supported within a well managed centrally coordinated strategy. For more details about the 'IT as a service broker' approach, download Quocirca's free report here.
---
June 21, 2017 8:24 AM
These days, some automated financial services are taken for granted; automated telling machines (ATMs) or cash points have been around since the 1960s, internet banking since the 1990s. Few these days write cheques made out to cash or visit banks to make transfers.
Now there is a new wave of automation underway, driven by software robots (or bots), that are changing not just how financial organisations interact with customers but how they deal with each other. Among other things, bots can provide financial advice and carry out trades. Bots are especially good at complex repetitive activities such as producing wealth assessments and gathering the data to populate price comparison sites, for example to show comparative quotes for insurance.
All this automated activity can benefit both banks and their customers, however, there is a down side; criminals are using bots too. In 2017, robbing a bank is much more likely to be perpetrated by a cybercriminal with an army of bots than a mobster with a sawn-off shotgun. So-called bad-bots are hard at work cracking access credentials, seeking out vulnerabilities in web sites and online applications, obfuscating targeted criminal activity with volume denial-of-service attacks and so on.
The trouble is distinguishing the good-bots from the bad and working out what some of the ones in-between are up to. Credential cracking bots, testing bank accounts for the use are of commonly used passwords need to be blocked, only an organisation's own vulnerability scanners should be allowed to probe infrastructure, screen-scrapping bots from price comparison sites may be OK, those from unscrupulous competitors not so.
Fortunately, there are now technologies to help sort bots out based on policy. Quocirca's Ultimate Guide to how bad bots affect financial services is free to download and provides more detail about how bots are operating in financial services and how to let the let the good ones through the stop the bad ones in their tracks. The full list of Quocirca's Cyber-Security Threat Series on Mitigating Bad Bots can be viewed HERE. These e-books were sponsored by Distil Networks.
---