Apr 4 2017 2:39PM GMT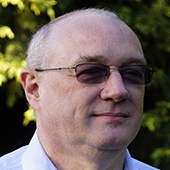 Profile: Clive Longbottom
Tags:
The arable food chain, consisting of farms, logistics/warehousing, food processing and retail, is a complex one with a major focus on food hygiene and pest management. In research carried out by Quocirca for Rentokil Initial in late 2016, the views of those responsible for managing these areas were found related to where the internet of things (IoT), cloud computing and big data could help them.
When first asked where their focus was on technology investment, figure 1 shows that end-to-end traceability of goods was a top priority for most, with predictive analytics of data coming a way back.
Both of these areas would seem to be ideal candidates for the use of IoT devices – the capability to add, for example, radio frequency identification (RFID) or near field communication (NFC) tags to foodstuffs as they move along the processing chain would make sense.
Also, the way that multiple different types of IoT devices along that chain can create data that can then be aggregated and analyzed via cloud platforms would also make sense.
However, the research also showed that few organizations were planning on large adoptions of IoT projects in the near – or even far – future. A degree of this was undoubtedly based on a lack of knowledge of what the IoT really was (as covered in a previous blog here). It was also apparent from the research that there were other areas where the research respondents had worries that were keeping them away from using the IoT.
Figure 2 shows the analysis of responses where interviewees were asked to rank their top three issues when it came to implementing connected technologies. As can be seen, data privacy was the top issue for them, with a perception that the IoT would create a greater number of process vulnerabilities a close second.
Somewhat surprisingly, the costs of implementing an IoT project barely registered in respondents' top three issues.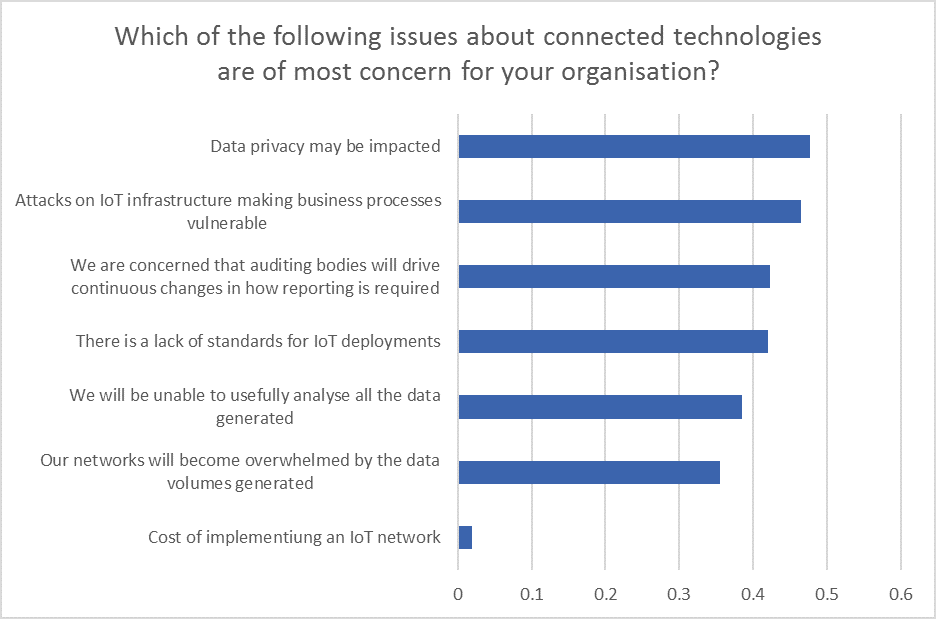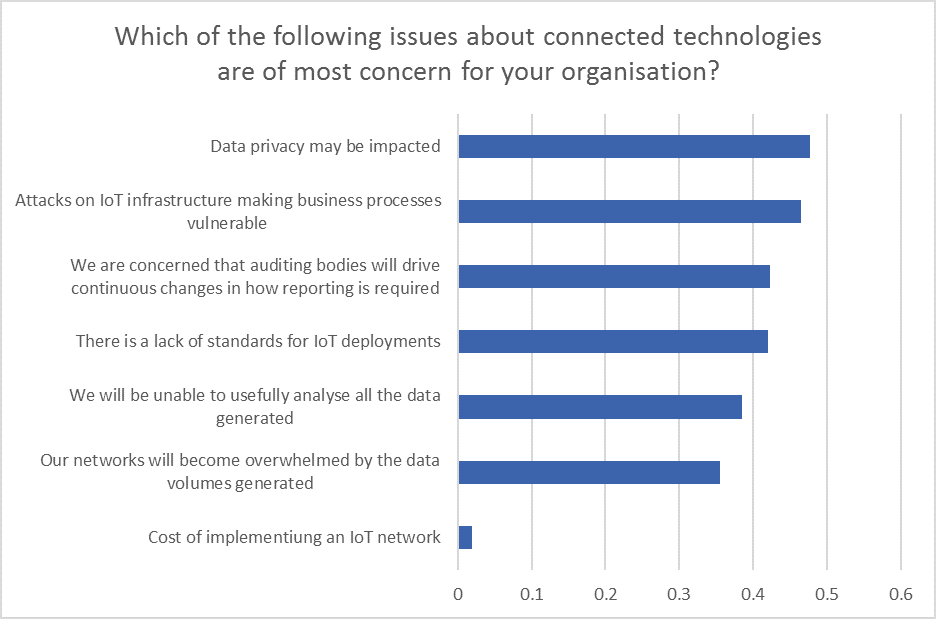 Figure 2
This would seem to be bad news for those technology vendors and service providers trying to push IoT systems into the market. The interviewee profile for the research were not technology people – and the gap between other research carried out by Quocirca (such as the findings with technology people in organisations for ForeScout here) and this research could not be more stark.
How the technology community bridges this chasm and makes sure that the business value of the IoT is seen and understood by those in the business itself will be its next challenge. Technology vendors need to try to prove to those holding the purse strings that the IoT is a valid direction across a whole value chain.
Certainly, the research does show that the market is ready for the IoT – as long as it is demonstrably fit for purpose, that it does result in desired business outcomes and that the perceptions around its shortcomings have been dealt with.
In the specific case of the arable food chain, there is not only a business need for the IoT, but a sustainability one. Only through effectively dealing with pest and hygiene issues can the growth in need for foodstuffs by a growing population be adequately met.
Time to stop focusing on the technology of IoT and major on the business benefits.
The full report on the findings of the research carried out for Rentokil Initial can be accessed for free here.